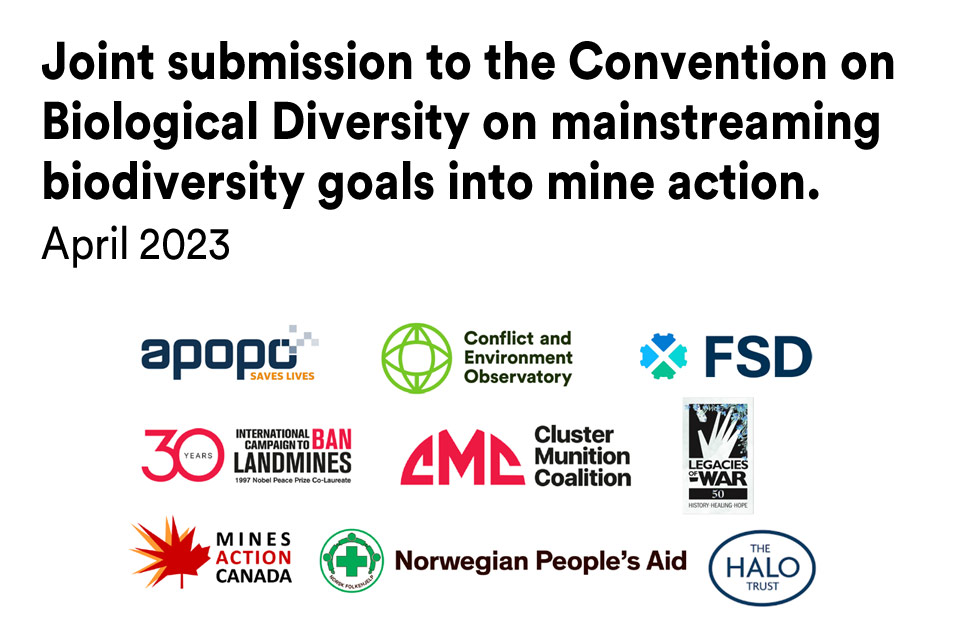 Download as PDF · Published: April 2023 · Categories: Publications, Environment in humanitarian disarmament
Our organisations welcome the COP decision 15/17 on a long-term strategic approach to mainstreaming biodiversity and urge state parties and other stakeholders to recognise that this must include attention on fragile and conflict-affected regions.
Conflict-affected regions
Between 1950 and 2000, more than eighty percent of major armed conflicts took place directly within the world's biodiversity hotspots. However the post-2020 agenda does not address the unique challenges of operating in conflict-affected areas, even though biodiversity and environmental protection can play an important role in post-conflict recovery, and in peacebuilding initiatives.
Humanitarian mine action (HMA) organisations evaluating the impact from and removing explosive ordnance, are at the forefront of providing immediate and longer-term support to conflict-affected communities. Land contaminated with explosive ordnance frequently includes areas rich in biodiversity. Explosive ordnance, including landmines, can remain in the ground for decades after a conflict and prevent a community's safe access to land, local resources and livelihood assets. The clearance and removal of explosive ordnance is critical for supporting sustainable livelihoods and necessary to facilitate access for biodiversity and conservation programmes.
The role of humanitarian mine action
Where HMA activities align with ecologically important and environmentally sensitive areas, it is important that forward planning is in place. HMA organisations working closely with local partners can ensure that the clearance of explosive ordnance does not put pressure on soils and local biodiversity by unsustainable land use practices, or attract unsustainable development into previously sparsely populated and ecologically sensitive areas. The conversion of land to agriculture can threaten protected areas, essential for nature conservation.
The Action Plan for the long-term approach to mainstreaming biodiversity includes the need for initiatives and partnerships at regional, national and local levels. Inclusion of HMA organisations – together with donor support – could help facilitate biodiversity and conservation programmes in challenging conflict-affected settings and in longer-term post-conflict recovery initiatives.
HMA typically operates in areas where environmental governance capacity is weak, yet have a unique position when working in conflict-affected areas, given their:
strong community engagement;
high levels of trust;
good understanding of local structure and needs; and
close dialogue with national authorities.
In partnership with local environmental stakeholders, there is an opportunity for HMA activities to directly support more sustainable future land-use practices and help to deliver other long-term environmental benefits.
The breadth and reach of the HMA sector means it has the potential to help support biodiversity protection in some of the world's most fragile and ecologically sensitive environments, developing skills and knowledge for local communities. HMA organisations also comprise nationally recruited staff, meaning that when HMA programmes come to an end and staff then move on, their skills and knowledge gained can incentivise adoption of conservation practices elsewhere.
The Kunming-Montreal Global Biodiversity Framework (KMGBF) does not place focus on specific regions, but it provides a foundation for the action needed in conflict-affected areas and highlighting the 'important roles and contributions of indigenous peoples and local communities as custodians of biodiversity and as partners in its conservation, restoration and sustainable use.' The HMA sector could support this objective, however national authorities and traditional donors for demining activities are yet to fully recognise the link and the benefits of combining HMA and conservation initiatives.
Progress needed
HMA must operate in tandem with the Sustainable Development Goals (SDGs) and climate change risks. As well as impacting HMA programmes and the communities where HMA organisations operate, climate change may increase pressure on land and resources, shifting populations into areas impacted by explosive ordnance. To protect lives, support communities and address biodiversity loss, strong local knowledge and partnerships are important for delivering environmental initiatives, but also ensuring they that succeed in the long-term.
Under Target 14 of the KMGBF to integrate 'biodiversity and its multiple values' across all levels of government and across all sectors, progress is needed on integrating biodiversity protection and recovery into HMA, wherever possible in combination with climate resilience initiatives. This will provide multiple community and biodiversity benefits.
Under Target 19 of the KMGBF to increase the level of financial resources to implement national biodiversity strategies and action plans, integrating biodiversity objectives into HMA funding streams would deliver conservation gains additional to those funded directly through conservation funding.
In light of this, our organisations would seek to cooperate with the CBD and national and international stakeholders to:
Support KMGBF implementation in fragile and conflict-affected regions;
Support increased awareness of biodiversity goals among national mine action and other government authorities;
Work with donors to promote the integration and co-financing of biodiversity and climate activities into HMA programmes; and
Ensure that national biodiversity and resource management strategies in conflict-affected states reflect the opportunity to coordinate mine action programmes with the adoption of nature-based solutions and conservation programmes.
Submission on behalf of the following eight organisations:
Apopo
Conflict and Environment Observatory
Fondation Suisse de Déminage
ICBL-CMC
Legacies of War
Mines Action Canada
Norwegian People's Aid
The HALO Trust