The humanitarian impact of the conflict in Yemen has been exacerbated by scarce water resources, weak governance and poor infrastructure – all of which have been further degraded by the conflict. The conflict has had a huge impact on Yemen's weak agricultural sector leading to severe food insecurity, and impacted projects aiming to protect its remaining biodiverse areas.
A brief introductory overview of the environmental dimensions of the conflict in Yemen, with facts, figures and further reading.
We spoke to CBS News about how important it is that parties involved in resolving the crisis over the FSO SAFER oil tanker off #Yemen are fully transparent in any claims they make over the status of the vessel. The stakes are just too high #SalvageTheSAFER
Saudis warn of oil slick near decaying tanker, but offer no evidence
Yemen's civil war has turned a 45-year-old, crude-filled supertanker into a ticking environmental time bomb, but politics makes it hard to judge the l...
www.cbsnews.com
The Saudis have written to the #UNSC to warn them that an oil spot has been seen 50km west of the FSO SAFER and that the pipeline feeding the tanker "is now floating on the surface of the sea." #SalvageTheSAFER #Yemen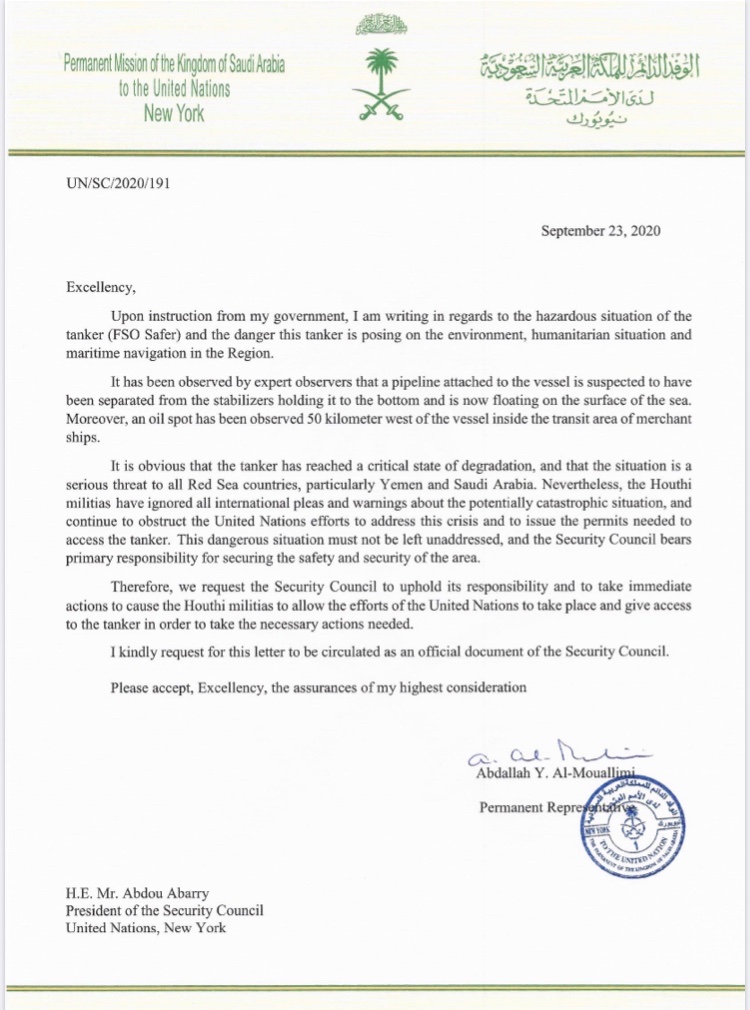 KSA Mission UN 🇸🇦🇺🇳
@ksamissionun
#SaudiArabia's letter to the #UNSC in regards to the hazardous situation of the tanker (FSO Safer):
Joint communique on #Yemen from the P5 plus GER, KUW, SWE and the EU reiterates call for the Houthis to urgently facilitate unconditional and safe access for UN experts to conduct an assessment and repair mission on the FSO SAFER tanker #SalvageTheSAFER
Joint Communiqué on the conflict in Yemen
The Foreign Ministers of Germany, Kuwait, Sweden, and the United Kingdom co-hosted a meeting on Thursday 17 September 2020, in connection with the 75t...
osesgy.unmissions.org
Load more
The impacts of climate change are particularly complex in the Middle East and North Africa (MENA). The region suffers from violent conflicts and severe water scarcity, while climate models show more serious scenarios here than in other regions. This paper explains how the security of the MENA region is inscribed in a new climate reality.