The humanitarian impact of the conflict in Yemen has been exacerbated by scarce water resources, weak governance and poor infrastructure – all of which have been further degraded by the conflict. The conflict has had a huge impact on Yemen's weak agricultural sector leading to severe food insecurity, and impacted projects aiming to protect its remaining biodiverse areas.
A brief introductory overview of the environmental dimensions of the conflict in Yemen, with facts, figures and further reading.
Conflicts often disrupt environmental governance and sustainable development. In this blog Doug Weir examines how the conflict in Yemen has interrupted plans to improve waste management while creating new risks to human and environmental health.
A dilapidated tanker with 1.14m barrels of crude oil has become a pawn in the conflict in Yemen. The potential for miscalculation leading to a spill that would cause serious harm to Red Sea ecosystems is significant. In this blog Doug Weir catches up with developments with the SAFER FSO one year on.
In March, the Yemeni government called for UN help in dealing with a potentially serious oil pollution threat in the Red Sea. The case has highlighted the wider threat from oil pollution in Yemen's civil war and the risks it poses to the Red Sea's ecology.
The @SanaaCenter has obtained a report on the potential impact of a catastrophic incident affecting the SAFER FSO #oil storage platform moored off Ras Issa in #Yemen - evidently it makes for disturbing reading
Aramco's Ashoura – The Yemen Review, September 2019 | Sana'a Center For Strategic Studies
Following a Houthi directive, Ashoura commemorations were held in the Yemeni capital Sana'a on the Airport Road on September 10, as well as in o...
sanaacenter.org
How a joint @IOM_MENA @FAOemergencies initiative used a water project in #Yemen to address a local conflict and increase #foodsecurity and female participation in Lahj governorate
Decades-old conflict over water in yemeni village comes to an end |
More than 20 million people in Yemen are food insecure and water is a scarce resource, with access further restricted by over four years of conflict. ...
smartwatermagazine.com
.@sentinel_hub data reveals distinct plume of soot, hydrocarbons & metals emitted from #Abqaiq fires & emergency flaring in Saudi Arabia covered Al-Hofuf, with potential acute health impacts, & areas of dripfed agriculture where deposition may degrade crop & soil health #Yemen
Twitter feed video.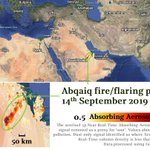 Load more
The impacts of climate change are particularly complex in the Middle East and North Africa (MENA). The region suffers from violent conflicts and severe water scarcity, while climate models show more serious scenarios here than in other regions. This paper explains how the security of the MENA region is inscribed in a new climate reality.