The humanitarian impact of the conflict in Yemen has been exacerbated by scarce water resources, weak governance and poor infrastructure – all of which have been further degraded by the conflict. The conflict has had a huge impact on Yemen's weak agricultural sector leading to severe food insecurity, and impacted projects aiming to protect its remaining biodiverse areas.
A brief introductory overview of the environmental dimensions of the conflict in Yemen, with facts, figures and further reading.
In March, the Yemeni government called for UN help in dealing with a potentially serious oil pollution threat in the Red Sea. The case has highlighted the wider threat from oil pollution in Yemen's civil war and the risks it poses to the Red Sea's ecology.
Saudi military personnel have joined UAE forces on Socotra - the UNESCO World Heritage Site has thus far escaped the #Yemen conflict relatively unscathed but this could change with a #military build-up:
Saudi military says troops arrive in Yemen's Socotra island
CAIRO (AP) — A Saudi military spokesman says that its troops have landed on the Yemeni island of Socotra, listed by UNESCO as a world natural herita...
apnews.com
Cholera epidemic in #Yemen, 2016–18: an analysis of surveillance data This new study addressed the impact of the conflict on #water availability and infrastructure, as well as remote rainfall data to determine the causes of the recent #cholera epidemics.
Cholera epidemic in Yemen, 2016–18: an analysis of surveillance data
Our analysis suggests that the small first cholera epidemic wave seeded cholera across Yemen during the dry season. When the rains returned in April, ...
www.thelancet.com
Is an ageing #oil tanker threatening an environmental disaster off the coast of #Yemen ? https://t.co/hFowvj8E1t We investigate the threat posed by the SAFER FSO, oil pollution in the conflict and the options for tackling the problem.
Twitter feed video.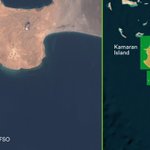 Load more
Parties to the conflict must be encouraged to agree to a cessation of hostilities which must include safeguards for health, water and sanitation facilities.