The humanitarian impact of the conflict in Yemen has been exacerbated by scarce water resources, weak governance and poor infrastructure – all of which have been further degraded by the conflict. The conflict has had a huge impact on Yemen's weak agricultural sector leading to severe food insecurity, and impacted projects aiming to protect its remaining biodiverse areas.
A brief introductory overview of the environmental dimensions of the conflict in Yemen, with facts, figures and further reading.
Conflicts often disrupt environmental governance and sustainable development. In this blog Doug Weir examines how the conflict in Yemen has interrupted plans to improve waste management while creating new risks to human and environmental health.
A dilapidated tanker with 1.14m barrels of crude oil has become a pawn in the conflict in Yemen. The potential for miscalculation leading to a spill that would cause serious harm to Red Sea ecosystems is significant. In this blog Doug Weir catches up with developments with the SAFER FSO one year on.
In March, the Yemeni government called for UN help in dealing with a potentially serious oil pollution threat in the Red Sea. The case has highlighted the wider threat from oil pollution in Yemen's civil war and the risks it poses to the Red Sea's ecology.
In last week's #UNSC briefing on #Yemen @UNOCHA confirmed that talks are STILL ongoing with the Houthis over access to the hazardous SAFER oil tanker for a technical safety assessment
United Nations Office for the Coordination of Humanitarian Affairs – Director of Coordination Division, Mr. Ramesh Rajasingham - Briefing to the Security Council on the humanitarian situation in Yemen, 16 January 2020 - Yemen
English News and Press Release on Yemen about Food and Nutrition, Health and more; published on 16 Jan 2020 by OCHA
reliefweb.int
The foreign minister of #Yemen is continuing to lobby UN agencies over the environmental risks posed by the decaying SAFER oil tanker, most recently the regional director of UNOPS, arguing that the UNSC should pressure the Houthis into allowing access
FM, UN's officials discuss risks of Safer oil reservoir - وكالة يمن تليجراف الإخبارية
Foreign Minister Mohammed al-Hadrami conferred Wednesday with UN's officials over potential env
telegraphyemen.com
.@AJEnglish reporting that the Houthis have called for help in dealing with the SAFER FSO oil tanker moored off #Yemen claiming that it is "leaking fuel". Unclear if it means "fuel" or its cargo: c.1.2m barrels. Our analysis shows NO significant leak https://t.co/WJo5Kr9lZk 1/4
Twitter feed video.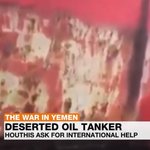 Load more
The impacts of climate change are particularly complex in the Middle East and North Africa (MENA). The region suffers from violent conflicts and severe water scarcity, while climate models show more serious scenarios here than in other regions. This paper explains how the security of the MENA region is inscribed in a new climate reality.