Decades of conflict have caused serious and widespread land and resource degradation. This has been driven by unsustainable management practices and is now being exacerbated further by climate change. Afghanistan faces a range of issues including remnants of war, water and resource conflicts and corruption, while long-term efforts to rebuild environmental governance and address degradation are being hampered by its ongoing insecurity.
A brief introductory overview of the environmental dimensions of the conflict in Afghanistan, with facts, figures and further reading.
Pollution is killing more people in Afghanistan each year than armed violence. While efforts have been made to build environmental governance since 2003, addressing the health and environmental threats posed by pollution in the face of insecurity, high levels of corruption and with limited financial resources remains an enormous challenge.
NATO's presence in Afghanistan included 1200 properties, from major airbases to small forward operating bases. Environmental oversight was mixed and the Afghan national authorities had limited capacity for investigating contamination or other forms of damage. Furthermore, the bilateral agreements between Afghanistan and major NATO contributing nations provided very limited scope for environmental redress.
India is financing a dam on the Kabul River in #Afghanistan that has the potential to further stoke regional tensions over #water. Water stress has the potential to increase insecurity without equitable transboundary management policies
Afghanistan's Rivers Could Be India's Next Weapon Against Pakistan
A new Afghan dam could could deprive Pakistan of water. The Indian-funded project might spark the world's next conflict.
foreignpolicy.com
"Conflict has also had serious consequences for the development of agriculture in Afghanistan." Unpicking the linkages between #climatchange, drought and conflict in #Afghanistan
Drought, Conflict and Regional Unrest Producing Dire Consequences for Afghan Food Security - Future Directions International
Afghanistan's food and water security has been consistently undermined by decades of conflict. Now, a serious drought and instability in Iran th...
www.futuredirections.org.au
More Afghans have been displaced by drought than by conflict this year https://t.co/mEZRyYqtf0 #Afghanistan
Twitter feed video.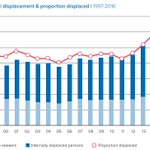 Load more
Afghanistan's economy and people are heavily reliant on agriculture, a sector that has been under huge pressure due to conflict and insecurity and increasingly to climate change. This report from the UN FAO provides insights into the linkages between these factors and the efforts to address them.