The conflict in Syria has included widespread attacks on oil facilities by numerous parties. Damage to urban areas has created vast quantities of debris and destroyed essential infrastructure, and fighting has regularly taken place in industrial areas. There has been a huge growth in artisanal oil refining in response to the destruction of oil facilities, while the massive displacement of its population has created environmental stress in neighbouring countries.
A brief introductory overview of the environmental dimensions of the conflict in Syria, with facts, figures and further reading.
At times, the #oil economy in #Syria is as convoluted and confusing as its conflict, something that Trump's recent decisions haven't helped
A convoluted system for Syria's oil revenues – Enab Baladi
Despite the US administration's public adherence to managing oil resources in Syria, it is difficult to determine its distribution plan, notably as th...
english.enabbaladi.net
The deliberate destruction of crops and agricultural infrastructure is not a relic of Medieval times, it's still with us, as the conflicts in #Syria and #Iraq demonstrate, e.g. @RPearshouse's report for @amnesty https://t.co/2igFp7gA39 #IHL #intlaw #PERAC
Twitter feed video.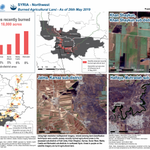 Load more
In June, a marine oil pipeline feeding a Syrian oil refinery was sabotaged, this open source investigation considers the environmental consequences of the incident.