The fragmentation of Libya and its descent into civil war, which began following the 2011 uprisings and NATO intervention, has had as yet unquantified consequences for its environment. Islamic State has targeted oil infrastructure and urban areas have seen severe damage with governmental collapse resulting in the loss of environmental oversight and basic services.
A brief introductory overview of the environmental dimensions of Libya's conflict, with facts, figures and further reading.
Contrary to other armed groups in Libya, the strategy behind the Islamic State's attacks on oil facilities this week is not purely military. It is also part of a wider strategy calling for the disruption of the oil industry, not only to affect opposing regimes but also western society and the global economy.
The UN's Special Representative for #Libya has warned the #UNSC of Libyan communities' deteriorating access to electricity and water as the conflict intensifies, and of increasing #IHL and #HumanRights violations
This is a really useful overview of the environmental security pressures facing the #MENA region - and why most regional states are poorly equipped to address them. #Iraq #Libya #Syria #Yemen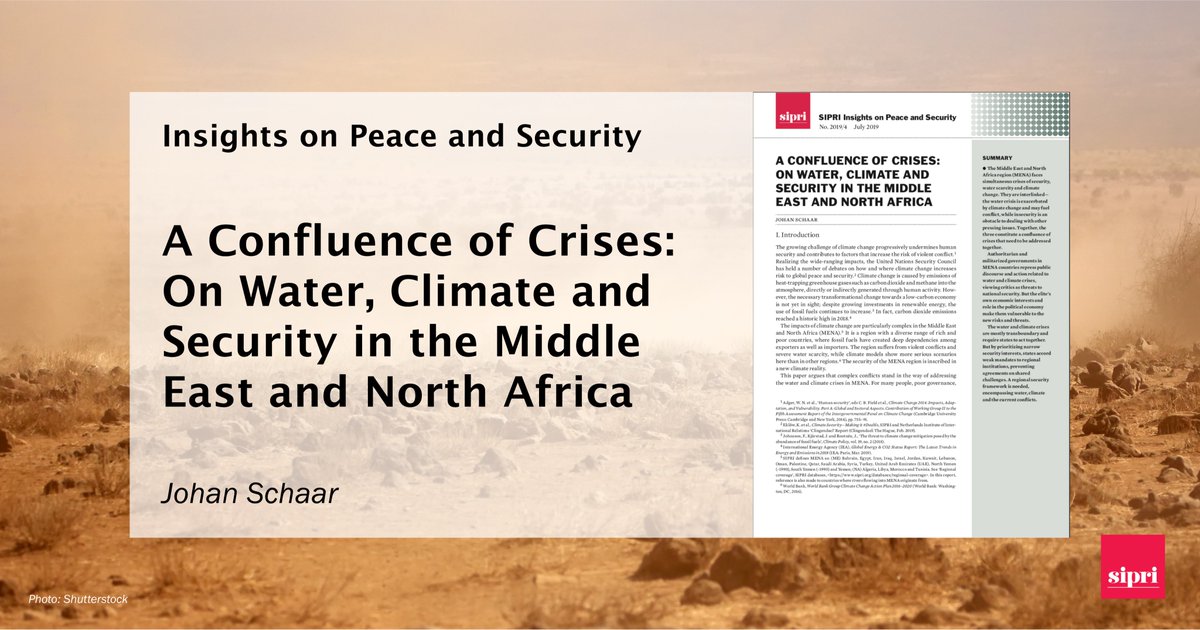 SIPRI
@SIPRIorg
SIPRI report by @JohanSchaar, 'A Confluence of Crises: On Water, Climate and Security in the Middle East and North Africa', argues for a regional security framework encompassing #water, #climate and the current #conflicts in the #MENA region.

Read more ➡️ https://t.co/x0vKEvMzP4
The tempo of incidents affecting #water supplies to cities in #Libya appears to be increasing, with armed factions forcing power outages. This is building on years of slow degradation to vital infrastructure caused by attacks, thefts and lack of repairs
Load more
The impacts of climate change are particularly complex in the Middle East and North Africa (MENA). The region suffers from violent conflicts and severe water scarcity, while climate models show more serious scenarios here than in other regions. This paper explains how the security of the MENA region is inscribed in a new climate reality.