The fragmentation of Libya and its descent into civil war, which began following the 2011 uprisings and NATO intervention, has had as yet unquantified consequences for its environment. Islamic State has targeted oil infrastructure and urban areas have seen severe damage with governmental collapse resulting in the loss of environmental oversight and basic services.
A brief introductory overview of the environmental dimensions of Libya's conflict, with facts, figures and further reading.
Contrary to other armed groups in Libya, the strategy behind the Islamic State's attacks on oil facilities this week is not purely military. It is also part of a wider strategy calling for the disruption of the oil industry, not only to affect opposing regimes but also western society and the global economy.
Haftar's LNA take control of El Sharara oil field in #Libya from armed Tuareg protesters without resort to violence, pledging to hand control over to the National Oil Corporation once secure. A trend likely to change pattern of damage & pollution to sites?
A network of volunteers in #Libya is trying to tackle deforestation, and damage to wooded areas caused by the fighting, by planting saplings and educating school children on the importance of tree cover
تلفزيون-مبادرة محلية صديقة للبيئة تقود جهودا لزراعة الأشجار في ليبيا
الموضوع 1053
ara.reuters.com
The number of non-state armed groups in #Libya grew in 2018, continuing the trend of recent years. These groups have played a role in a number of high profile cases of environmental damage.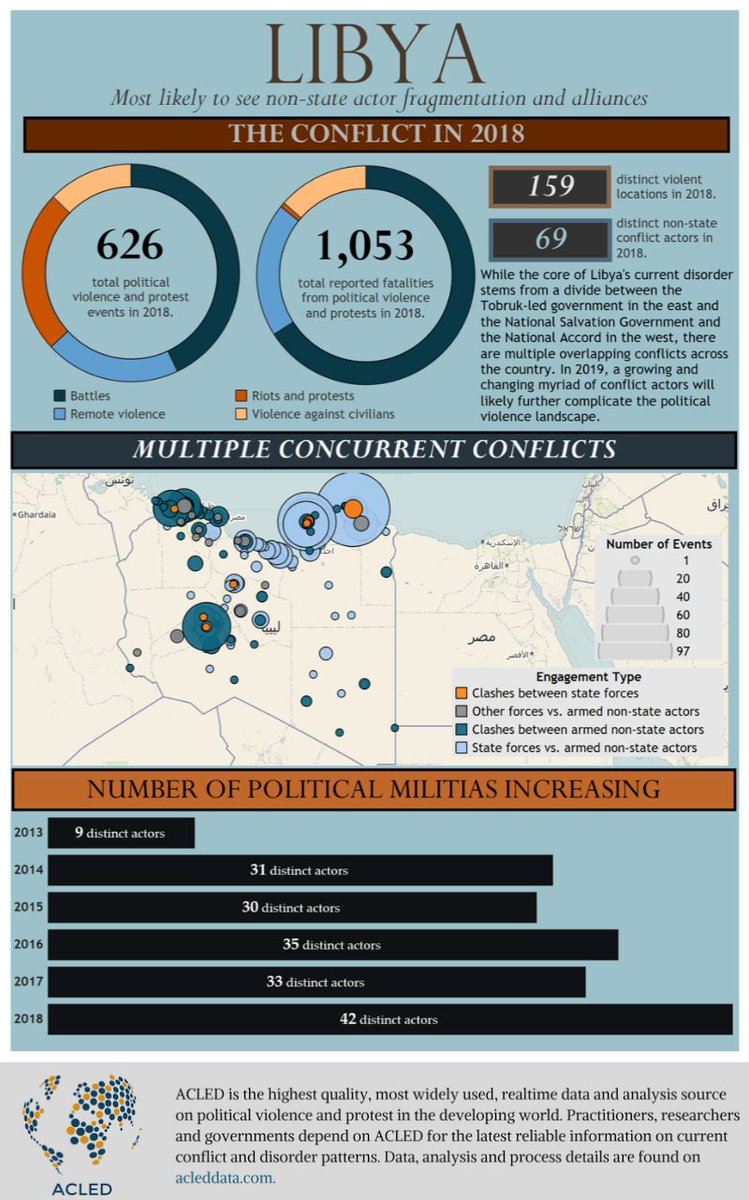 Armed Conflict Location & Event Data Project
@ACLEDINFO
#Libya: The civil war remains ongoing, with entrenched divisions between the two rival governments fostering an unstable environment conducive to the resurgence of militant groups like #IS. An ever-growing mix of armed actors will likely further complicate the conflict in 2019.
Load more
In June 2018, social media and OSINT were used to identify damage caused to an oil storage site in Libya caused by fighting between the LNA and a former PFG commander.