Half a century of conflict caused serious damage to the environment but in some areas prevented deforestation in what is a global biodiversity hotspot. Pollution has been caused by deliberate attacks on oil infrastructure and aerial herbicide use, and mercury emissions from gold mining are an ongoing problem. The peace agreement has created new threats to Colombia's ecosystems as access to forest areas increases and land use changes.
A brief introductory overview of the environmental dimensions of post-conflict Colombia, with facts, figures and further reading.
Concerns raised over #glyphosate exposure's impact on reproductive health ahead of a planned resumption of aerial coca spraying in #Colombia
Glyphosate's Harmful Effects on Reproductive Health in Colombia
reproductiverights.org
Helpful overview of the state of protected areas in #Colombia and the lack of a role for the indigenous peoples who inhabit them in their governance https://t.co/oKGKLXqMLM #biodiversity
Twitter feed video.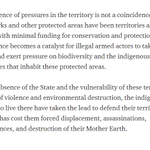 Alluvial #gold mining in #Colombia has been closely linked with its conflict and until a recent reduction in use, mercury pollution. This @MapX_UN story map from Elsy Ibrahim uses remote sensing to investigate vegetation loss in one area of Antioquia
Load more
Colombian experts are working on a proposal for the new transitional justice to investigate the ways in which the environment and its caretakers have been affected by violence.