Half a century of conflict caused serious damage to the environment but in some areas prevented deforestation in what is a global biodiversity hotspot. Pollution has been caused by deliberate attacks on oil infrastructure and aerial herbicide use, and mercury emissions from gold mining are an ongoing problem. The peace agreement has created new threats to Colombia's ecosystems as access to forest areas increases and land use changes.
A brief introductory overview of the environmental dimensions of post-conflict Colombia, with facts, figures and further reading.
Colombia's environment has suffered widespread and severe damage as a result of half a century of armed conflict. With a peace agreement with FARC on the table, the government has been reviewing the financial costs of the damage – and the economic and environmental benefits of peace.
Aerial use of Glyphosate herbicides in Colombia prove too controversial after WHO findings on cancer risks.
The World Health Organisation's International Agency for Research on Cancer has classified the world's most widely used herbicide Roundup as probably carcinogenic in humans. Roundup is widely used in US supported efforts to destroy poppy and coca fields in Colombia's long running internal conflict and the decision will add to existing concerns over the health impact of aerial spraying.
#Colombia unveils a far reaching, ambitious and multi-sectoral strategy to reduce net deforestation to zero by 2030
Presidencia refuerza estrategia interinstitucional para controlar la deforestación en Amazonia
Reciente directiva presidencial establece acciones urgentes para 19 entidades del orden nacional y le pide al Minambiente tramitar la modificación de...
sostenibilidad.semana.com
The power vacuum that followed the FARC demobilisation in #Colombia translated into a sixfold increase in fires within protected areas. Within the reserves studied, a 69% jump in deforestation followed the fires.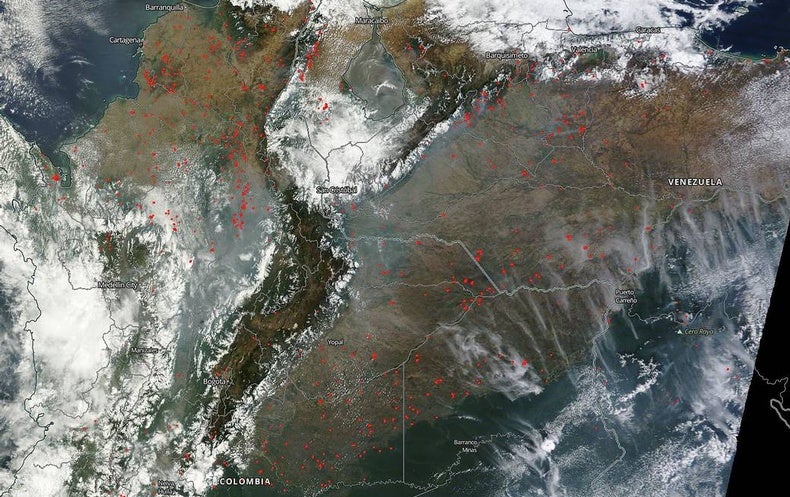 From Fog of War to Flames of Peace--Wildfires Surge in Post-FARC Colombia
The end of guerrilla warfare has led to an increase in woodland conflagrations and deforestation
www.scientificamerican.com
Religious and indigenous leaders join forces on initiative to end tropical deforestation in #Colombia
Load more
In 2015, 24,142 hectares of forest were lost, which is almost 20% of Colombia's total forested area in that year. The main driving forces of the deforestation are the expansion of the agricultural industry to make room for cattle, along with the commercialization of wood, illicit crops, and illegal mining.