How can humanitarian mine action help to support the attainment of the Sustainable Development Goals?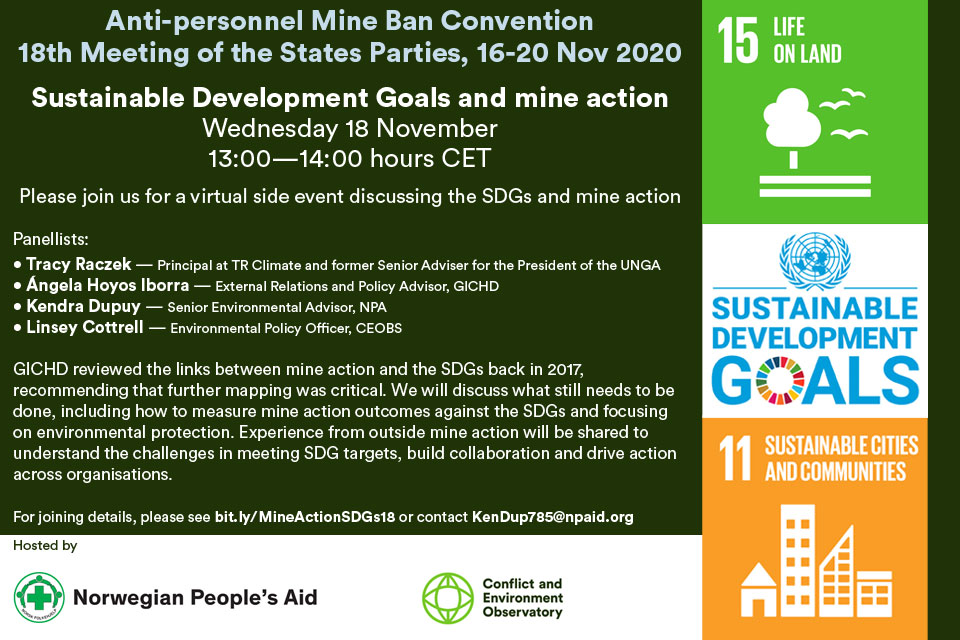 Join us for a virtual side event on mine action and the SDGs in the context of the Anti-personnel Mine Ban Convention 18th Meeting of the States Parties.
The GICHD reviewed the links between mine action and the SDGs back in 2017, recommending that further mapping was critical. We will discuss what still needs to be done, including how to measure mine action outcomes against the SDGs and focusing on environmental protection. Experience from outside mine action will be shared to understand the challenges in meeting SDG targets, build collaboration and drive action across organisations.
Panellists
Tracy Raczek — Principal at TR Climate and former Senior Adviser for the President of the UNGA
Ángela Hoyos Iborra — External Relations and Policy Advisor, GICHD
Kendra Dupuy — Senior Environmental Advisor, NPA
Linsey Cottrell — Environmental Policy Officer, CEOBS
To register, visit https://www.npaid.org/mine-action-and-disarmament/news/sustainable-development-goals-and-mine-action or contact KenDup785(at)npaid.org
Co-hosted by Norwegian People's Aid and the Conflict and Environment Observatory.