Exploring the direct and reverberating effects of explosive weapons on the environment.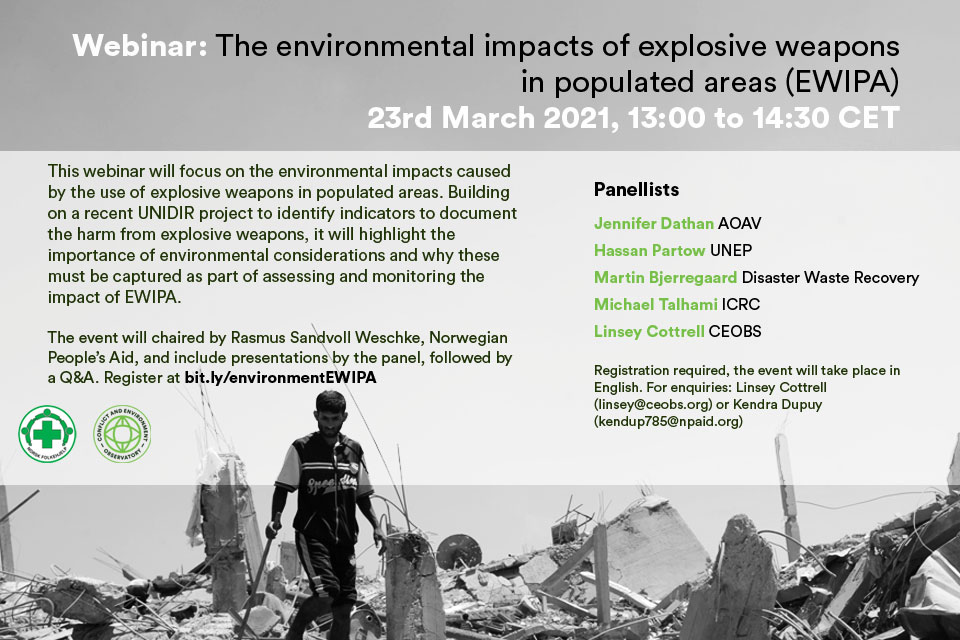 Join us on March 23rd 2021 for this webinar exploring the environmental impacts of the use of explosive weapons in populated areas (EWIPA).
This webinar will focus on the direct and reverberating environmental impacts caused by EWIPA. Building on a recent UNIDIR project to identify indicators to document the harm from explosive weapons, it will highlight the importance of environmental considerations and why these must be captured as part of assessing and monitoring the impact of EWIPA.
Panellists:
Jennifer Dathan AOAV
Hassan Partow UNEP
Martin Bjerregaard Disaster Waste Recovery
Michael Talhami ICRC
Linsey Cottrell CEOBS
The event will chaired by Rasmus Sandvoll Weschke, Norwegian People's Aid, and include presentations by the panel, followed by a Q&A. Register at bit.ly/environmentEWIPA
Registration required, the event will take place in English. For enquiries: Linsey Cottrell (linsey at ceobs.org) or Kendra Dupuy (kendup785 at npaid.org)