Study by PAX provides the first insights into the impact of Syria's conflict on the environment.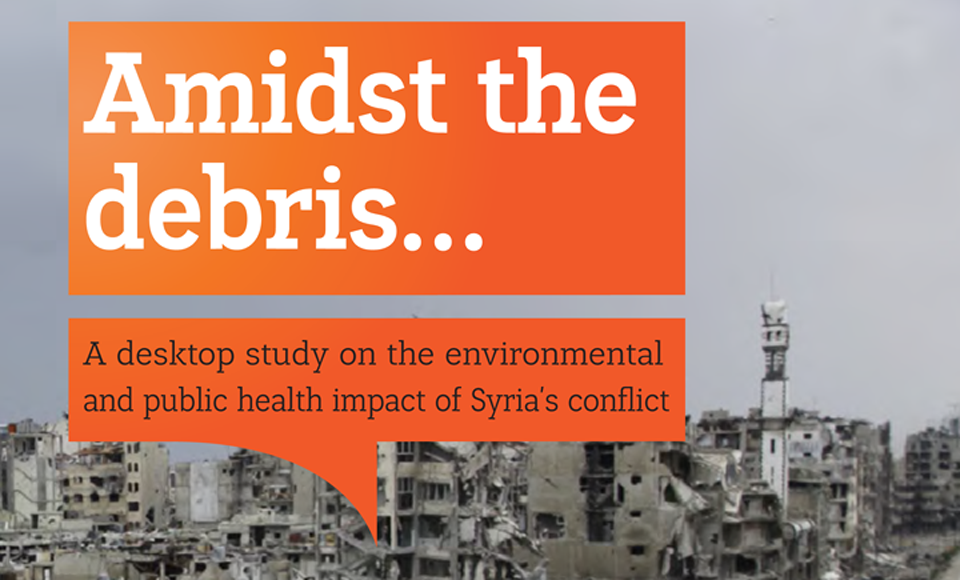 The ongoing conflict in Syria is likely to have a disastrous impact on the environment and public health, according to a new study published by PAX. Four years of fighting has left cities in rubble and caused widespread damage to industrial sites, critical infrastructure and the oil industry. Pollution from these forms of damage is likely to result in acute and chronic risks to civilians and will have a long-term impact on the environment that they depend on.
Environmental health risks revealed
"With the additional attacks by Russia in or near Aleppo, which has numerous industrial complexes processing hazardous chemicals, existing environmental and public health risks from the ongoing conflict will only be compounded," cautioned report author Wim Zwijnenburg, researcher for PAX.
Analysis of the fighting, which is based on satellite imagery, social media monitoring and the reports of UN agencies, has found that that there are already major problems around locations where hazardous chemicals are stored and processed. Industrial facilities such as chemical industries and the oil industry as well as critical infrastructure such as power plants and water and sewage systems have sustained severe damage.
The shelling of residential areas has caused the destruction of the majority of Syria's housing stock. This has created millions of tonnes of rubble, some of which contains hazardous materials such as asbestos, heavy metals and the toxic residues from conventional weapons. The breakdown of waste collection and management as a result of the conflict has led to the accumulation of solid household and industrial wastes, which has increased the spread of communicable diseases.
Impact on post-conflict reconstruction
Building on research from previous conflicts in the region, such as those in Iraq, Lebanon and Gaza, and also from Ukraine, the study examines the impact that conflict pollution could have on post-conflict reconstruction. In doing so it calls for more detailed environmental monitoring, a more effective response mechanism and more sharing of environmental risk data with UN agencies and humanitarian organisations already active in Syria.
"Syria had invested heavily in expanding its industrial base prior to the conflict, yet many of these facilities, as well as other critical infrastructure have been heavily damaged. This can result in direct exposure to pollutants for civilians living nearby or returning later, and local contamination of soil and groundwater. However, monitoring of these sites and assessing their potential humanitarian and environmental impact has received little to no priority thus far."
Severe indirect consequences
The fighting also led to severe indirect consequences such as the collapse of environmental governance, resulting in the accumulation of household, medical and industrial waste and the outbreak of communicable diseases. Ensuing waste burning and waste dumping could pollute groundwater sources. Civilians in the oil-rich areas started make-shift oil refineries, exposing them to hazardous substances that under peace-time circumstances are heavily regulated.
Advice: include environmental threats in ongoing work
PAX, as part of the recently launched Toxic Remnants of War Network, urges states and international organisations to include these environmental threats in their ongoing work in the region and calls for more coordinated data sharing in order to support faster and more effective response mechanisms.
Protecting civilians and the environment they live would require more scrutiny, the report argues. And increased cooperation and funding for these activities is needed.The Network asserts that protection for the environment during and after conflicts is a humanitarian issue but that legal protection is weak and that the civilian legacy of wartime environmental damage remains under addressed. The Network is calling for the international community to explore how protection could be increased and to improve systems of post-conflict environmental and humanitarian assistance.
Download Amidst the Debris – a desktop study on the environmental and public health impact of Syria's conflict (PDF).