NGO and community led initial environmental assessment of Operation protective Edge in Gaza.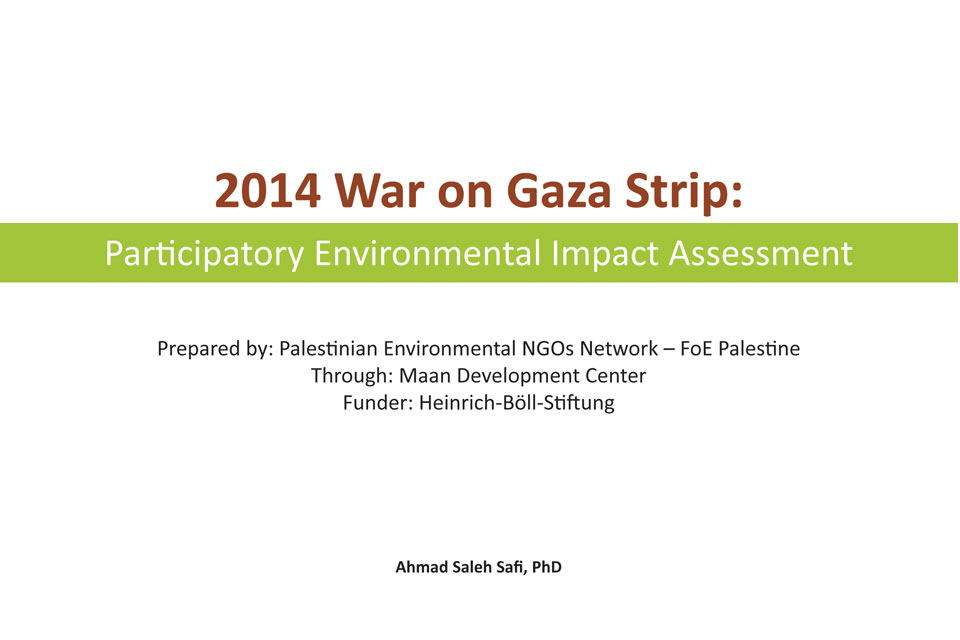 This report discusses the findings of a participatory assessment that was performed between May and September 2015, investigating the environmental impacts of the July/August 2014 war on the Gaza Strip "Operation Protective Edge." We assess the war's impact in four steps: 1) Desktop literature review and networking; 2) In-depth interview with experts, 3) focus group discussion sessions with communities around the Gaza Strip and 4) validation of the reality of some of the impacts.
This assessment is an exploratory study trying to identify all potential environmental impacts of the war almost a year after it came to an end. Through publishing this report, we aim to prompt more specialized research and assessments to further investigate the impacts of the war in terms of severity, causality, geographical distribution, and size.
Within this study, 10 experts were interviewed in-depth and 982 people participated in 93 focus group discussions. The focus group discussion sessions covered all the 24 localities of the Gaza Strip. However, we split Gaza City into two localities and thus we report data from 25 localities. The focus was on those localities which sustained more damages or which are inhabited by larger populations. To validate some of the outcomes resulted from the above mentioned assessments, field visits, lab tests, and two more in-depth interviews with experts were performed.
Link to external source