Published: Oct, 2022 · Categories: Publications, Ukraine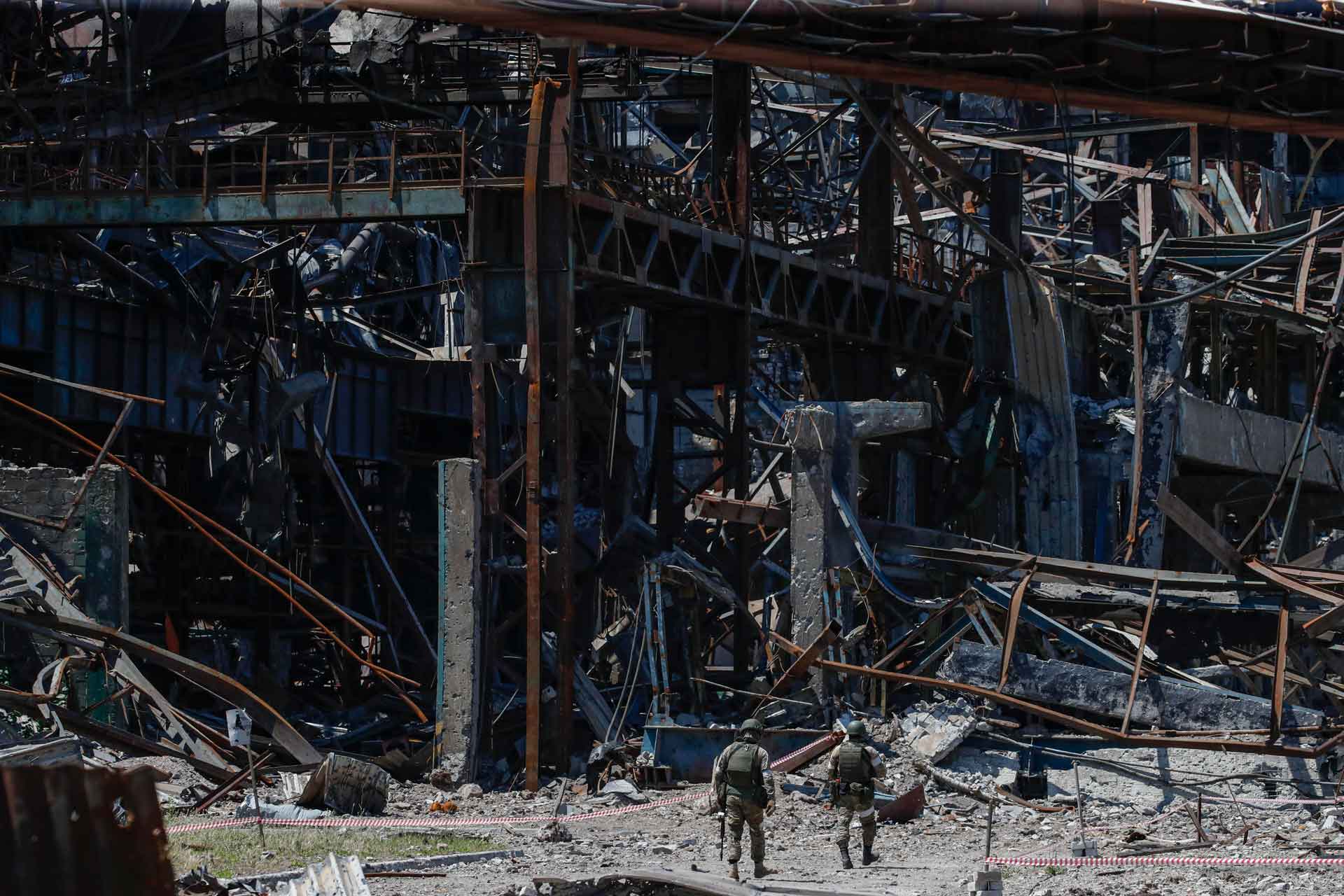 This is the third in a series of thematic briefings on the environmental consequences of the armed conflict in Ukraine, jointly prepared by the Conflict and Environment Observatory and Zoï Environment Network. This work is supported by the United Nations Environment Programme as part of its efforts to monitor the environmental situation in Ukraine, and is co-financed by the Norwegian Ministry of Foreign Affairs.
High intensity armed conflicts in heavily industrialised contexts like Ukraine present serious risks to the environment and public health. Since February, the conflict has led to hundreds of potentially harmful incidents at more than 200 industrial facilities.1 This is creating a significant legacy of contamination, as well as economic and social consequences. The conduct of the fighting is also forcing renewed consideration of the complex relationships between conflict and industrial facilities.
Since 2014, the risks associated with warfare in proximity to industrial facilities has been a key part of the environmental narrative on conflict in eastern Ukraine. Ukraine's Donbas region has a 200 year history of coal mining and heavy industry and, prior to February, had been the focus of concern over the threat of both acute environmental emergencies and the further deterioration of chronic environmental problems.
Many of Ukraine's largest cities house industrial facilities, for some, such as Mariupol, heavy industry formed the backbone of the economy. Although Ukraine's industrial output has been in decline during recent decades, cities such as Kyiv, Kryvyi Rih, Donetsk, Kharkiv, Zaporizhzhya and Odesa still feature metallurgical, petrochemical, mining or mechanical engineering sites and, commonly, dozens of smaller facilities that support them. Many towns and other cities also host a range of light industries, food processing enterprises and distribution centres. These facilities can contain a number of environmentally hazardous materials, or use potentially harmful processes, and damage to them is of particular concern when in proximity to populated areas, or to environmentally sensitive features such as rivers or protected natural areas.       
The intensive use of explosive weapons in urban areas has caused direct damage to industrial facilities and also led to interruptions and shutdowns through the disruption of gas, electricity and water supplies. Both blast damage and interruptions have the potential to trigger environmental risks. Often, large sites have become contested battlegrounds as frontlines have passed through them, or have become shelter, or defensive positions, and thus the focus of attack. Such incidents have illustrated just how complex the relationship between conflict and industrial facilities can be, with implications for the protection of public and ecological health. Other enterprises have been forced to relocate from areas of fighting, or to halt or modify production, while some in occupied areas have been looted or dismantled.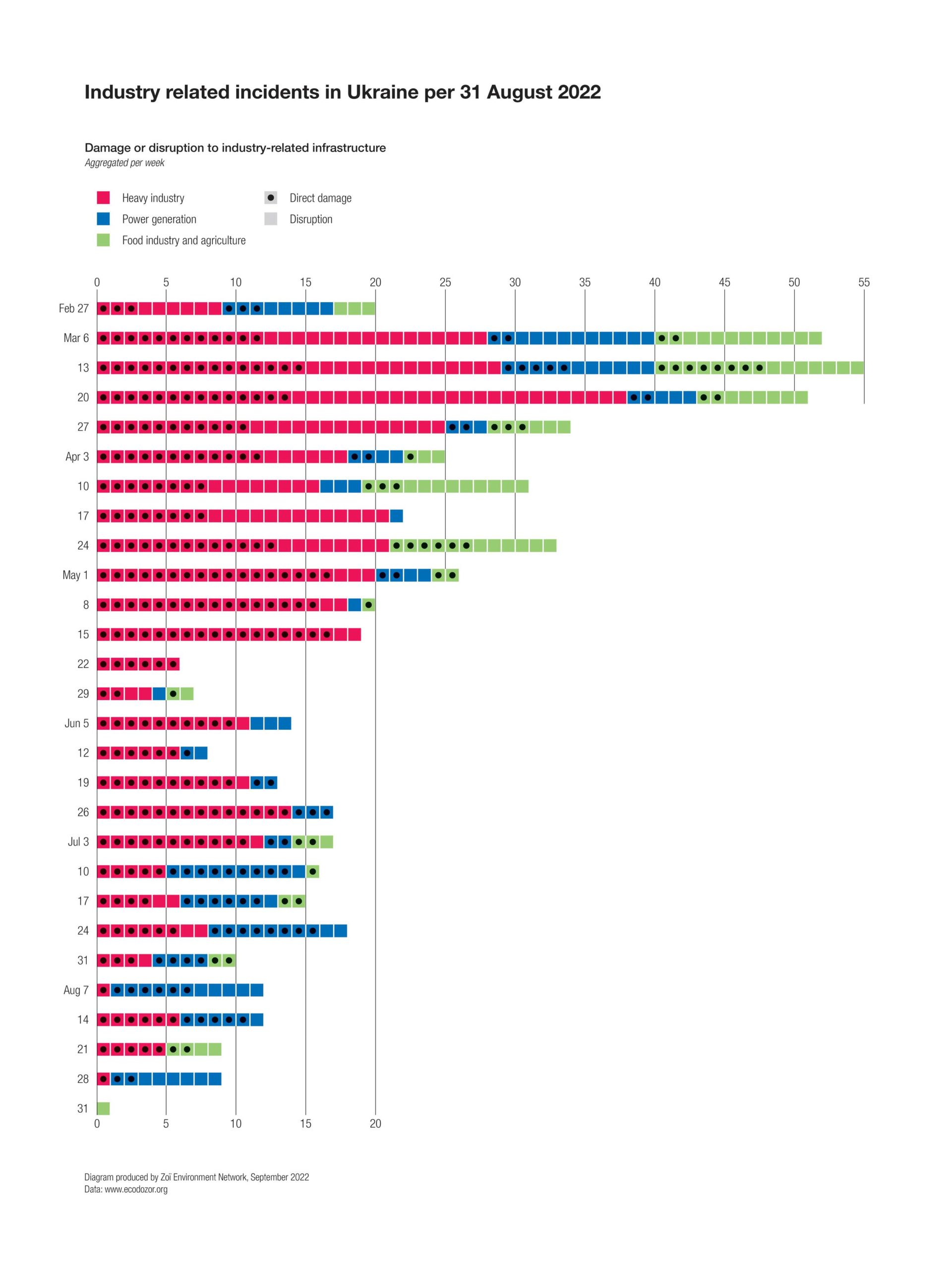 As of the end of August, more than 570 incidents had been reported at 250 of Ukraine's industrial facilities. Around 60% of these incidents were reportedly the result of direct physical damage.
Damage and disruption to industrial facilities can release pollutants into the air, soil and water, leading to both  ephemeral pollution incidents and persistent contamination problems. There have also been numerous reports of acute environmental emergencies, such as releases following damage to nitric acid or ammonia storage tanks. However determining the true extent of pollution from the current conflict will be complicated by delayed access to sites, as well as by the presence of legacy pollution from historically lax regulation and ageing facilities. 
To reduce the health and ecological risks from damage or disruption to facilities, companies that anticipated the fighting implemented preventative measures, such as the controlled shutdown of processes and the removal of hazardous substances. Some have subsequently restarted operations, in spite of ongoing risks.
Example incidents at selected industrial facilities, Feb – Aug 2022
Facility
Incidents
Vuhlehirska Power Station
In June, two missile strikes damaged the administration building, railroad tracks, power lines and set fire to the power plant. There was heavy fighting in the plant and surrounding areas throughout June and July.
Avdiivka Coke and Chemical Plant
In March, a massive fire broke out after shells hit the 1st and 2nd coke departments, tar and coal preparation departments and warehouse. In May, the plant ceased production and the site was mothballed. Due to heavy ongoing shelling, the plant is now de-energised and without water or gas supply.
Sievierodonetsk  Association "Azot"
Azot chemical works halted production soon after the outbreak of hostilities, processing and emptying ammonia stocks. Heavy fighting has caused serious destruction to the plant. This includes damage to nitric acid tanks and production facilities, ammonia production facilities, methanol storage sites, water supply infrastructure, water treatment systems, as well as its power, logistics and railroad systems. 
Lysychansk Oil Refinery, PJSC
Due to air strikes and shelling the plant has experienced at least three large-scale fires. Among other facilities, the elemental sulphur production units and the pipeline of the gasoline blending station were damaged.
Determining the full environmental cost of the conflict's impact on industrial sites will be a massive undertaking. Ukraine's State Environmental Inspectorate and its Prosecutor's Office began a sampling campaign at sites affected by the conflict in the early stage of the war. This has primarily been oriented towards evidence gathering for a future reparations case. Prioritising higher-risk contaminated sites for remedial measures, identifying short- and long-term interventions, and ensuring that the capacity and resources are available to tackle problematic facilities will be a major task, but vital to address immediate and long-term risks to human and ecological health.     
Despite some cases of significant investment in modernisation, much of Ukraine's pre-war heavy industry was relatively energy-inefficient and carbon-intensive, with pollution mitigation and control often below international standards. Ultimately, metallurgy, fertiliser production and coal mining are all key areas that should be addressed as part of a sustainable recovery and post-conflict transition. So too the legacy pollution problems exacerbated by the conflict, not least of which is the uncontrolled closure of coal mines and the serious risks of the pollution of water resources.   
Case study: Azovstal, Mariupol
The Azovstal iron and steel works has been one of the most totemic locations in the conflict:2 the scale of the site is monumental, the damage has been vast, and the story and circumstances of its defence became a source of Ukrainian national pride. This last fact has helped obscure a different story, that of the environmental cost of the site, now, and into the future.
Timeline
As the focus of one of Russia's three main fronts, Mariupol was completely surrounded by 2nd March, and suffered intense shelling. Through late March and April, the Russians advanced, squeezing Ukrainian forces deeper into the city and ultimately into the shelter of Azovstal, where "The Last Stand at Azovstal" lasted 29 days until 17th May. As well as soldiers, more than 300 civilians had sought protection in bomb shelters and endured harrowing experiences. The presence of so many civilians at such an environmentally hazardous site was highly unusual, as was the duration and intensity of its bombardment.
The first attacks on Azovstal were reported on 16th March, but it was video footage of two large fires on 19th March that sparked widespread coverage and fears over the environmental consequences. At this point Metinvest, Azovstal's owners, stated there was no risk, detailing the shutdown procedure that had been undertaken. However, no one could foresee the scale of destruction that would unfold. Dramatic footage of the fighting, and testimony from those inside, would tell of the near constant onslaught that followed, including naval and field artillery, rockets, incendiary weapons and bunker-busting bombs from the Russian airforce.
The weeks of attacks resulted in the near-total destruction of the Azovstal site. At the time of writing the area remains under Russian occupation and, without access to the site for an independent assessment the full scale of the damage remains unknown. However, it is possible to remotely assess some of the damage. The ecodozor platform, which monitors news reports, logged 41 incidents of damage, although this is likely an underestimate due to the scale of the bombardment and communications blackouts. Some 52 fires were detected at the site from space,3 but this is also likely an underestimate due to persistent cloud cover. The most complete picture so far is an analysis of very high resolution satellite imagery by UNOSAT, which identified 214 impact craters, assessed that 75% of buildings had sustained visible damage, and out of these 220 structures, 50 were destroyed and 54 severely damaged. 
Damage to environmentally sensitive objects
To achieve a more holistic view of the current and future environmental impact of the Azovstal attacks, this briefing analyses documented damage to key environmental objects – meaning buildings or storage facilities that pose specific environmental risks. Damage to key environmental objects has been identified using several sources, which are often complementary: fighting footage from social media, very high resolution satellite imagery released into the public domain, open-source satellite data including radar damage maps, and post-fighting press photography and drone footage. 
We have identified environmental health hazards from damage to, or the burning of, multiple blast furnaces, substations and water treatment facilities, waste and tailings storage facilities, fuel tanks, transportation infrastructure, and the site's power plant. It should be noted that the list of key environmental objects we have identified is by no means exhaustive, and is constrained by the publicly available information on the plant's layout.4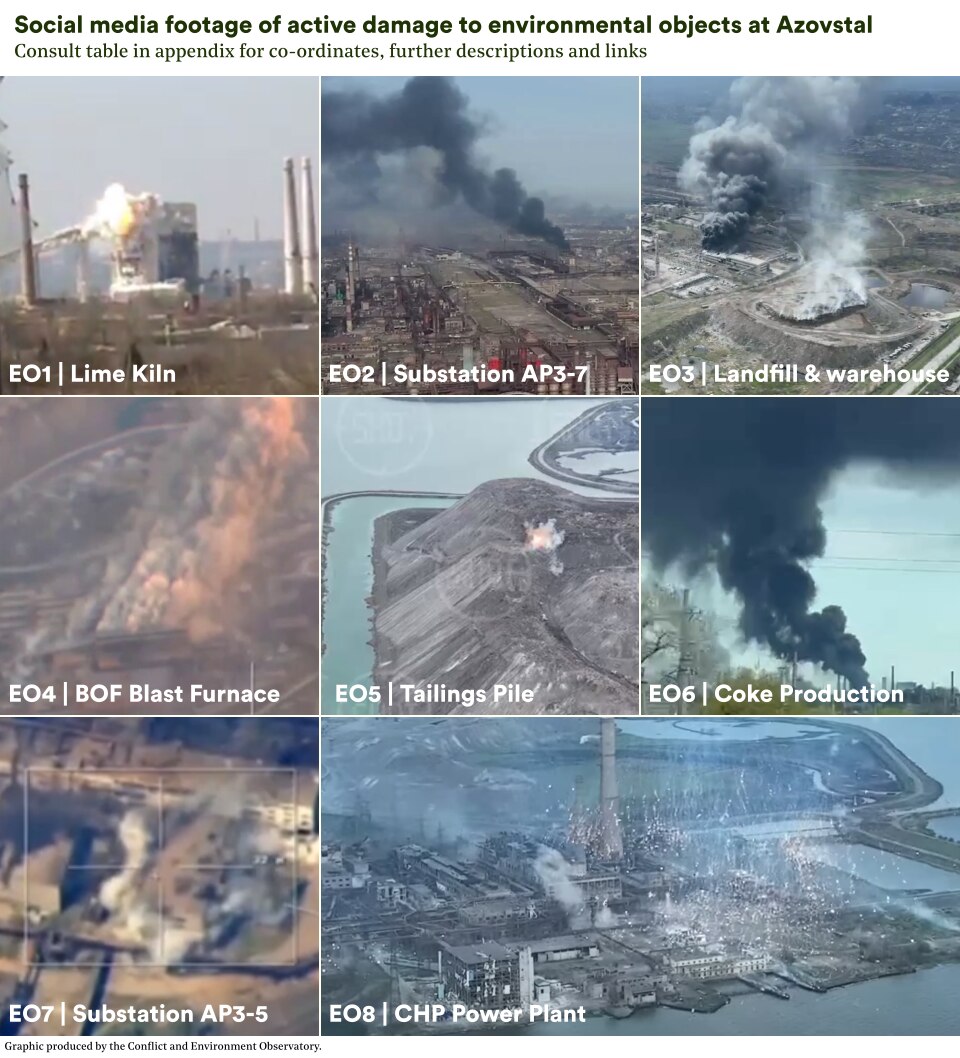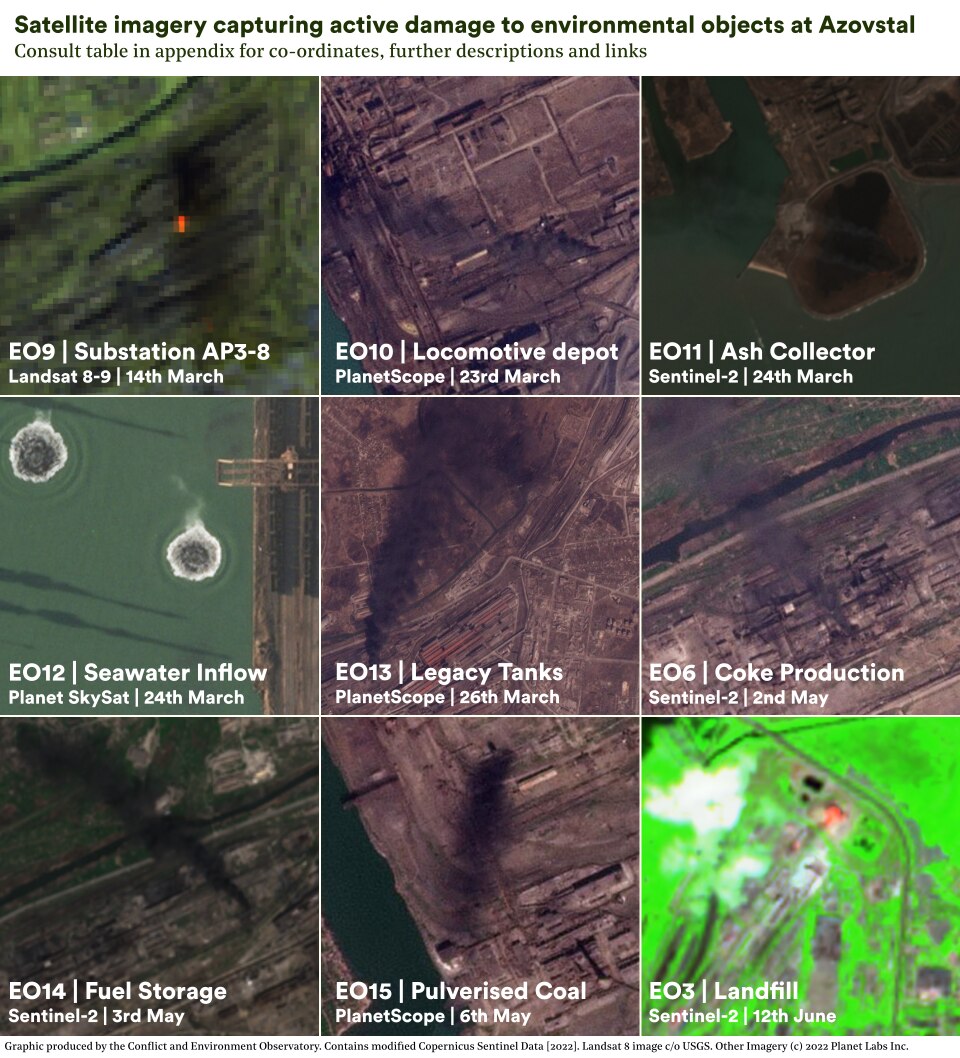 We now explore in more detail case studies for each pollution pathway to water, soil and air and the risks and challenges associated with each.
Water pollution
Wastewater from Azovstal has historically contaminated the Sea of Azov and the River Kalmius.5 It will remain unknown how the destruction of the site has altered these discharges until water samples can be taken, and interpretation will depend on robust baseline data.6 Meanwhile, insights can be gleaned from satellite remote sensing. 
The day after Ukrainian troops surrendered, the water pollution risk from Azovstal went viral. Photos of a luminous green tailings pond were captioned with warnings that sulfides had been discharged into the Sea of Azov, and that extinction of marine life was imminent. This was not the case, but instead was an example of how quickly environmental misinformation can spread following a misinterpretation of the originating post – that if the pond's retaining wall were damaged, such a discharge could happen.7 
However, the status and risk from the tailings pond does remain relevant, having changed colour multiple times. From sea green it changed to bright turquoise in late May, to black in July, to pink in late August and most recently has been transitioning to a beige hue. These changes are likely all driven by mineralogical and chemical oxidation changes of the water, and are unlikely attributable to biological activity.8 The exact composition will remain unknown without measurements, and is even difficult to speculate on – for example, a pink tailings pond is unique for Azovstal and unusual worldwide.9 It is likely that the proximate causes of the colour changes are the cessation of production at the site and the exposure of fresh tailings to oxidation following disturbance from explosions and fighting.10 The current status and integrity of the pond's retaining walls remains unknown, and possibly of concern, given reports of marine explosions nearby.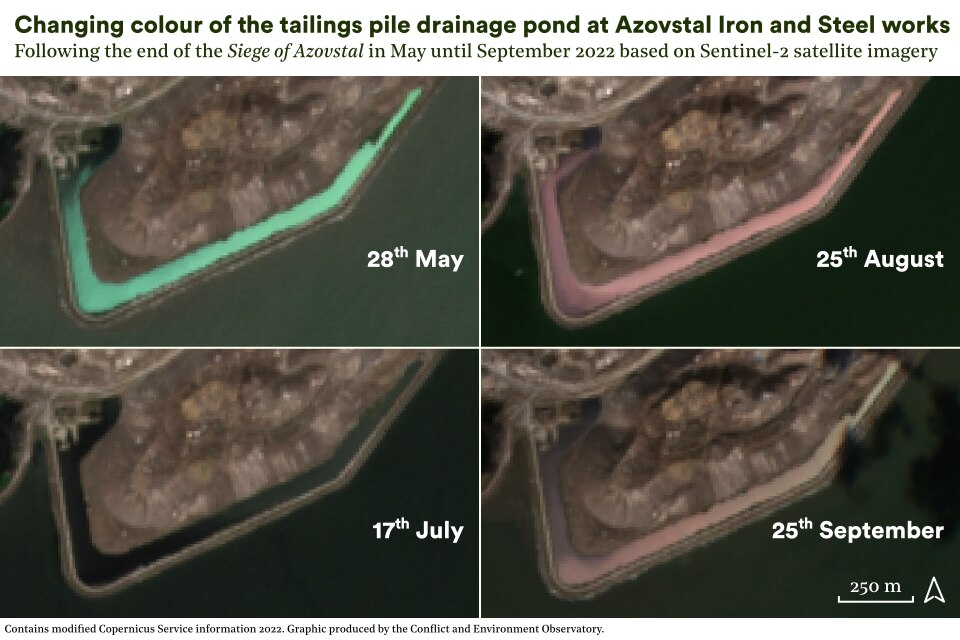 Contaminated land
The land around the Azovstal site is contaminated by legacy pollutants from iron and steel production, which typically include: cadmium, copper, chromium, lead, manganese, nickel, vanadium, zinc, arsenic, cyanides, thiocyanates, sulphides, volatile organics (such as benzene, toluene, xylenes), polyaromatic hydrocarbons and phenols. This has now been exacerbated by pollutants emitted from munitions and the consequences of explosive damage at a complex site, including asbestos containing materials.
One example is the coke production biological wastewater processing facility, which treats wastewater containing oils and tars, phenols, ammonia, thiocyanates, metals, volatile and semi-volatile organics, cyanides and sulfides. A spill is visible from one or more of the storage tanks where wastewater has spread on to surrounding bare soil. If it was a tank from the early stages of treatment, the effluent is still likely to contain high concentrations of harmful contaminants.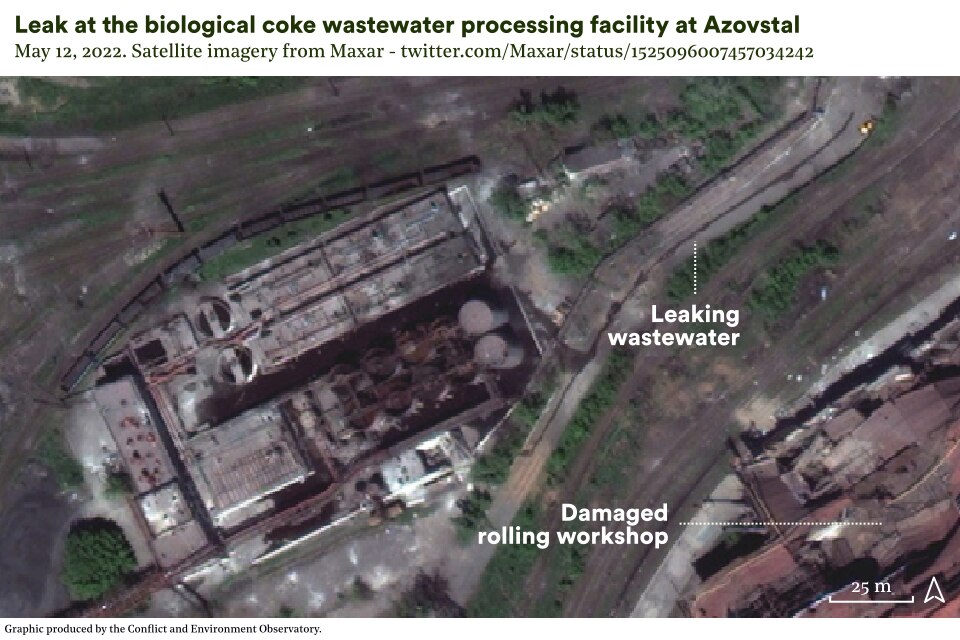 Land contamination will not just be limited to within the perimeter of the site. Grounding of smoke and dust plumes from the site will have deposited hazardous particulate matter over the city, and over soil in neighbouring agricultural areas.11 Pollution associated with the fighting at Azovstal – and the rest of the city – will have exacerbated this contamination, leaching into soils, potentially migrating via underlying groundwater or conduits, and risking nearby water courses.
Air pollution
Air pollution is a major concern not only from fires, the burning of hazardous materials found on site and hazardous combustion products, but from the resuspension of hazardous contaminated dust from explosions and fighting, especially on the large tailings pile. Unfortunately, the ground level air quality measurement system in Mariupol was lost on 2nd March, and so the impact of these incidents was not directly measured.
Counter intuitively, satellite measurements show an improvement in the average air quality in Mariupol, one of Europe's most polluted cities. This is likely due to the suspension of production at Azovstal and Mariupol's other industrial enterprises – the plant ranked as Ukraine's seventh largest emitter in 2020,12 with the slow pace of modernisation drawing criticism from civil society organisations,13 and comment from President Zelenskiy.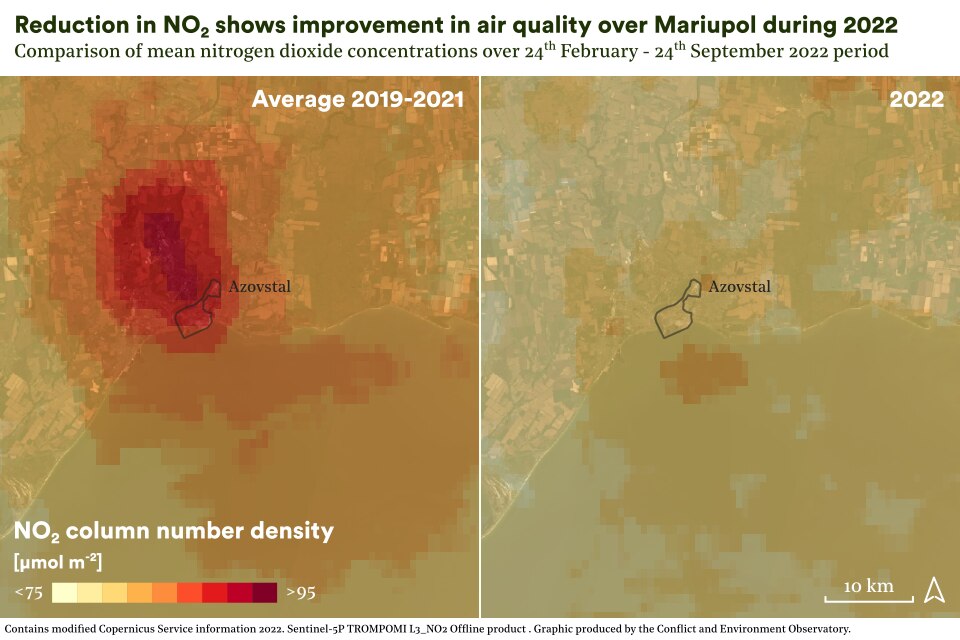 The future of the Azovstal site
Short-term
Azovstal's legacy of pollution is likely to determine its eventual fate but in the near term there are immediate environmental issues to deal with. Specifically, if there is an imminent risk of a major release of hazardous materials into the environment, in particular from the tailings pond, and if so whether urgent containment action must be taken. The site needs to be made accessible for further environmental investigation, which will also entail reducing the risk from explosive ordnance.14
At the time of writing, Mariupol, and the Azovstal plant remain under Russian occupation. Once access allows, a ground-based environmental impact assessment should be undertaken. Assessments would include an inventory on the condition and integrity of remaining structures and assets, including tailings dams, the quantities and status of any remaining chemicals and materials stored on-site, and review the status of drainage and other underground conduits. Soil and water sampling should be undertaken, as should the characterisation of the environmental risks from the potential pollution sources, exposure pathways and local environmental receptors. This includes the damaged environmentally hazardous objects identified above and others located with the assistance of site staff. The de-facto authorities, the internationally unrecognised Donetsk People's Republic (DPR), have reportedly sent samples of seawater from Azovstal to Russia. However, given the political context, and the symbolic importance of Azovstal, assessments should be undertaken by independent international observers, with guarantees of safe access, methodological transparency, and robust chains of custody.
Should an independent environmental risk assessment remain impossible, continued remote monitoring will be important, and it is recommended that very high resolution satellite imagery is reviewed by experts in the environmental management of iron and steel works.
Given the dynamics of the conflict, it is not implausible that Mariupol could once more become a frontline. In light of the residual environmental risks it contains, conflict parties should ensure that the Azovstal plant does not once more become the focus of fighting.
Long-term
Because of the large volumes of conflict debris at the site, much of which may be contaminated by chemical pollutants, asbestos and explosive ordnance, any clean-up of Azovstal will be a staggering challenge. This will need to consider sustainable land remediation options, whenever possible. Dealing with legacy pollution is a significant undertaking, and lessons from experiences across the world may be useful.15
Will the works be restored, or could a 'green recovery' see a use of the site that provides a healthier environment for Mariupol's residents? This may depend on the fate of the second iron and steel works in the city, Illich, which has not suffered a similar degree of damage. The significant emissions of greenhouse gases from iron and steel production should be considered, particularly given that those in Mariupol were higher than the global average.16 Novel green approaches may be sought, such as reclaimed material production, or using the site for atmospheric carbon capture.
The prevailing view in Ukraine is that Azovstal is damaged beyond repair. However, its owner MetInvest has not given up hope, and on 16th September CEO Yuriy Ryzhenkov said: "We will rebuild everything, though. It is a matter of feasibility and time", conceding that: "We need experts to go to the site and assess the condition of the structures". Thus far there has been little public discussion on the future of the site. Civil society advocacy against Azovstal has understandably been silent since February, but these key stakeholders should be consulted in any future decision making. Without future planning for the Azovstal site, there will be a serious risk that a huge area of heavily contaminated industrial land will continue to cause environmental harm, even if the site is mothballed and redundant.  
There have been competing statements by pro-Russian actors over the site. The DPR indicated that there should be no resumption to pre-conflict levels of production, basing this on residents' opposition due to pollution concerns, instead suggesting that some industry is still likely, be that "environmentally friendly smelting" or a "small modern enterprise". However, the view from Moscow may differ, as Russian Deputy Prime Minister Marat Khusnullin indicated that to maintain employment rates production should not stop.
Clearly, Azovstal's future will depend on the outcome of the occupation of the city. Nevertheless, options already mooted by Russia provide an indication of some possible futures for the site. These include: the recovery of production (the most expensive option which Metinvest insist can not proceed without their know-how); its transformation into a business centre and recreation site; its development into green space, including a marina, botanical gardens and memorial park; and finally green space alongside coastal and river tourism zones. It was unclear whether the enormous cost of remediating contaminated land and coastal environments has been priced into proposal budgets.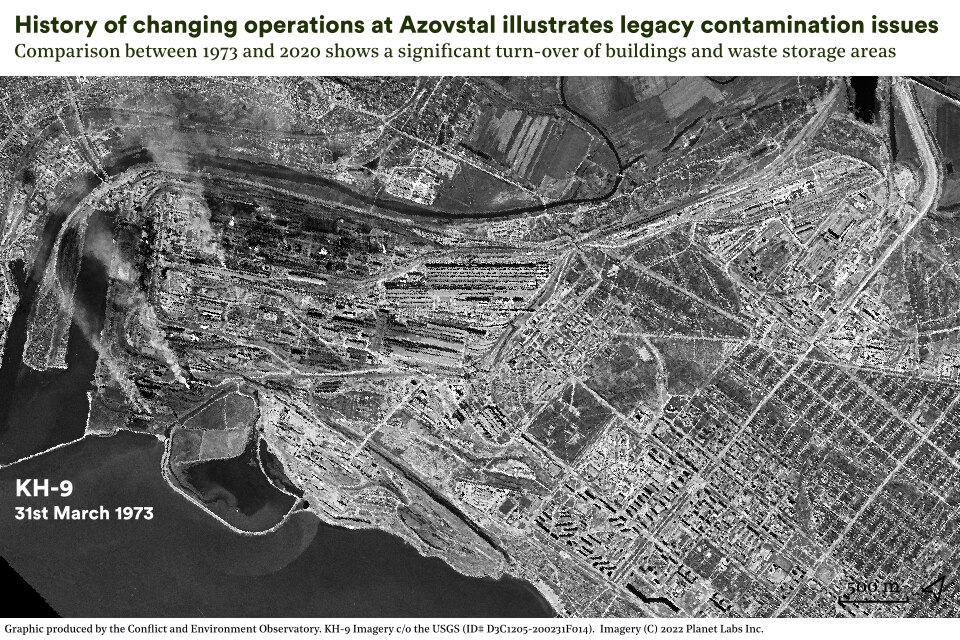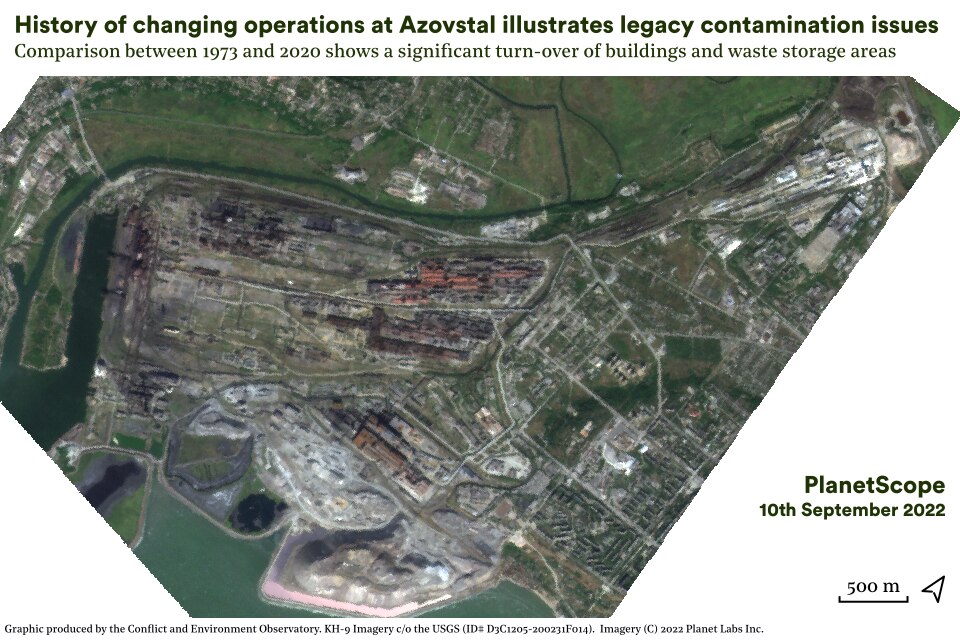 Immediate and future needs
Damaged industrial facilities can create acute and chronic risks to ecosystems and human health. Extensive damage and disruption has already been caused to such sites during the conflict and, without active steps to reduce this, this is likely to continue as the war progresses. There are however measures that can be taken to reduce risks and facilitate future remediation.
i) Precautions in attack and emergency measures
Conflict parties must take all possible measures to reduce damage and disruption to industrial facilities that can cause harm to the environment, even where they may have become military objects under International Humanitarian Law. Facility owners and government authorities should take steps to reduce risks associated with facilities and ensure emergency response plans are in place. Conflict parties must also ensure the safety of those responding to environmental emergencies.
ii) Increase data collection
Monitoring data can be used to inform risk characterisation and the subsequent targeted remediation of damaged industrial facilities. Doing so effectively requires the merging of remotely and, where feasible, locally gathered information, with historical pollution data.
iii) Prioritise high risk sites for response

Efforts to triage the initial response to pollution incidents by prioritising higher-risk sites on the basis of their human health or ecological risk should be accelerated and supported by donors. For prioritised sites, immediate needs include the assessment of site infrastructure, assets and hazardous materials retained on-site, and emergency responses to prevent further releases and ensure the containment of pollutants. Measures to control access, the use of contaminated areas, and any risk of exposure should be implemented, with safety advice and procedures in place where access to contaminated areas or suspected areas is ongoing. Finally, monitoring systems should be reinstated.
iv) Long-term environmental remediation

The legacy of other conflicts that have severely impacted industrial sites demonstrate that addressing contamination issues will take years. National authorities, the private sector, donors, international experts and civil society should begin preparing for long-term programmes to ensure that necessary environmental remediation is undertaken and that it is effective in mitigating risks to human and ecological health. Securing sustainable finance for programmes will be vital in the face of the many competing needs during recovery.  
Any post-war reconstruction of Ukraine's industry should take into account modern environmental and climate requirements, as well as the pre-war experience of gradual – if limited – environmental investments and modernisation.
Media enquiries: eoghan(at)ceobs.org or nickolai.denisov(at)zoinet.org

Research and content by CEOBS and Zoï Environment Network.
Additional contributors: Dmytro Averin, Zoï Environment Network, Irpin; Iryna Nikolaieva, PAX, Utrecht.
Cartography and graphics: Matthias Beilstein, Zoï Environment Network, Schaffhausen.
Remotely gathered evidence of damage to environmentally sensitive objects at the Azovstal plant.
Table 2. Active damage captured on satellite imagery.
Object ID
Description
Latitude
Longitude
Precision
Link
Date
EO9
Substation AP3-8, fire.
47.1073
37.6059
exact
Landsat 8-9
14 March
EO10
Locomotive depot, fire.
47.0955
37.5918
exact
PlanetScope [not open]
23 March
EO11
Ash collector, fire.
47.0816
37.5913
approximate
Sentinel-2
24 March
EO12
Seawater inflow, explosions.
47.0949
37.5773
approximate
Planet Media Image
24 March
EO13
Former site of unknown tanks, fire.
47.1064
37.5968
exact
PlanetScope [not open]
26 March
EO6
Coke Production Area.
47.1026
37.5872
approximate
PlanetScope [not open]
2 May
EO14
Fuel storage (suspected), fire.
47.1058
37.5973
exact
Sentinel2
3 May
EO15
Pulverised coal injection tank, explosions.
47.0960
37.5842
exact
PlanetScope [not open]
6 May
EO3
Smouldering landfill, fire.
47.1333
37.6346
approximate
Sentinel-2
12 June
Table 3. Post-event damage assessed from very high resolution satellite imagery.
Object ID
Description
Latitude
Longitude
Precision
Link
Date
EO9
Substation AP3-8.
47.1073
37.6059
exact
Maxar
29 April
EO16
Biochemical site of coke production.
47.1092
37.6012
approximate
Maxar
12 May
EO17
Unknown tanks 1.
47.1028
37.5975
exact
Maxar
12 May
EO14
Fuel storage (suspected).
47.1058
37.5973
exact
Maxar
12 May
EO2
Substation АРЗ-7.
47.1010
37.6021
exact
Maxar
12 May
EO18
Substation АРЗ-4.
47.1100
37.6120
exact
Maxar
12 May
EO19
Wastewater ponds.
47.0983
37.6020
exact
Maxar
12 May
EO7
Substation АРЗ-5.
47.1061
37.6117
exact
Maxar
12 May
EO4
BOF blast furnace.
47.0977
37.6096
exact
Maxar
12 May
EO20
Rail beam workshop.
47.1025
37.6029
approximate
Maxar
12 May