militaryemissions.org is a new website dedicated to showcasing the dire state of military greenhouse gas emissions reporting to the UNFCCC.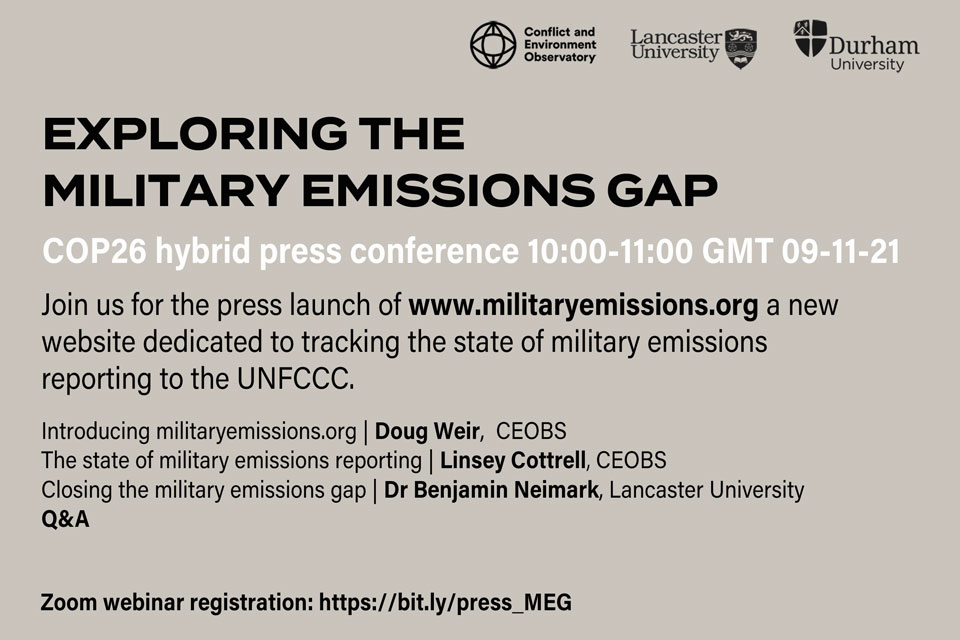 The United States lobbied for military emissions to be excluded from the Kyoto Protocol. The Paris Agreement made reporting them voluntary. As a result, military emissions reporting lags far behind that of other highly polluting sectors.

A new website developed by the Conflict and Environment Observatory and Concrete Impacts (Lancaster & Durham Universities) – www.militaryemissions.org – will bring these voluntary reports into one place for the first time, allowing visitors to see what their countries do, and do not report, and just how big the military emissions gap is.

Time: 09:00-10:00 GMT November 9th 2021
Venue: Arctic Basecamp tent, Federated Hermes COP26 Fringe Site, access via West Greenhill Place, Glasgow. (By prior arrangement)

Speakers
Introducing militaryemissions.org | Doug Weir, Research and Policy Director, CEOBS.
The state of military emissions reporting | Linsey Cottrell, Environmental Policy Officer, CEOBS.
Closing the military emissions gap | Dr Benjamin Neimark, Senior Lecturer, Lancaster University.
Q&A

Access to the Federated Hermes Fringe Site is restricted, but the press conference will be livestreamed via Zoom webinar. For enquiries about attendance in person contact (doug at ceobs.org)

Read the full media advisory for the event here.
Register for the virtual press conference via Zoom