Expert panel discussion to mark the launch of www.militaryemissions.org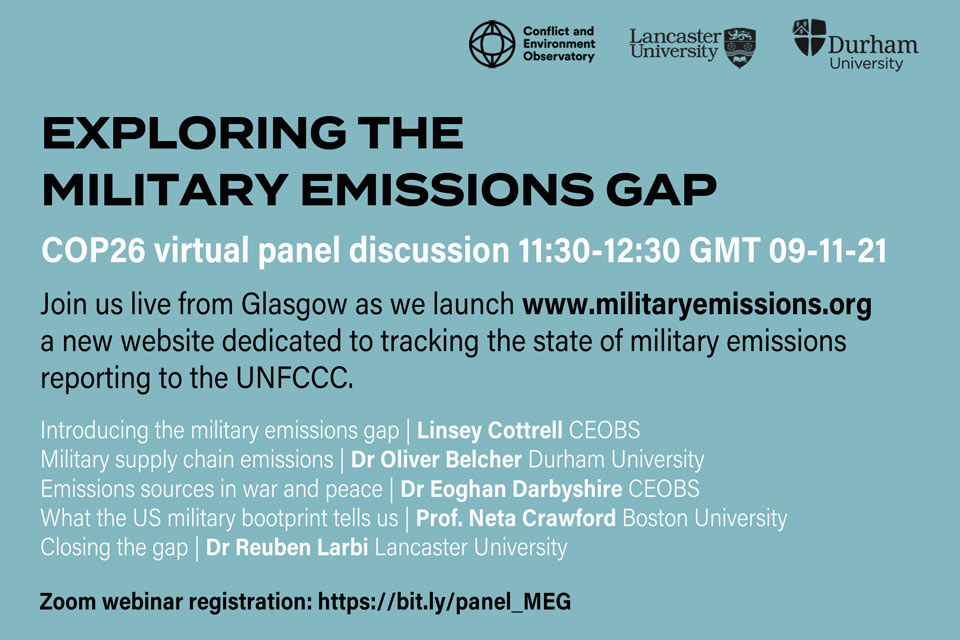 Join Concrete Impacts (Lancaster & Durham Universities) and the Conflict and Environment Observatory live from Glasgow as they examine the military emissions reporting gap. Panellists will discuss the current flaws in military emissions reporting, and why the scope of reporting needs to be expanded to cover emissions created across the cycle of conflicts, and across militaries' massive supply chains.

The panel debate will place the data presented by the team's new website www.militaryemissions.org, which will be launched that morning, in context.

Time: 11:30-12:30 GMT

Speakers

Introducing the military emissions gap | Linsey Cottrell, CEOBS.
Military supply chain emissions | Dr Oliver Belcher, Durham University.
Emissions sources in war and peace | Dr Eoghan Darbyshire, CEOBS.
What the US military bootprint tells us | Prof. Neta Crawford, Boston University.
Closing the gap | Dr Reuben Larbi, Lancaster University.
Register for this Zoom event