Deteriorating access to water during Yemen's conflict has had a disproportionate impact on women yet they face exclusion from peace talks.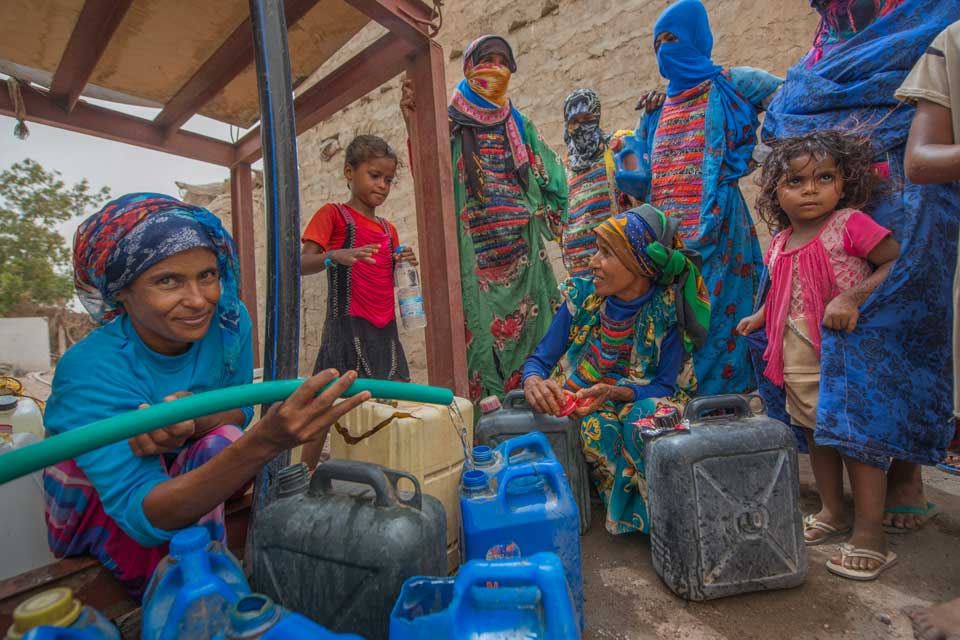 Yemen is a country devastated by war, starvation and disease, whose women face unimaginable suffering. But far from passive, silent victims, they can be found on the front lines of the war, delivering aid and negotiating access to vital water sources. Leonie Nimmo finds that this grassroots peacebuilding has been ignored by the international community, which is failing to live up to its decades-old commitment to ensure women's participation in peace processes.
Women ignored
On International Women's Day 2018 the UN Envoy to Yemen received an open letter calling on him to take a firm stand on women's demands and to prioritise women in peace processes. Signed by more than 100 women, and endorsed in solidarity by global civil society organisations, the letter highlighted the crucial role of women as frontline distributors of aid, human rights defenders, campaigners for community reconciliation and negotiators of local truces and security. In a damning indictment of the international community's response to the conflict, these efforts were said to have been "ignored and not adequately supported," whilst women's contributions to UN-backed peace talks were "not taken seriously enough".
The gendered impacts of Yemen's conflict
The exclusion of women from peace processes in Yemen must be especially galling given the multiple ways in which the impacts of the conflict are uniquely and disproportionately felt by women. In Yemen, a country in the throes of the world's worst humanitarian catastrophe, and which has persistently ranked bottom in the world for gender equality,1 the examples are gruesome. Gender-based violence was reported to have increased by 70% within five months of the escalation of the conflict in 2015, and as of 2017 two thirds of girls were married by the age of 18. UNICEF has reported that children as young as eight have been married off as families turn to extreme survival measures in the face of acute poverty.
Six years into the war, women must conform to the demands of the religious extremists who have risen to power through the chaos. In some areas, burqas have become universal, whilst women are subject to the rules of mahram, that is, needing a man's permission to leave the house and being escorted by male relatives when outside. Women's rights organisations report the targeting of women who speak out against the Houthis, the armed Shia movement in control of the capital Sana'a and elsewhere. Women face widespread arbitrary detention, and torture and sexual violence in prison, whilst lives have been destroyed by baseless prostitution charges.
Deteriorating access to water and sanitation services as a result of the conflict has also had a disproportionate impact on women across the country. It is primarily women that shoulder the burden of collecting water, women that are most at risk of violence when they do so, women that are most in need of private and hygienic toilets and women that suffer from a lack of sanitary products.
Water infrastructure has been a casualty of Yemen's conflict, whether through direct targeting, ancillary damage caused by urban warfare, the cumulative impact of years without maintenance or the breakdown of water and sewage systems caused by a lack of fuel and other inputs. Such damage has direct environmental impacts, as sewage goes untreated and pollution is not dealt with.
Forthcoming research by CEOBS into the impact of the conflict on water resources in Yemen has uncovered instances of the streets of Sana'a flooding with sewage; untreated sewage being used to irrigate crops; treatment plants failing to process waste; and effluent overflowing from treatment plants onto land and into the sea. Coupled with the lack of fresh water for drinking and washing faced by 17.8 million people, this has contributed to a public health catastrophe: Yemen's cholera epidemic is the worst in recorded history whilst dengue fever and other diseases are on the march.
The impacts of a society subjected to extreme levels of disease are felt disproportionately by women. It is pregnant and breastfeeding women, particularly those that are malnourished, who are most at risk of death. Women's role as caregivers becomes more physically and emotionally taxing as diseases spread, and according  to the United Nations Population Fund, in Yemen they may face increased exposure to cholera as a result of this role. Yet they may also be less able to seek medical care if they become ill due to having less power over decision making and less control over household resources.
This analysis, however, fails to recognise the role of women as agents of positive change. Women are at the forefront of efforts to fight the spread of disease. They play a key role in the distribution of resources such as hygiene kits, in educating household members in hygiene practices and it is women who will most efficiently allocate household resources to hygiene needs.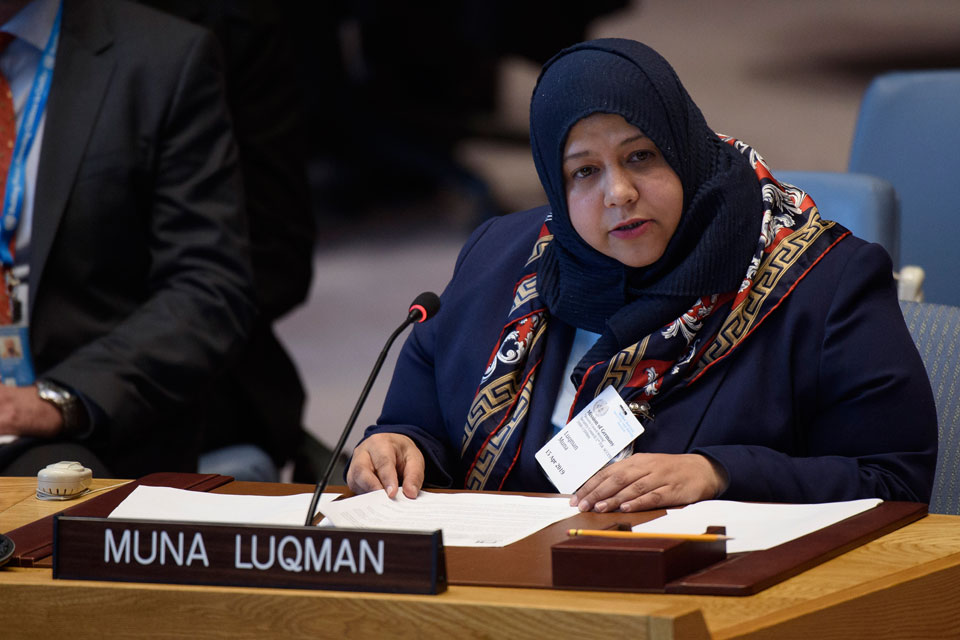 Grassroots peace building
Women in Yemen face extreme hardship and oppression but it is critical to recognise that they also play a vital role as peacebuilders. As Yemeni women's rights activist Muna Luqman briefed the UN Security Council in April 2019: "Women are not passive victims of this war. They have been leading efforts to bring peace to Yemen and hold communities together with limited resources." There are many inspiring stories of the work being done by Yemeni women towards a just peace, and in the area of negotiating access to water resources they have had a life-saving impact.
Yemen is one of the most water-stressed countries in the world, with per capita water availability roughly 2% of world average. Prior to the escalation of Yemen's civil unrest into a regional proxy war in 2015, localised violence as a result of competition over water resources was occurring with increased frequency: It was estimated in 2014 that 2,500 died annually as a result of water-related conflict.
Muna Luqman is founder of Food4Humanity, a Yemeni, women-led civil society organisation dedicated to saving lives and relieving suffering in Yemen. When the conflict in Yemen escalated, many humanitarian organisations left, leaving huge gaps in the provision of basic needs for communities. As fighting escalated in urban areas, civilians became trapped in the city of Taiz, with no access to water or food. Food4Humanity sprung from a push for peace and the requirement to meet immediate humanitarian needs. Muna's activism has included mediation between armed groups in the city in order to deliver food and water to children trapped in an orphanage.
Food4Humanity has raised funds to repair a water station in Al-Haymatain, a remote area of Taiz, where water shortages had escalated into an armed violence. It also led a mediation process involving 16 community representatives and Food4Humanity volunteers. According to a report by international woman's human rights organisation MADRE: "with the group's facilitation, community leaders signed a local peace agreement and formed a council to prevent future conflicts". Water in Yemen has become weaponised, Luqman told Stockholm's World Water Week in 2019, but using it wisely can foster peace.
Food4Humanity also launched the Water4Peace initiative, "helping to empower women and youth to bring their communities out of poverty and dispute by providing close, clean water supplies, awareness programs and income generating projects".
The Women4Yemen Network publication 'Agents for Change' notes: "Because of gender roles in Yemen, women are seen as apart from the conflict and the national peace talks. While some may find this situation frustrating and patronizing, many instead harness this special status to work independently and without the burden of political interference or polarization. As a result, women are able to identify and address drivers of conflict and capacities for peace sensitively, early, and with relatively modest expenditure."
The report highlights the work of Dalia Mohammed, a peace activist in Taiz, who uses "a combination of traditional norms and legal laws, and her own personal reputation, an important currency in the city's local culture, to resolve disputes." Such disputes have included conflicts over water wells.
The imperative for women's inclusion in peace talks
International Women's Day 2020 is a significant milestone, marking the 20th anniversary of UN Security Council resolution 1325 on Women, Peace and Security and the 10th anniversary of the establishment of UN Women. The women of Yemen have been badly let down by the international community, which has thus far failed to implement the provisions of 1325 in respect of the participation of women in peace negotiations.
Women were virtually absent from the most recent peace talks in Stockholm. This is a massive step backwards from the 30% women's representation that was secured in Yemen's National Dialogue Conference of 2013/14. That the UN – or those in it responsible for such matters – should apparently view women's participation in conflict resolution as optional is deeply troubling. Men that have enriched themselves from the conflict are being wooed by the international community at some extravagance, whilst the population are dying from starvation and disease and the women risking their lives securing access to vital water sources are ignored. Something has gone seriously wrong.
Speaking to CEOBS for this blog, Muna Luqman said: "Yemeni women's quest for peace is deeply embedded in the community and cannot be ignored. We have seen what men with guns have done to our country and it is time to transform the peace process to become inclusive and led by courageous women peacebuilders on the frontlines saving lives, releasing detainees and mediating local armed conflicts. They need to be heard and supported."
On March 8th this year, the women of Yemen will no doubt renew their calls for a formal place in peace talks. It is women like Muna Luqman, raising their voices above the din of war, that teach us that women are not only victims of violence in Yemen, but key actors in the fight for peace. Their exclusion from peace processes will only serve to undermine such processes, and likely sow the seeds for their failure.
Leonie Nimmo is CEOBS' Project Coordinator and Research Associate. Our thanks to Muna Luqman and the other women who assisted us with this blog.
Since 2006 Yemen has ranked the lowest in the world in the Global Gender Gap report produced by the World Economic Forum.