Many Syrian civilians have begun refining oil due to the drastic decline in production by professional oil refineries in Syria. The conditions in these makeshift refineries are causing enormous health and environmental pollution problems in the region.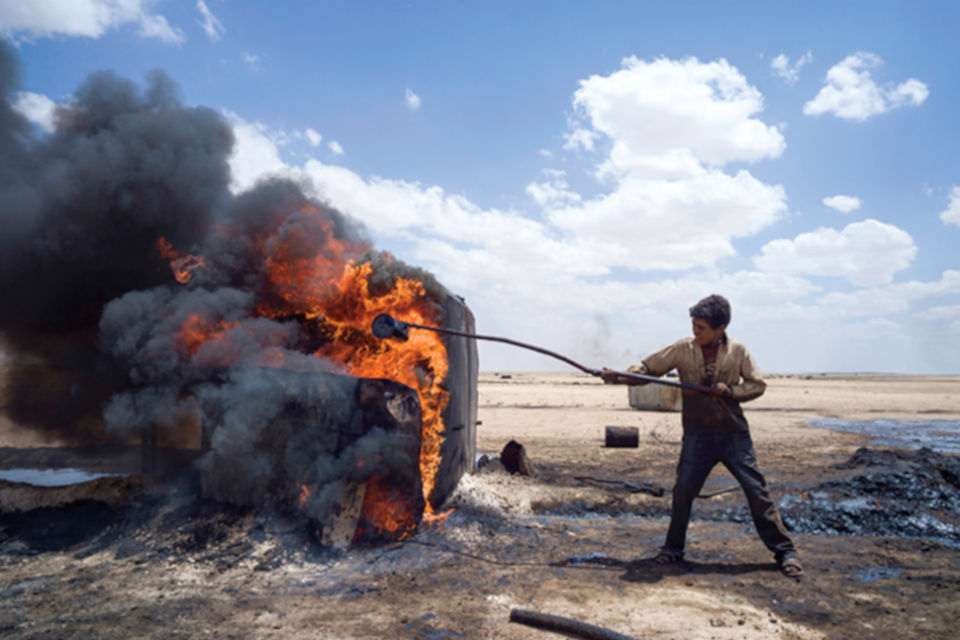 The PAX report Scorched Earth and Charred Lives shows a sharp increase in the number of makeshift refineries in Syria's oil rich Deir ez-Zor governorate, in the past four years, with the most recent analysis based on satellite images from June 2016. There are likely tens of thousands of makeshift refineries in the region, in which adults and an alarming number of children work. The consequences for public health and the environment are huge.
Refineries spreading like cancer
Satellite imagery showed that these primitive refineries are spreading like a cancer, dotting the landscape. "The photos I looked at in doing this research are horrible," says report author Wim Zwijnenburg, researcher for PAX.
"Children covered by second and third-degree burns, with oil still in the wounds. People covered in black residue from head to toe. Syrian civilians are already facing many dangers due to war, and these risks are now compounded by being forced to work in these toxic environments."
At a few dozen oil fields, Syrian civilians try to earn an income by refining crude oil into benzene, kerosene or diesel."Due to the bombardments and lack of staff who fled or left the country, professional refineries have drastically cut back their production," explains Zwijnenburg. "At the same time, the demand for fuel for daily life remains high. Armed groups including the Islamic State encourage the makeshift refining because the groups earn money by selling the crude oil to amateur refineries, and then taxing the fuel they produce."
More than ten thousand makeshift refineries
PAX has identified 36 such fields of makeshift refineries throughout Syria for this report. Analysis of the satellite images of five selected fields in Deir ez-Zor in eastern Syria shows that since 2012, nearly 5,800 makeshift refineries have been constructed at five sites. The total number of Syrians, including many children, working at such sites around the country may be in the tens of thousands. Health risks arising from amateur refineries include exploding oil drums, burns, and exposure to poison fumes and chemicals. The population will be faced with contaminated ground water and agricultural land for years to come.
International assistance needed
The report Scorched Earth and Charred Lives shows that this practice is likely to result in extensive health problems. It also shows that bombing industrial targets such as oil installations can have unintended long term consequences on the local population.
PAX is calling for large scale, and comprehensive identification of all makeshift oil production fields. PAX also calls for the documentation of the potential consequences of makeshift oil refineries. This would help in the protection of civilians during and after the conflict through quick and effective health assistance as soon as is becomes safe to do so. "When the moment comes, the international community should be ready to offer help," says Zwijnenburg.
Further impact of conflict on health and environment in Syria
Scorched earth and charred lives is a follow-up to the PAX publication Amidst the debris (2015) which identified a range of potential hazards caused by the conflict that endanger public health and the environment, both in the short term and for many years to come, and urged the international community to step up work on linking conflict and environmental consequences in order to strengthen civilian protection and minimize the public health risks.