The resolution has become a battleground for wider questions on environment, peace and security.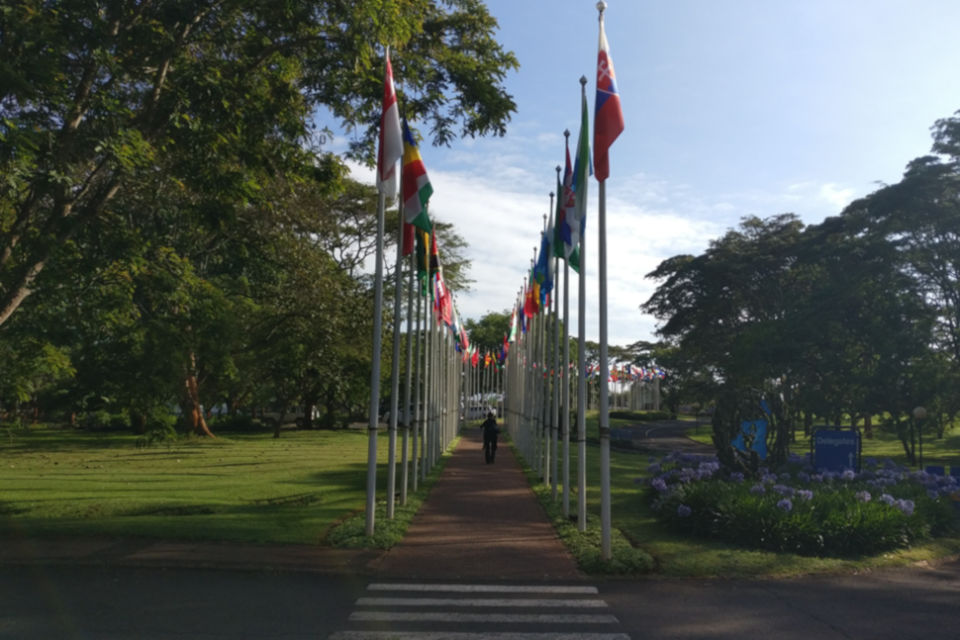 After four months of consultations and negotiations, it's decision time for governments over Iraq's UN Environment Assembly resolution on conflict pollution. However with deep divisions on show between states on the role of the environment in matters of peace and security, Doug Weir suggests that it is still unclear what will happen when negotiations begin again tomorrow.
A nervous wait
The third meeting of the UN Environment Assembly (UNEA-3) formally starts tomorrow. UNEA is intended to become the leading UN forum on environmental matters, and this year it is focusing on the health and environmental consequences of pollution. In addition to concerns from states and civil society over the toxic remnants of war caused by conflicts, NGOs present in Nairobi have also raised the problem of noise pollution from military sonar, and the environmental footprint of military bases in SE Asia.
In September, Iraq tabled a draft resolution on 'Pollution prevention and control in areas affected by terrorist operations and armed conflicts'. After several months of consultations and negotiations, the text was intensively negotiated by UN Environment's Open Ended Committee of Permanent Representatives last week, with the aim of finalising the text for transmission to UNEA-3 by Friday.
Thanks to a combination of informal late night diplomatic huddles, extended formal consultations, and the effective leadership of chair Ambassador Tarja Fernandez of Finland, a text was agreed by Friday evening. However it has yet to be approved by capitals. UNEA traditionally works by consensus and, as the talks had highlighted longstanding and profound disagreements between some governments over the linkages between the environment and security, it is unclear whether capitals will be ready to accept the draft when talks resume on Monday evening.
What would a win look like?
Since the resolution was tabled, we have been urging states to ensure that the final resolution meets five criteria. If all are addressed, the draft could make a valuable contribution to international awareness of conflict pollution and, if implemented, also contribute to minimising harm and improving response.
The first test was that the text should reaffirm core principles on the humanitarian impact of conflict pollution. On this, language on human rights, gender, vulnerable groups and on the role that affected communities should play in setting the priorities for environmental assessment and recovery has not been challenged by states during negotiations. This applies both to the recycled agreed language from UNEA-2's resolution on conflicts, as well as to the new language introduced this year.
The second test was that it should promote awareness and understanding of conflict pollution. In this too, the current draft scores well, and states have been fairly open to the inclusion of language on the risks of targeting civilian infrastructure, on pollution from extractives in affected areas, on the forced use of unsustainable coping strategies among conflict-affected communities, and on the wider socio-economic consequences of conflict pollution.
The third of our criteria has proved more problematic. We have consistently argued that the text must address the causes, as well as the consequences of conflict pollution. This means addressing the military conduct of state, and non-state actors, and the obligations on conflict-affected states to minimise harm through preventative measures; for example efforts to reduce the risk from particular facilities.
Because the text covers armed conflicts and terrorism, a number of states have argued that this creates confusion between different legal regimes, such as international humanitarian law (IHL) and criminal law. A fix was eventually proposed and accepted that frames the entire text under the rules of international law, including the UN Charter, IHL and human rights law. However operative parts of the text that sought to define commitments on states to reduce conflict pollution have been weakened considerably, to the detriment of the text as a whole in our view. Nevertheless, as the preamble identifies and expresses concern over a number of sources of conflict pollution, this could perhaps be viewed as a first small step towards reducing harmful conduct.
Our fourth criteria was that the text should encourage rapid assistance for affected communities, for example through humanitarian response or reconstruction efforts. While the latest draft stresses the need for the swift identification, assessment, and remediation of pollution impacts in areas affected by armed conflicts or terrorism, the question of how that will be accomplished remains largely unaddressed. Of note in this regard is an operative paragraph inviting all member states, upon the invitation of an affected state, to provide appropriate bilateral environmental assistance. This would mean that Palestine, which is not a member state but which is recognised as a state by the UN, could request assistance directly from a member state, or states – a useful principle.
Finally, we have argued that the resolution should strengthen UN Environment's capacity to monitor and respond to conflict pollution. As it stands, the draft requests that UN Environment's new Executive Director Erik Solheim find ways to explore how this could be done. But it doesn't identify new financial resources towards this goal, and insists that this is done within UN Environment's existing mandate. A number of states have argued vociferously that the text should not extend this mandate, believing that matters of peace and security should be left to other UN organs and agencies.
Environment, peace and security
At times during the negotiations, this argument, which seems to be partly based on states' views around far broader questions concerning the links between environmental degradation and insecurity, has overshadowed the text's focus on conflict pollution. Needless to say it is a theme that goes to the heart of recent efforts to mainstream the environment in peace and security debates: debates fuelled by the difficulty in quantifying the precise role of environmental change in promoting insecurity. The detractors demand smoking guns. Advocates take a more holistic view, with the environment as one of a number of contributing factors that can fuel or prolong insecurity: complex relationships that translate poorly into media headlines.
This is not an argument that will be resolved here at UNEA-3, but it may yet have ramifications for the successful outcome for the draft – as well as for UN Environment's future work on conflicts. It has made for a long weekend as we wait to find out the news from capitals, and will make for a very interesting negotiating session on Monday evening.
Doug Weir manages the Toxic Remnants of War Project.