Aerial use of Glyphosate herbicides in Colombia prove too controversial after WHO findings on cancer risks.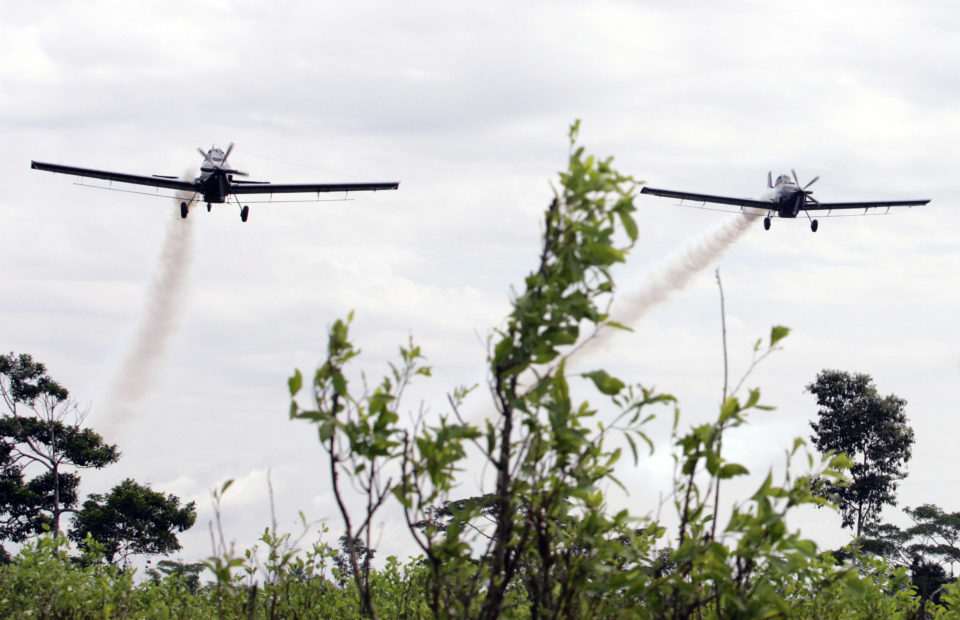 As predicted on this blog in March, the classification of the commonly used herbicide Glyphosate as a Group 2A carcinogen by the WHO's International Agency for Cancer (IARC) has placed pressure on the Colombian government to end aerial coca eradication.
Government takes precautionary action
In a ruling by Colombia's National Narcotics Council on May 14th, the government elected to end the long running and controversial programme. The council, which oversees national drug policy, had been considering a recommendation from the health minister made in response to IARC's decision. A previous precautionary ruling from Colombia's constitutional court found that the programme should be stopped if evidence of human health risks emerged. IARC's decision that Glyphosate is a possible human carcinogen appears to have been sufficient to trigger the ban.
Monsanto, the manufacturers of Glyphosate had moved swiftly to attack IARC's decision following publication, using traditional and social media to challenge the findings. Glyphosate is the world's most commonly used herbicide in its Roundup formulation.
The US government, which supports the counter narcotics programme opposes the Colombian decision. In an interview the day before the decision, the US ambassador to Colombia Kevin Whitaker said:
"This is their sovereign decision to make, and we will respect that and we will continue to use the tools that are available to us, as Colombia wishes us to do, to continue to be a partner with them in this fight. We have lots of tools to help Colombia address the problem of transnational crime and narco-trafficking."
Colombia was the last country in the region to use aerial spraying for coca eradication. Peru and Bolivia have long opposed the strategy and neighbouring Ecuador had taken Colombia to court over environmental damage caused by cross border drift.
The decades long programme had proved highly controversial. In addition to environmental damage to Colombia's biodiversity rich rainforests, there have been consistent health concerns for communities affected by the spraying, which has taken place across huge areas of Colombia's territory.
Doug Weir manages the Toxic Remnants of War Project.