Phytoplankton bloom or oil? Satellite analysis shows that it's phytoplankton, this time…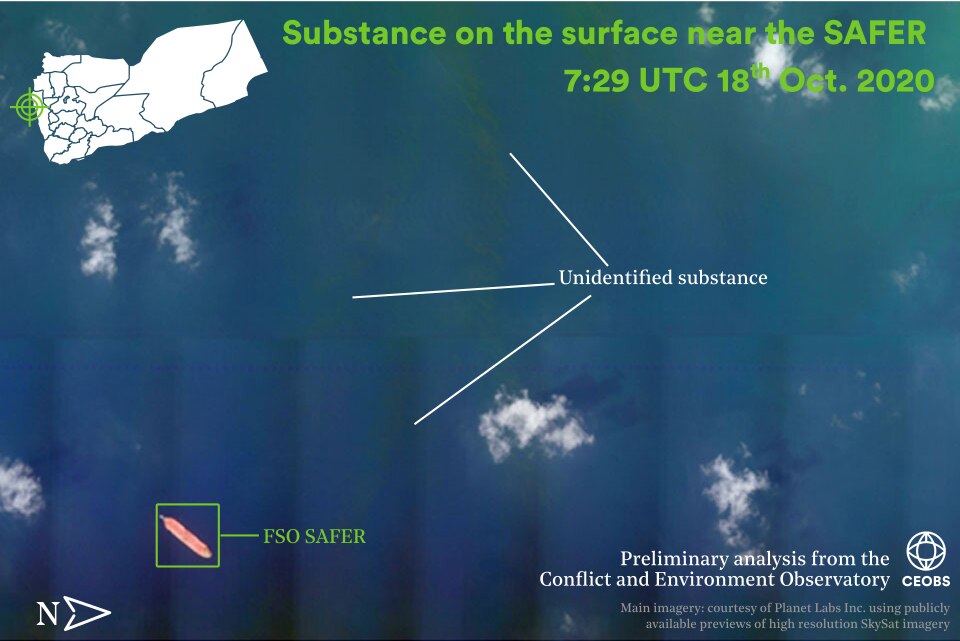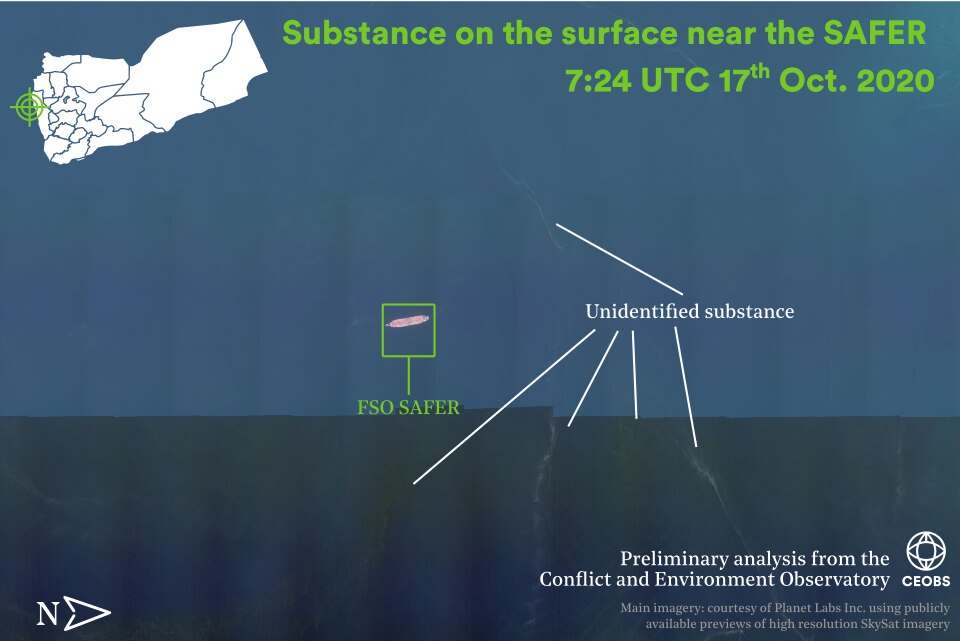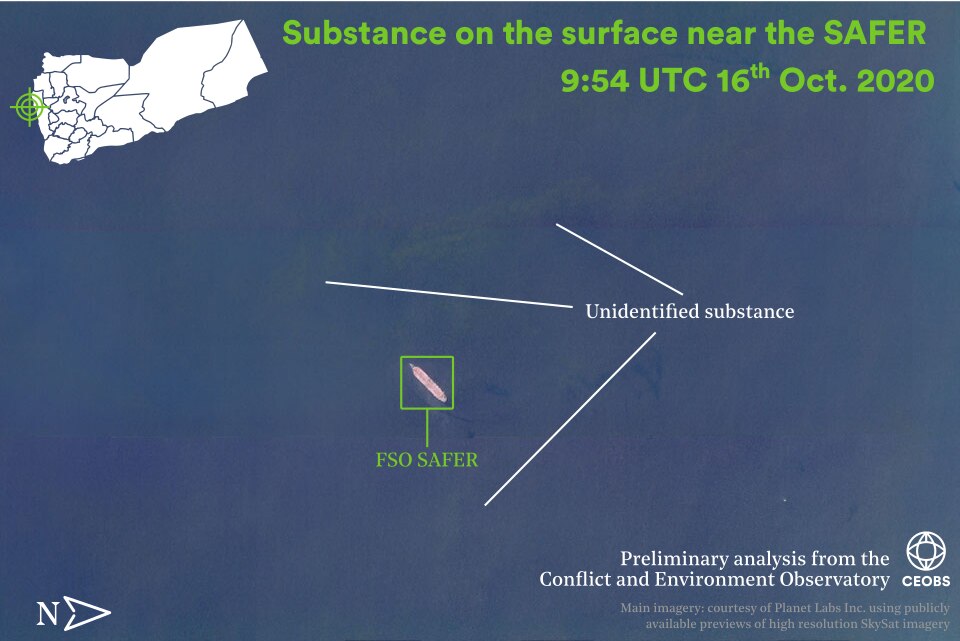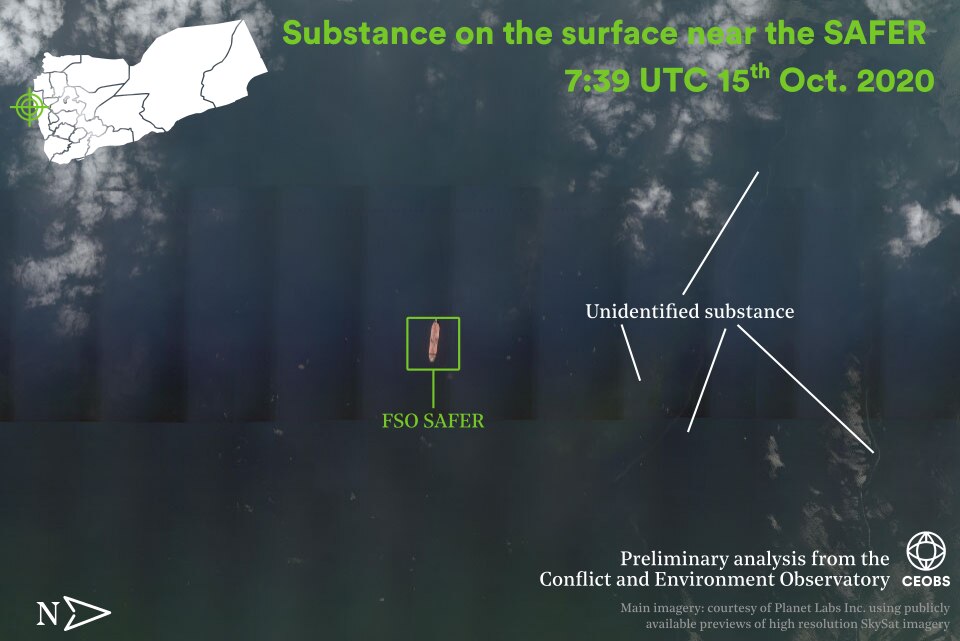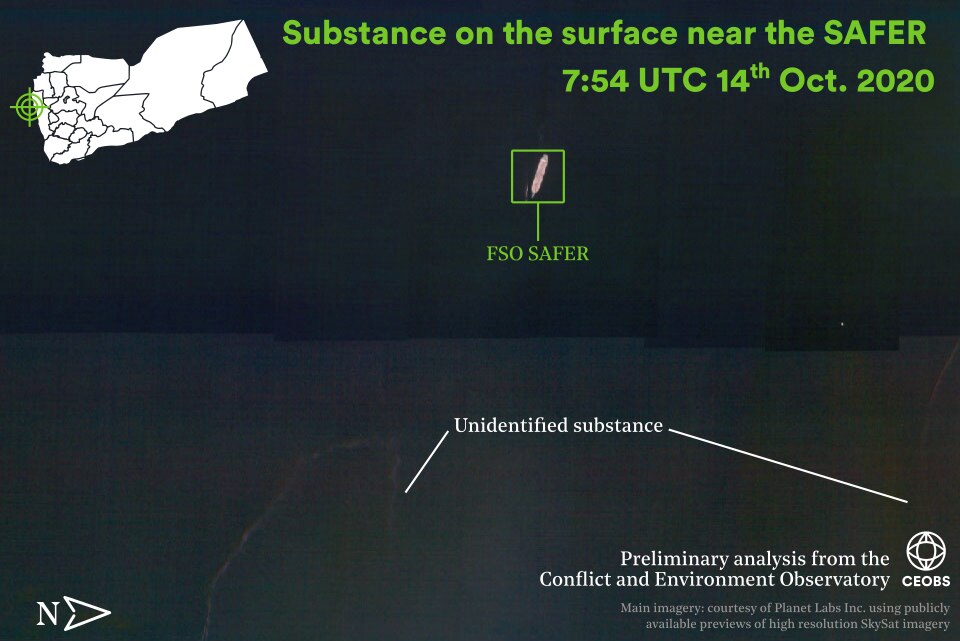 On September 14th, the first evidence that oil had begun to spill from the FSO SAFER oil tanker off Yemen was captured by satellite imagery. In the last week, further signs of potential spills have been visible, but the jury's still out on whether they are oil and where they originate from. This initial analysis by Eoghan Darbyshire seeks to initiate a conversation about what we are seeing in the imagery.
Edit: Following on from very helpful responses from experts we have now amended this article – we have added explainer text in a red font, whilst text which is no longer relevant has been been struck through. This has been a fantastic exercise in open data, open science and transparency, and we extend our gratitude to @K_8___ and @HarelDan.
Signs of a spill?
We reported last week that there was a substance in the water surrounding the FSO SAFER oil tanker, satellite imagery since then has shown that this material is now consistently nearby. The immediate concern is that this is the start of a continuous spill from the SAFER. If it is, and as it is harder to detect robustly and less dramatic than a large-scale catastrophe, there may be less support to contain and address the leak. Conversely, the substance could be natural or unrelated, and the circulation of misleading imagery could have unintended political and environmental outcomes.
As such, establishing if the substance is indeed oil is essential and we have made a contribution to this effort with a basic analysis of Sentinel-2 multispectral satellite imagery. Against our expectations, the results below suggest that the material is unlikely to be algae. Instead, it is more consistent with an oily substance – however this may not necessarily be oil, and even if so, may not have originated from the FSO SAFER. We further heavily caveat this conclusion: it is only one data point in a quick and rough analysis. We are in the process of reaching out to specialists, and this quick article is intended to lay out the situation, show our quick analysis and initiate an open and transparent dialogue. Experts, please get in touch! Our expectations were that the material was algae, but we concluded in the initial version of this article that this was unlikely. However, and thanks to the input from experts, we can confirm an algal bloom is the most likely candidate.
Looking at the optical imagery
Visual inspection of the optical satellite imagery (Fig. 1) indicates that there seem to be two types of substance, one that appears white or silver in slithers, and another that appears brown and blotchy. This is about as much as can be concluded without very high spatial resolution imagery.
Most useful would be Sentinel-1 SAR radar data, which can detect oil on water as oil dampens waves and thus the sea looks smoother compared to areas beyond the the spill area. However, the revisit time is 12 days and the next overpass is not due until Thursday 22nd October.
Fortunately, there was an overpass by the Sentinel-2 satellite on the 17th October and, because this instrument measures reflectance at wavelengths across the spectrum, it is possible to get a some more insight. For ease of processing and understanding, this analysis now focuses on a smaller area immediately around the vessel.
Spectral analysis
Our first step was to group the scene into its constituent signals, i.e. to find the pixels where the spectral signature was most similar. This has been achieved by a process known as k-means clustering++. The results (Fig. 2b) show the FSO SAFER (purple), seawater (red) and the substance (blue), radiating away from which there are two further clusters in orange and green.
When the average spectral signature is investigated for each of these clusters (Fig. 2c), the difference between them becomes apparent. At all bands the substance cluster has a greater reflectance than seawater, with the orange and green clusters at intermediary values. Does this imply that these clusters are more dilute versions of the substance?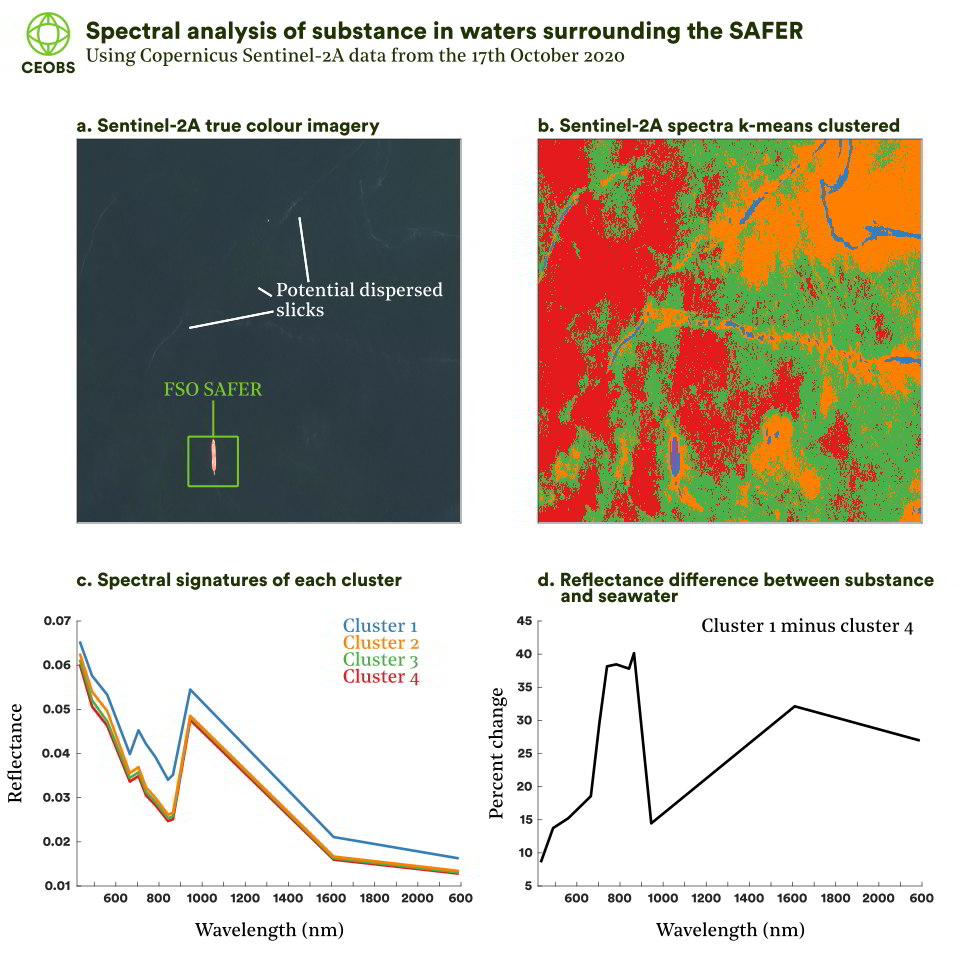 To the eye, the difference between the substance and seawater signatures looks similar at all wavelengths. However, when the relative difference is calculated, it can be seen (Fig. 2d) that the biggest difference is between 600 and 900nm. The relationship of this difference is consistent with the 'textbook' contrast one would expect to see between oil and water (Fig. 3). However, in the accompanying article, the authors note how oil has no single spectral feature allowing for definitive identification, especially given the wide range of potential background interferences. Indeed, the similarity between Fig. 2d and Fig.3 proved to be somewhat of a red herring.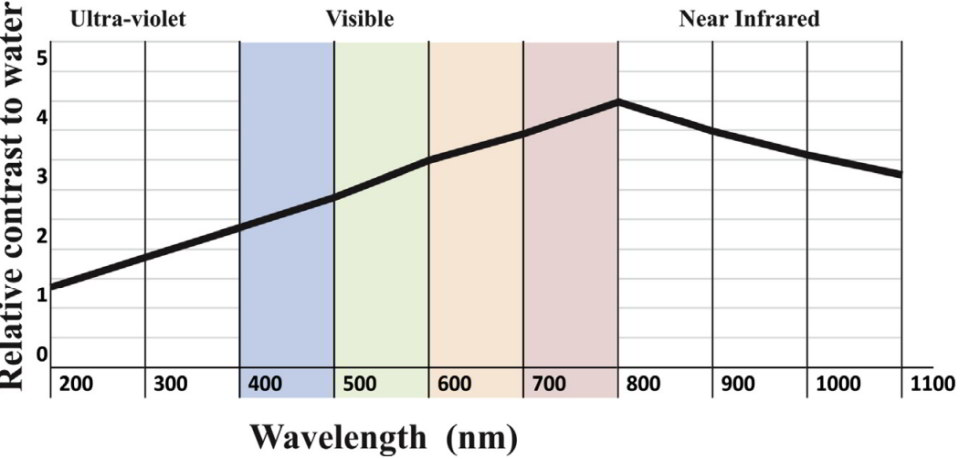 Can we discount a phytoplankton bloom?
One possibility is that the substance is not oil, but phytoplankton (i.e. algae). To this end we can first look from space at chlorophyll A concentrations, which are a proxy for phytoplankton activity. Although concentrations are moderate around the SAFER, satellite observations from MODIS (Fig. 4) are not above normal concentrations, and nor is there an intense bloom visible – such as that visible along the coast of Eritrea.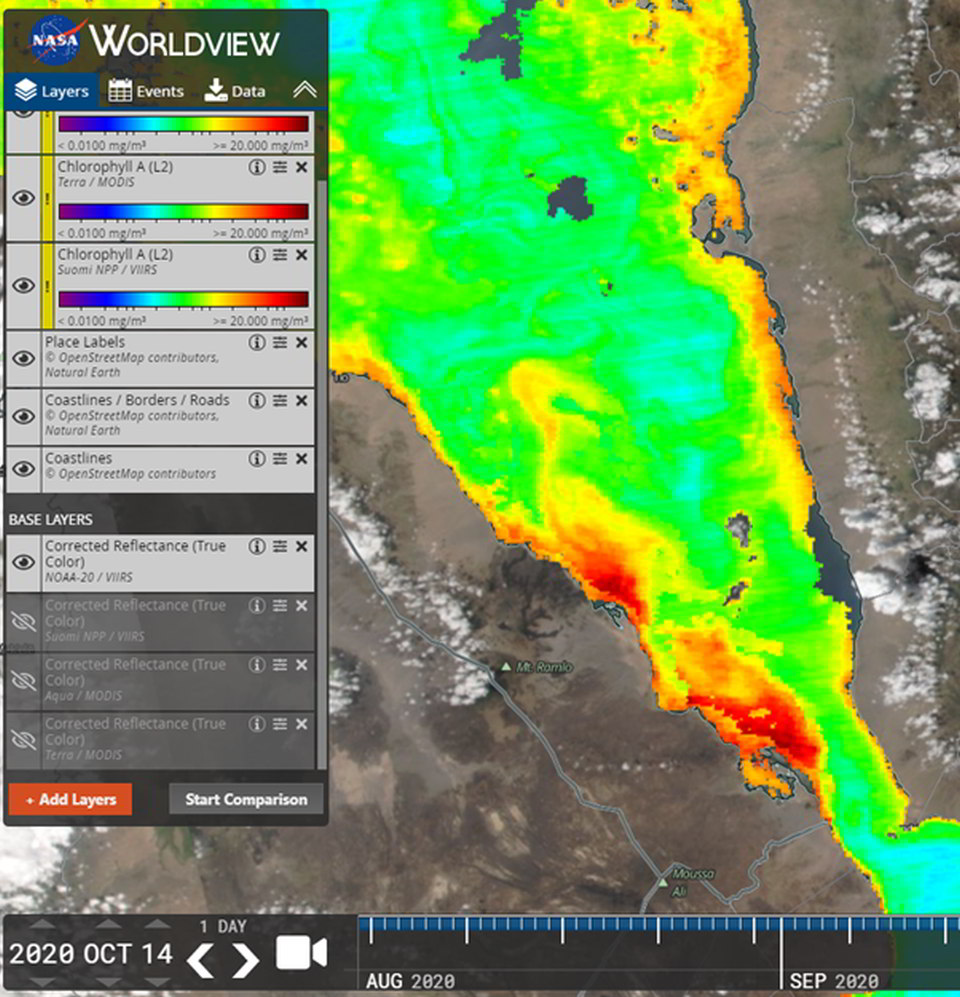 Furthermore, a recent paper published the spectral signals for common Red Sea phytoplankton (Fig. 5). This included those for the toxic cyanobacteria Trichodesmium erythraeum, which appears as a 'red tide' or 'sea sawdust' and was reported nearby for the first time in December 2012 by Alkawru et al (2016). All species show reflectance maxima between 550nm and secondary peaks at 670nm, which is not consistent with the raw reflectance (Fig. 2c) or difference data (Fig. 2d), which has its maxima past 670nm.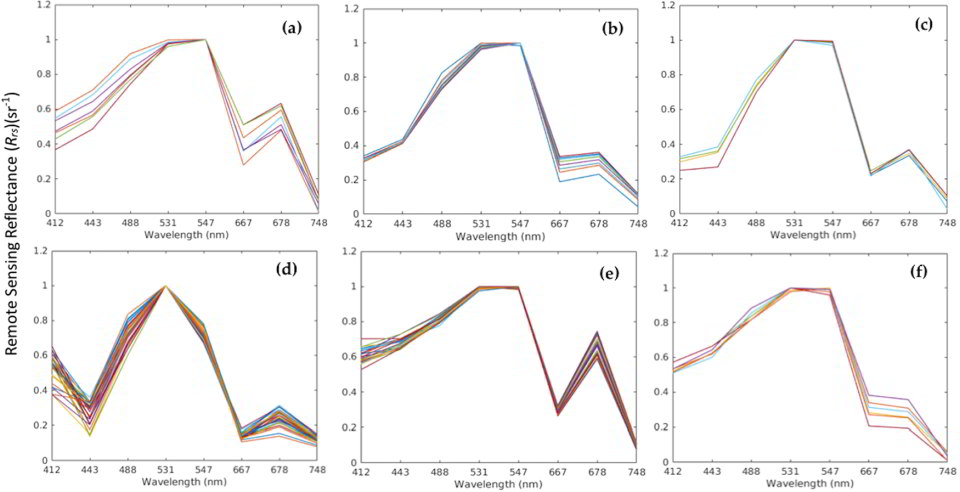 It was this over-reliance on Fig 5a. and its disparity with Fig. 2d that led to us discounting phytoplankton in the original version of this article. However, it transpires that the spectral signature from phytoplankton has a strong sensitivity to the water type. This can be seen below in Fig. 5b, reproduced from Wang et al., (2019). Where the water is turbid water or the phytoplankton submerged, the peak reflectance is between 400-700nm – consistent with Fig. 5a. However, panel (a) of Fig. 5b shows that where the water is still and algal blooms form, the peak reflectance is at 865nm – this is where the relative maxima is in Fig. 2d. The signature is also consistent with known algal blooms near Chennai in India. Hence, we can now say with some confidence that the substance around the SAFER is an algal bloom.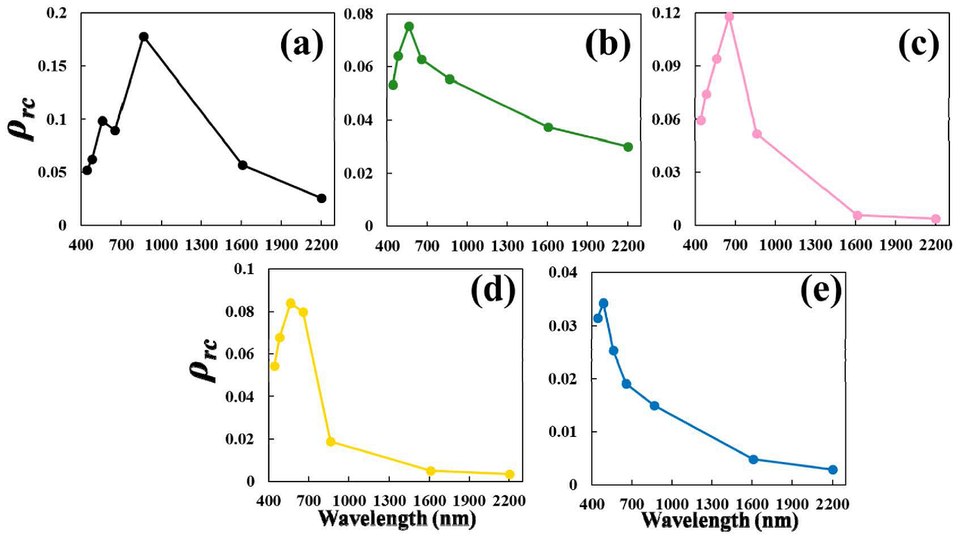 From this analysis it seems likely that the substance is oily, be it bunker fuel, crude, or oily bilge or ballast water. However, we cannot rule out other material not yet considered. Furthermore, if it were oily water, it may not actually originate from the SAFER. The dumping of oil at sea is a depressingly common occurrence and given the volume of traffic through the Red Sea, is likely frequent in this area, with some have even been documented. This has potentially been worse during the conflict in Yemen because it is likely surveillance systems have deteriorated and there is an increased inability to deal with waste in port.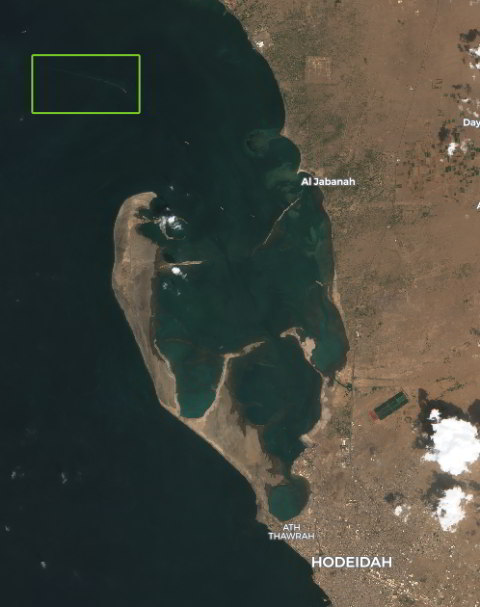 Initially, it seemed there was a huge coincidence, or an indication of how widespread dumping is, as it seemed that in the very same overpass used in the analysis above, there was a ship dumping hydrocarbons at sea. The tanker was heading into port at Hodeidah, leaving a trail for approximately 2.5km in its wake. Repeating the same cluster and spectral signal analysis as for the SAFER (Fig. 7), a similar footprint and result was expected. However, the biggest difference between spectral signatures for the substance in the vessel's wake and normal seawater was in a different range, 490 – 665nm with a maximum at 560nm (Fig. 7d).
This is exactly the signal one would expect for phytoplankton in turbid water (Fig. 5b)., but how would this be coming out of a ship? It is not as counter intuitive as may initially be thought – Moving ships create turbulence and generate large volumes of bubbles, bringing phytoplankton to the surface where it bursts and generates a higher surface concentration of cell material. Another clue supporting this hypothesis is that the ship's wake does not fan out, as would be expected of an oil spill, but actually tapers back in. Smaller boats nearby also seem to be exerting the same effect. Furthermore, Fig. 4 also indicates that there are high much higher chlorophyll concentrations in this area, much more so than around the SAFER.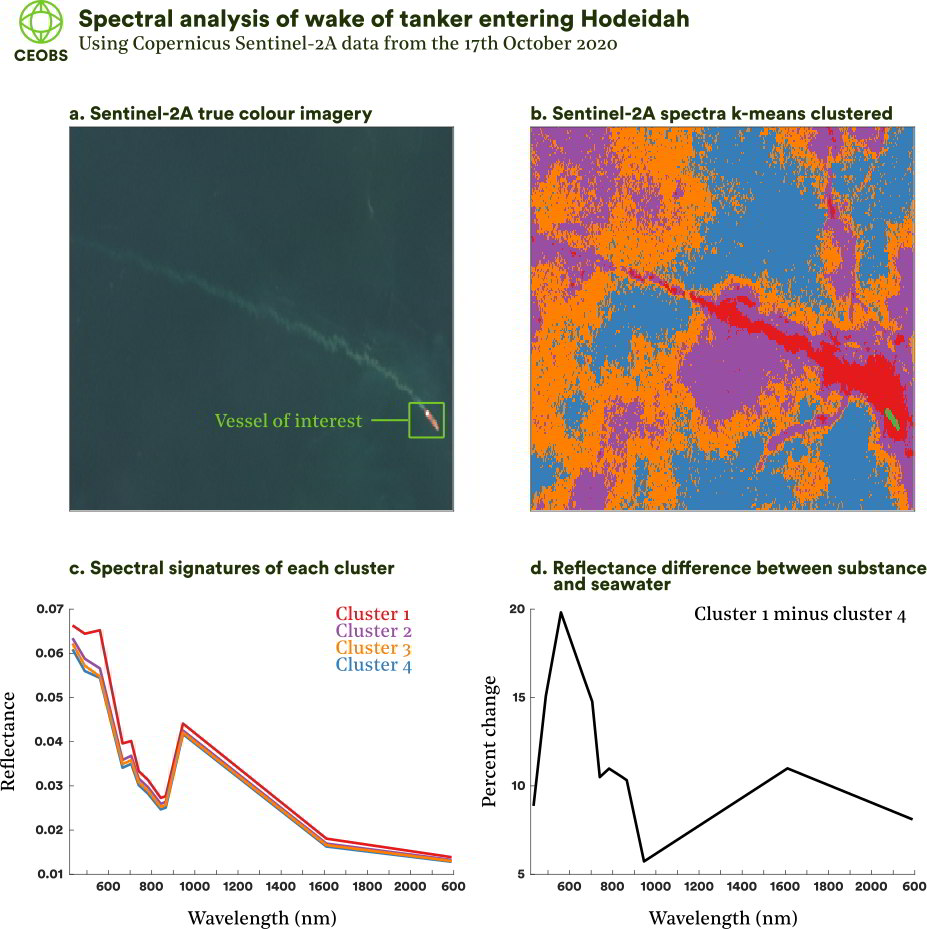 Conclusion
We know from very high-resolution optical imagery, showing oil flowing from the stern, that the SAFER has leaked recently (14th September). Based on our updated analysis here, and thanks to combined community efforts, it seems the substance in the water around the SAFER in recent days is not oil, but an algal bloom. We will continue to monitor the SAFER for further signs of an oil spill, now armed with a better understanding of the surrounding marine environment.
It remains essential that UN inspection teams are allowed onboard as soon as is possible, and ought to act as a spur to stop political manoeuvrings and inaction. At the time of writing we are still awaiting news on whether the Houthis have agreed to allow a UN technical inspection team access to the vessel.
From this single rough analysis, we cannot definitively say whether the material currently surrounding the SAFER is from a similar leak. However, it seems not to be phytoplankton, and is consistent with oily water which could be bunker fuel, crude, or oily bilge water. Without knowing the source, it is difficult to say anything more definitive; even without very high resolution imagery it seems there is no 'smoking gun' of oil leaving the stern as in the previously documented leak.
More expertise is required to complement and challenge our rough analysis here and we welcome involvement and contributions from readers with any expertise. If there is further evidence of oil, it is not clear if this is the start of a long-term leak or a temporary phase.
Dr Eoghan Darbyshire is a researcher at CEOBS specialising in open source data analysis