Myanmar's military has an appalling track record in environmental governance and the coup may see recent sustainable development gains undone.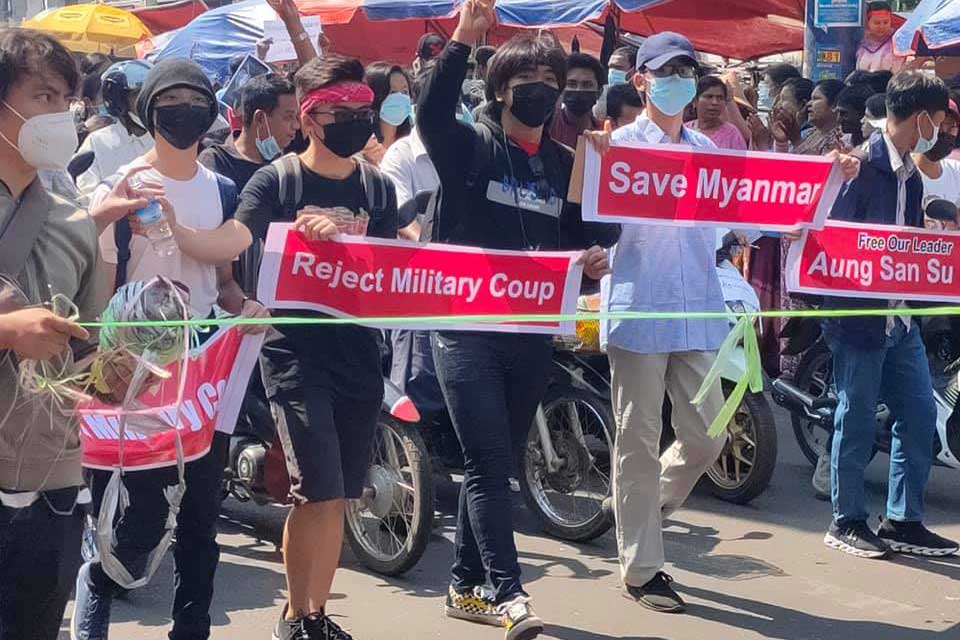 The military coup in Myanmar is not just an assault on democracy, it could also have dire and reverberating consequences for Myanmar's environment and its natural resources. In this commentary, Dr Thiri Shwesin Aung examines how renewed military rule could unravel progress made on environmental governance since 2011.
Losing contact, again
Myanmar's half decade-long experiment with democracy ended in a textbook example of a military coup on Monday 1st February. It was 7pm in Boston when I first saw the news about the coup, and the detention of State Counsellor Aung San Suu Kyi and several other top officials of National League for Democracy. I felt shocked and immediately tried calling my parents and relatives in Myanmar. But the phone lines and the internet were no longer working as the military had intentionally cut the connections. I was panic-stricken. The fear of losing contact with my family brought back all the horrific memories I experienced during the armed conflict in my hometown a decade ago. I feared the military might come and arrest my dad again.
Globally, Myanmar is widely considered one of the countries most vulnerable to environmental degradation, climate change and extreme weather events. Decades-long overexploitation of its natural resources, coupled with extensive militarisation and corruption have put the country's ecosystems under tremendous pressure. After General Ne Win's 1962 nationalist coup d'etat, the nation receded into isolation, riven with internal armed conflicts and sunk in poverty but in recent years there had been signs of improvement.
The lords of misrule
Under the military dictatorship, Myanmar's natural resources, including forest, energy, and mineral resources, have directly financed both the government and ethnic armed groups' insurgent activities. Decades of exploitation and mismanagement of these resources had resulted in chronic patterns of human rights abuses and severe environmental degradation. Extensive and uncontrolled logging and mining have often led to severe soil erosion, landslides, biodiversity loss, habitat fragmentation, greenhouse gas emissions, and water pollution.
Through crony capitalism and corruption, land confiscation associated with illicit resource extraction was also ubiquitous in Myanmar. People lost farmland to logging concessions, and their properties were often seized without compensation. The proliferation of cease-fire agreements signed between the 1980s and 1990s drastically expanded the military's territory in resource-rich border areas, giving them more control over these resources in previously inaccessible areas.
Nevertheless, the military had little interest in environmental protection or community consultation. During the fifty years of militarisation, China became deeply involved in Myanmar's natural resource and hydropower sectors. And, being isolated from the rest of the world, China was Myanmar's sole international backer.
Environmental governance at risk
Although the environment and natural resource sector have received very little attention in Myanmar's economic transformation since 2011, the country has made remarkable progress in improving its environmental regulatory framework. Notable initiatives include launching its Environmental Conservation Law and rules, and the promulgation of Environmental Impact Assessment and Environmental Quality Guidelines. In 2019, Myanmar announced its vision for national environmental and climate change policies, which are intended to guide government decisions on environmental management and development planning, in line with Myanmar's Sustainable Development Plan for 2018-2030. The country's economy has been hit hard by COVID-19 and associated containment, and sustainable economic recovery is crucial for long-term sustainability and a resilient future.
If they remain in control, the military will likely dismantle significant environmental and climate policies, and roll back rules governing forests, fisheries and other natural resources. Environmental regulatory standards for Foreign Direct Investment may be reversed, revoked or terminated under the new administration, creating opportunities for resuming controversial Chinese investments, such as the Myitsone Dam, despite local opposition. With US and Western government's sanctions to punish the regime, China will likely regain its position as the most influential foreign player in Myanmar, both politically and economically. China has invested billions of dollars into Myanmar's extractive sector, energy transport infrastructure and renewable energy development. Senior General Min Aung Hlaing is a significant investor in China-led projects, including the Letpadaung copper mine and Kyaukpyu Special economic zone.
The coup happened shortly after the Chinese Foreign Minister Wang Yi's official visit to Nay Pyi Daw in early 2021. On February 2nd, China expressed firm opposition to the United Nations Security Council's condemnation of the coup. Beijing will now have greater leverage to pursue its major infrastructure projects in Myanmar as part of its ambitious Belt and Road Initiative.
The Biden's administration's response to the situation in Myanmar could decide the future trajectory of these investments, related regulation standards and the US's relationship with China. At the same time, the nature of this response will have implications for the environment and livelihoods of Myanmar's people for years to come.
Dr Thiri Shwesin Aung is a Research Fellow at the Asia Center, Faculty of Arts and Sciences, Harvard University.