Global voices on environmental priorities for areas affected by armed conflicts this #EnvConflictDay.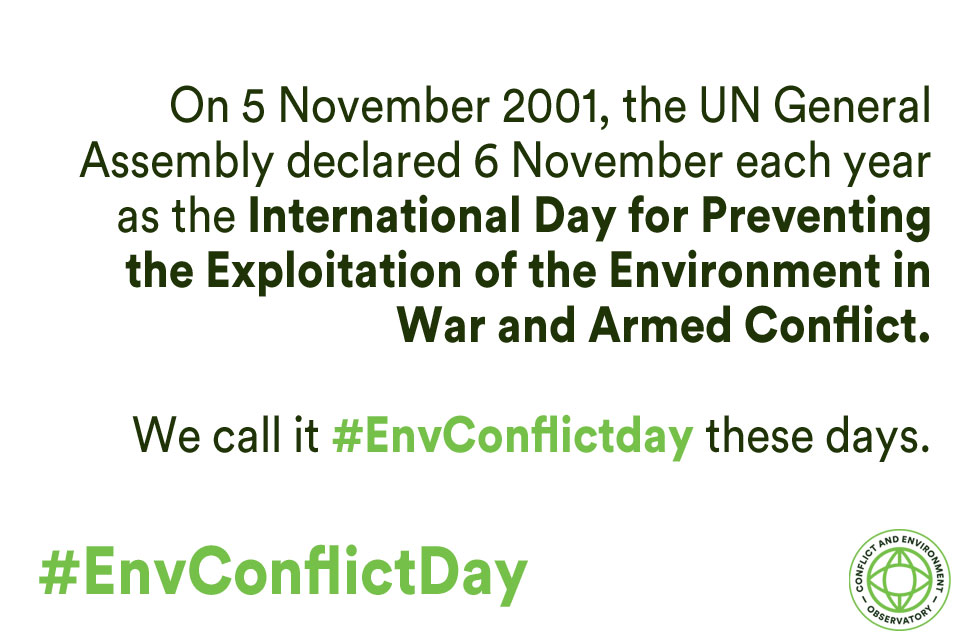 To mark the United Nation's International Day for Preventing the Exploitation of the Environment Through War and Armed Conflict 2023 – #EnvConflictDay, we invited friends and colleagues from areas affected by armed conflicts to share a message. Here's what they wrote.
Our friend Tasneem Elfatih is one of many people currently displaced from her home city of Khartoum, Sudan due to the war.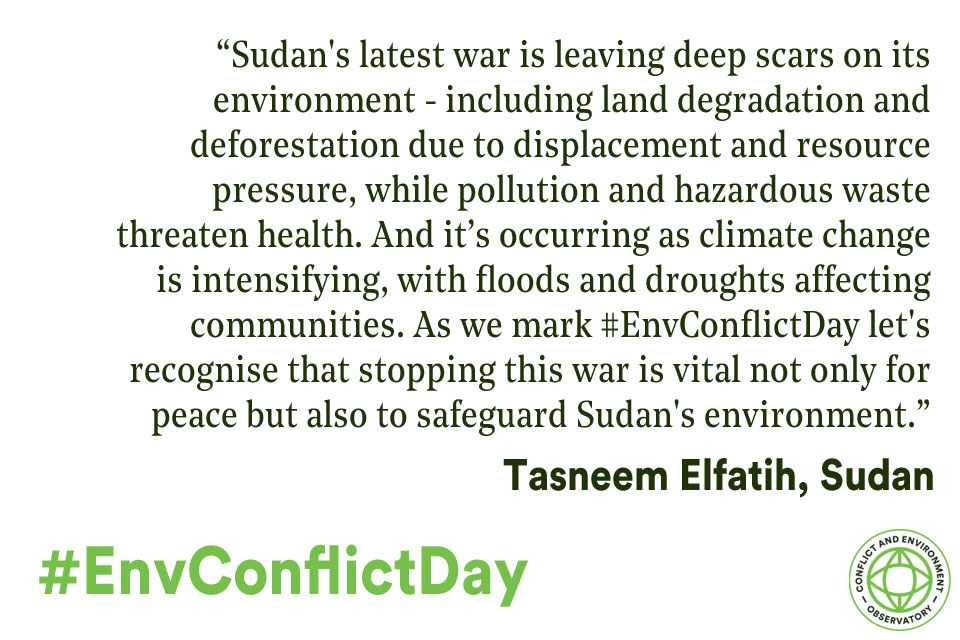 We work with our partners Norwegian People's Aid on environmental mainstreaming in humanitarian mine action. Bui Doan Bach works to translate these policies into locally-relevant activities on the ground in Vietnam.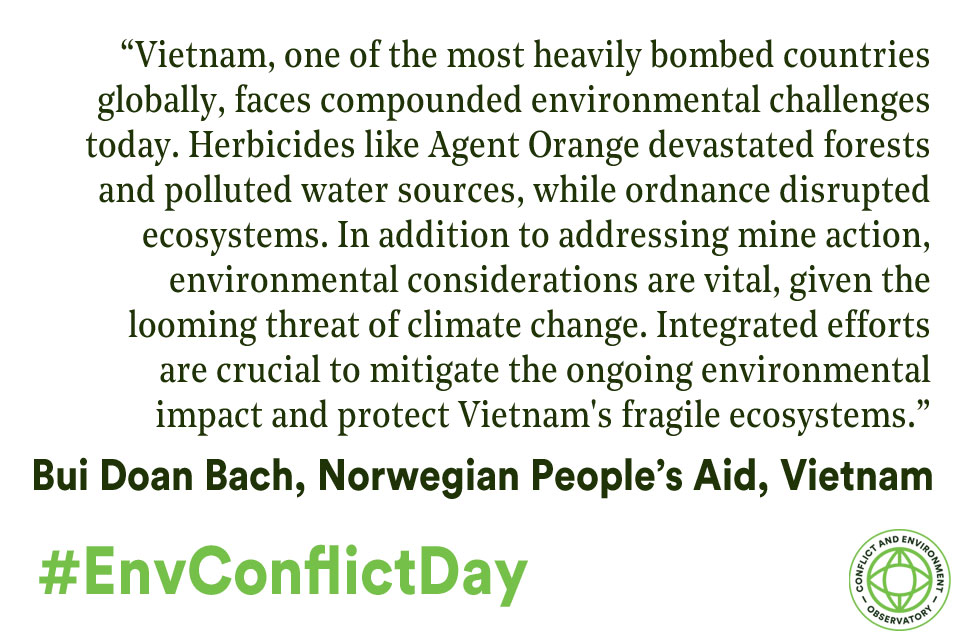 We were lucky enough to collaborate with Libyan researcher Malak Altaeb in our investigation into the horrific floods in Derna, Libya.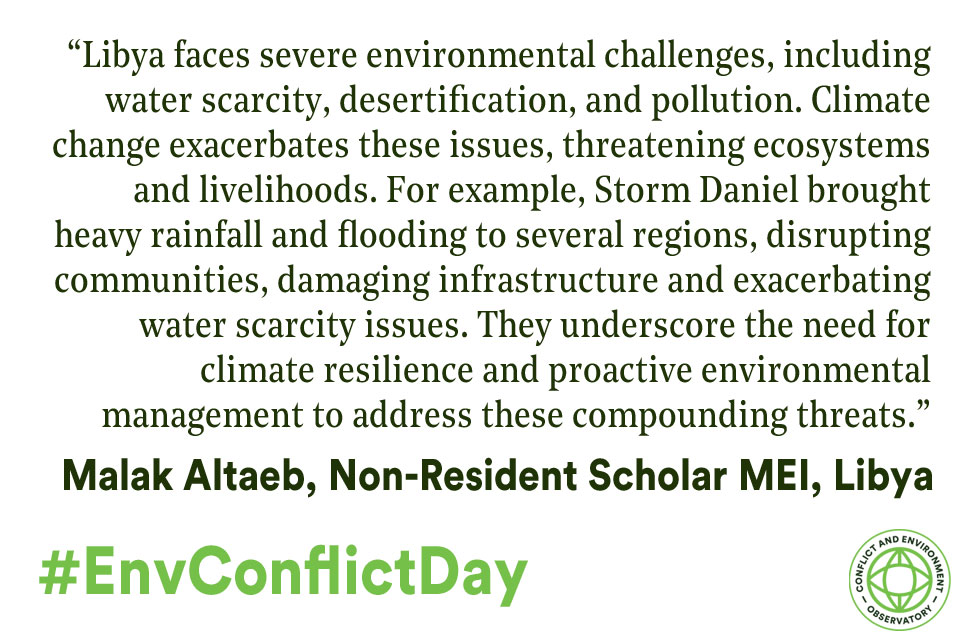 Dr. Jama Jama Musse is the Director of the Hargeysa Cultural Centre in Somaliland, and a friend of our trustee Dr Sarah Njeri.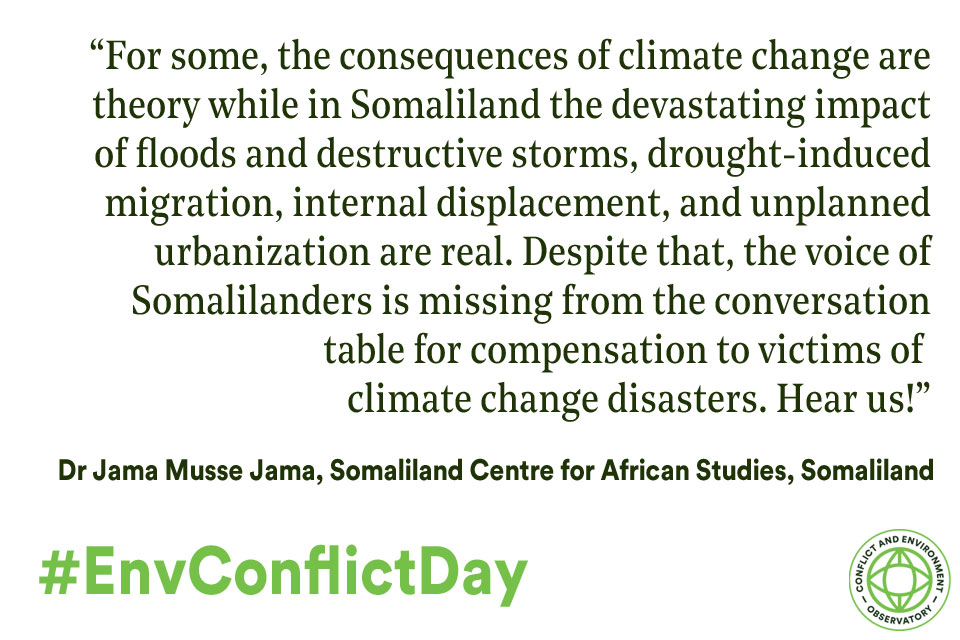 Iryna is one of our Ukraine research team and based in Kyiv. She and our other Ukrainian colleague Anna bring valuable local and contextual knowledge to our research.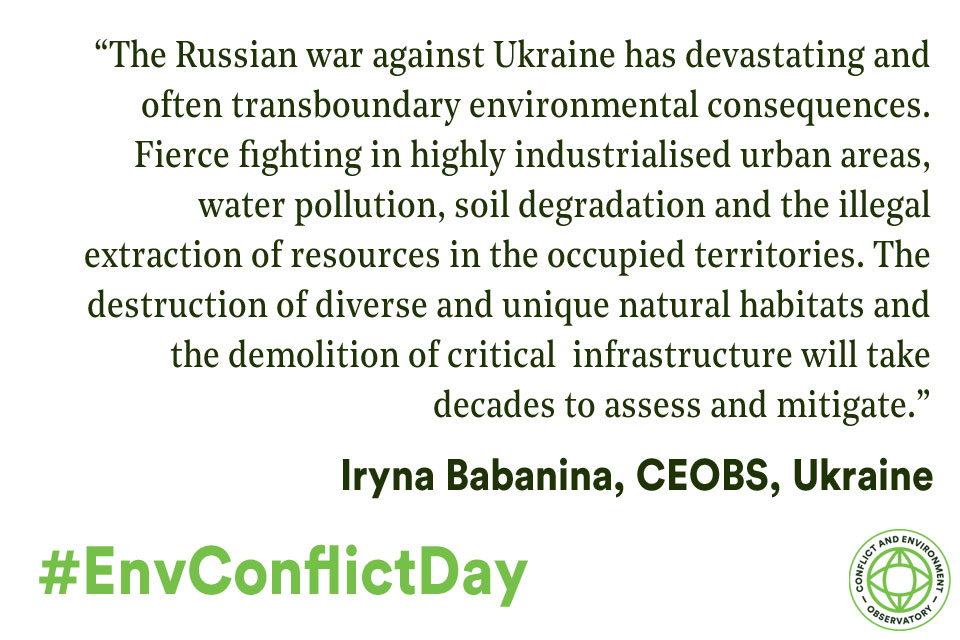 Kor helped us when we were studying the condition and future prospects of the Sudd wetland in South Sudan, a hugely valuable ecosystem in an ecologically rich country – albeit one in desperate need of government leadership on the environment.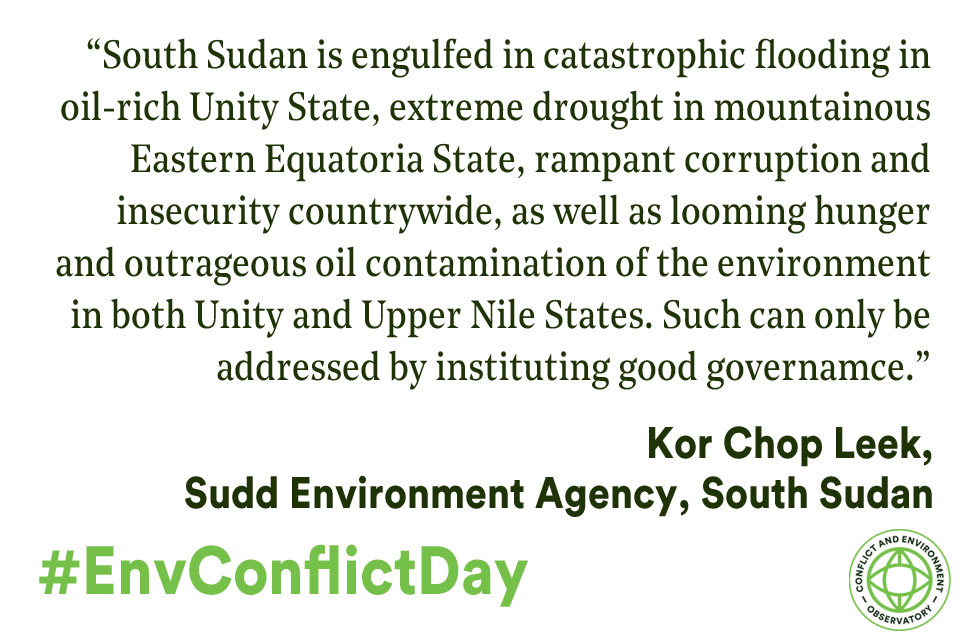 We worked with Zeyad on a major historical study on the decline of the Mesopotamian Marshes in Iraq. The country faces a growing water crisis, as his messages explains.
We've benefitted from Ayub's ecological knowledge in discussions around environmental mainstreaming in mine action in Afghanistan.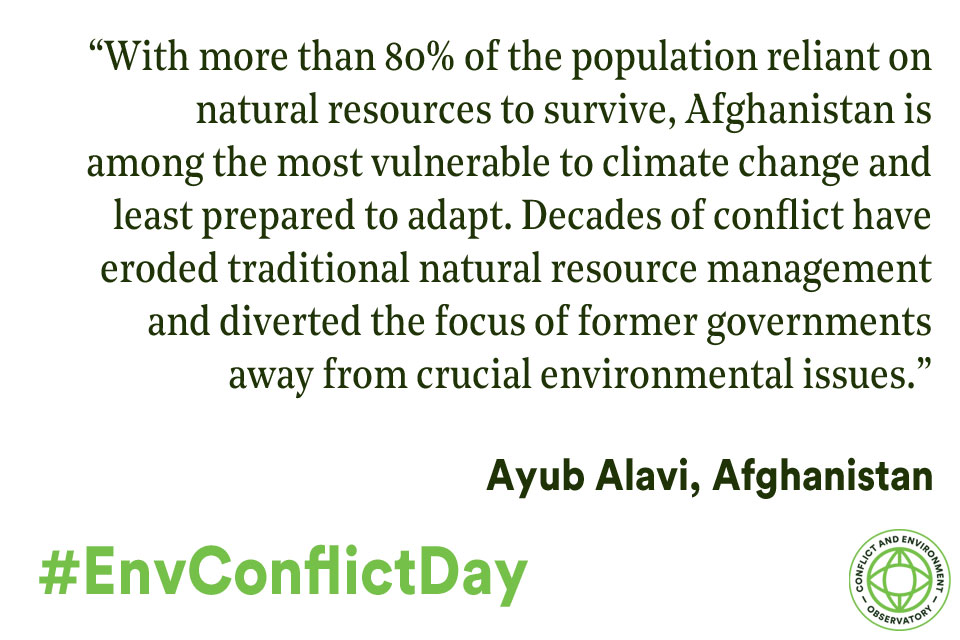 Satellite data is incredibly powerful but you often need groundtruthing to give you comprehensive insights. When we looked at deforestation in Tigray with Tekle and colleagues at Ghent University, this proved vital for training our algorithm.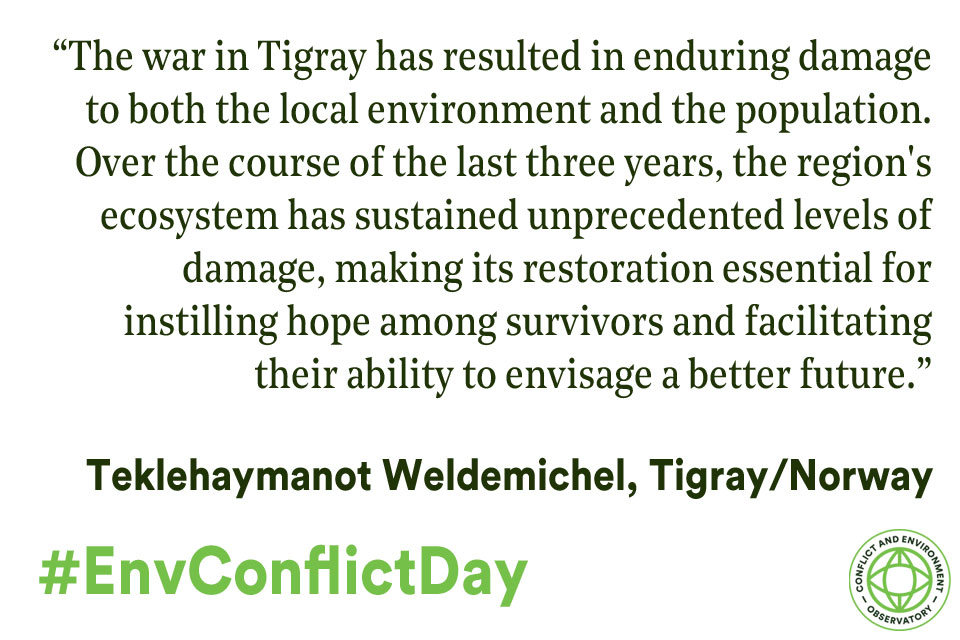 The last word goes to Mohammed, our friend, atmospheric scientist, and former colleague at CEOBS' predecessor organisation. He's is based in the UK but currently in Gaza.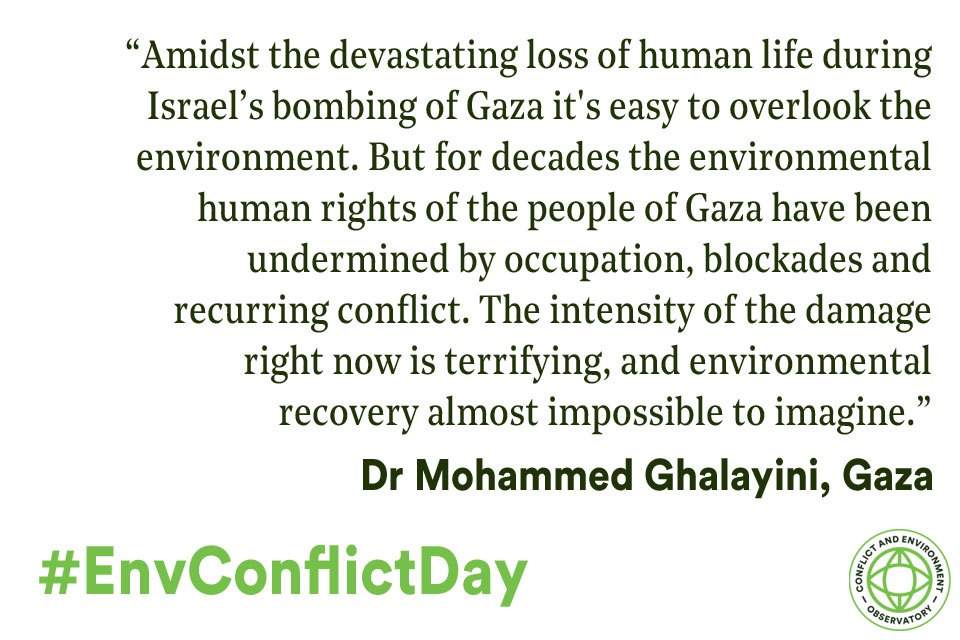 Thank you
It's been a privilege to be able to share the voices of friends and colleagues globally, and we are deeply indebted to everyone we collaborate with, not only for today but in all our work. As this initiative demonstrates, the environmental dimensions of conflicts are not always straightforward to understand, particularly from a distance. It's also increasingly important that we better understand how they interact with the triple crisis of climate change, biodiversity loss and pollution. We will only be able to do that by working with affected communities.