An intergovernmental science policy panel on pollution should be established to match those on climate change and the biodiversity crisis.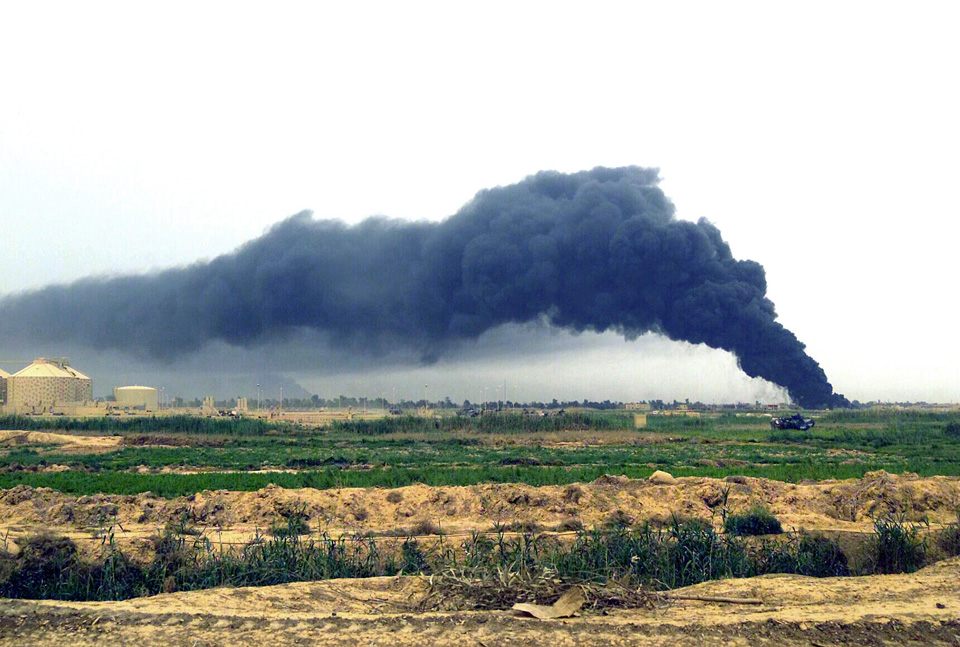 A proposal to establish an international expert body on chemicals management akin to the Intergovernmental Panel on Climate Change and the Intergovernmental Science-Policy Platform on Biodiversity and Ecosystems Services will be tabled at the Fifth UN Environment Assembly this year. Linsey Cottrell asks whether it could it help address conflict pollution and the toxic remnants of war.
The proposal
In 2021, the International Panel on Chemical Pollution launched a campaign for a global intergovernmental science-policy panel to inform policymakers, businesses, and the public about reducing harm from chemical pollution. The panel would be similar to the Intergovernmental Panel on Climate Change, and its biodiversity-focused sister IPBES. A draft resolution endorsing the plan, which has been co-sponsored by Costa Rica, Ghana, Mali, Switzerland, the United Kingdom and Uruguay, will now be tabled at the next UN Environment Assembly (UNEA) this year. Supporting the initiative is an opportunity for states to strengthen global action on the health and environmental threats posed by chemicals, pollution and waste.
According to a Lancet Commission, an estimated nine million premature deaths were caused by diseases linked to pollution in 2015. This is 16% of all deaths worldwide — three times higher than deaths from AIDS, tuberculosis, and malaria combined. This is also nearly 15 times higher than the direct deaths from war and all forms of violence. Only dietary risks and high blood pressure caused more deaths than pollution.
Inadequate chemicals management, ineffective waste treatment and pollution are a global problem. The full extent and effects on human health and the environment are also likely underestimated, with many gaps in governance and knowledge on the health and environmental effects of many chemicals in common use.
Conflict pollution
Pollution caused by armed conflicts, and the toxic remnants of war also threatens lives and ecosystems. As the figures above suggest, pollution in countries affected by armed conflict may, in the long-term, cause more premature deaths than from the violence itself. The full extent of the long-term health effects from conflict pollution however remain understudied. Research into the health impact of toxic exposures in conflict and post-conflict settings is notoriously challenging.
The issue has received increased attention in recent years. In 2017, UNEA passed the first ever UN resolution devoted to the issue and it has also featured in the UN Human Rights Council, with the Special Rapporteur on human rights and toxics, noting that '[t]oxic remnants of war inflict pain and suffering on communities long after the conflicts have concluded'.
Countries affected by armed conflicts typically suffer from pre-existing pollution and waste management issues, which are often exacerbated during and following conflict as environmental governance collapses. Governance collapse also impedes the implementation of international agreements on chemicals and waste.
Conflicts themselves often generate new sources of pollution, for example through damage or disruption to industrial infrastructure, urban areas or the use of particular weapons. Indeed, the polluting impact of wars starts well before them: the manufacture and testing of weapons, vehicles and military equipment all contribute to sources of pollution. Adverse impacts of conflict pollution include the risks from hazardous materials, contaminated ground, poor air quality, wastewater and contaminated water resources.
Benefits of a new policy panel
The establishment of an intergovernmental science-policy panel on chemicals, waste and pollution would provide an independent, science-informed mechanism to inform policy and support efforts to mitigate the harmful effects of chemical use and pollution. There is a critical need to enhance the protection of people and the environment from pollution within both non-conflict and conflict-affected settings.
If the activities of the IPCC and IPBES are any guide, a new chemicals panel would be unlikely to spearhead major progress on conflict pollution on its own, as any statements or reports would be constrained by what is available in the peer-reviewed literature. Nevertheless, it would create a focal point for engagement on the topic, improving on the current raft of multilateral environmental agreements on chemicals, which tend not to address the links between conflict and pollution in a meaningful way. It could also help focus attention on the lack of research on the human and ecological impact of conflict pollution, and on the constraints that researchers in conflict-affected countries face in undertaking it.
Perhaps more fundamentally, humanity faces three main environmental challenges: the climate crisis, biodiversity loss and pollution. It makes little sense for there only to be intergovernmental policy forums on two of them. States should support the UNEA resolution that will establish the panel and take this critical step towards addressing chemical pollution, boosting its public profile, and helping to safeguard the planet and protect lives.
Linsey Cottrell is CEOBS' Environmental Policy Officer