The barriers might not just be practical – they could also be psychological.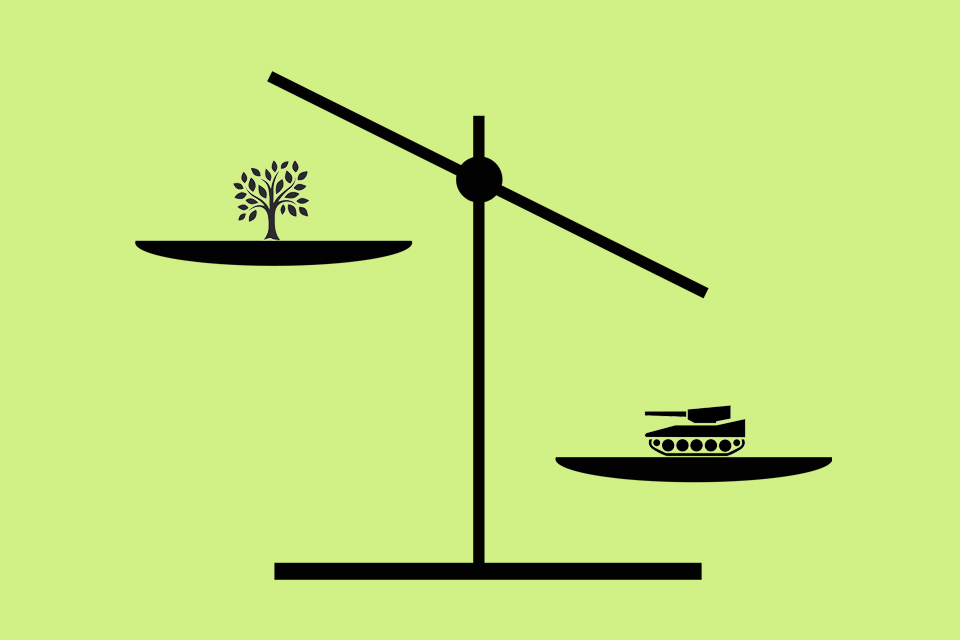 It's a widely held view that environmental damage is inevitable in war. But is it possible for us to better protect it, or are we, and the governments that represent us, incapable of taking action, and if so, why might this be? In this blog Gabriela Kolpak and Klaudija Visockyte consider the psychological barriers that have been shown to obstruct action to prevent action on climate change and examine whether they might also apply to armed conflicts.
The psychology of inaction
Our individual behaviours, attitudes and mindsets are greatly influenced by psychological factors. These invisible forces motivate us to either engage in action, or refrain from it. Robert Gifford's 'dragons of inaction' – which he uses to portray existing psychological barriers to effective climate action – could just as well apply to situations of war, potentially explaining why environmental protections in armed conflicts are so limited.
Gifford identifies 7 dragons of inaction: limited cognition about the issue; ideologies and worldviews; comparisons with others; sunk costs; discredence toward experts and authorities; perceived risks of change; and limited behaviour.
Psychological barriers to climate change mitigation and adaptation
General psychological barrier
Specific manifestation
Limited cognition
Ancient brain
Ignorance
Environmental numbness
Uncertainty
Judgmental discounting
Optimism bias
Perceived behavioral control/self-efficacy
Ideologies
Worldviews
Suprahuman powers
Technosalvation
System justification
Comparisons with others
Social comparison
Social norms and networks
Perceived inequity
Sunk costs
Financial investments
Behavioral momentum
Conflicting values, goals, and aspirations
Discredence
Mistrust
Perceived programme inadequacy
Denial
Reactance
Perceived risks
Functional
Physical
Financial
Social
Psychological
Temporal
Limited behaviour
Tokenism
Rebound effect
From Gifford, R. (2011). The dragons of inaction: Psychological barriers that limit climate change mitigation and adaptation. American Psychologist, 66(4), 290–302.
This blog will not provide an in-depth analysis of each dragon – this is done by Gifford himself. Instead, the focus will be on using these dragons to explain how the behaviours of actors involved in armed conflicts might be influenced or restricted by specific psychological factors. The key question asked is: what prevents greater efforts to protect the environment in situations of armed conflict? Perhaps certain aspects of these dragons of inaction could play a part in this. 
Psychological barriers to protecting the environment in armed conflicts
Applied to an armed conflict context, the dragons of inaction could prove effective in explaining certain behaviours and mindsets – or lack thereof – that inhibit greater efforts to protect the environment from the devastating effects of war. 
Limited cognition
The first dragon of inaction worth considering is a limited, or inaccurate, understanding of the issue at hand. For one, the urgency of a threat is often what motivates us to respond. This sense of urgency is often lacking amongst those who regulate or partake in armed conflicts from afar. Those who do not have to live with environmental degradation are less likely to respond to the harm that occurs in places that are remote and distant to them. This includes the states or non-state armed groups engaging in armed conflicts – whether directly or by proxy, and the policymakers convening to promulgate and develop international laws and regulations. 
But even when the urgency of a threat is recognised, actors may be discouraged by the collective action problem. While some actors might in fact be willing to protect the environment in armed conflicts, they may be deterred by the reluctance of others to join them. The collective action problem strongly correlates to yet another dragon of inaction – the act of comparing oneself to others. Some states or armed groups may find it unfair that while they are making sacrifices – for instance, refraining from environmentally harmful military tactics or by choosing to abide by international obligations to protect the environment in armed conflicts – others are conducting their business as usual. Taken even further, the collective action problem and comparisons with others can lead to fatalism – the belief that nothing can be done at all, so no action is worth pursuing.
Sheer ignorance can also play a role in refraining to protect the environment in armed conflicts. While it is unlikely that authorities and policy-makers are unaware of the impact war has on the environment, they may nonetheless be ignorant of the different solutions and options available to minimise harm. This ignorance might also be fuelled by an overall perception of the environment as unpredictable and uncontrollable. There is already a lack of agreement among practitioners on what exactly constitutes the environment. On top of that, it may often be difficult to foresee what behaviours could prove hazardous or not, and how to adequately address the risks that may arise.
Perceived risks and sunk costs
The next dragons of inaction that are of relevance are perceived risks and sunk costs. Conflicting values and goals play a significant role in preventing certain forms of action. It could be argued that by focusing on the environment in armed conflicts, actors would be required to sacrifice other equally important objectives – for example, military objectives or humanitarian protection, both of which international humanitarian law (IHL) prioritises. 
It could also mean appearing militarily weakened in the eyes of the opponent and the international community as a whole. Such perceived risks are further intensified by the longstanding belief that international status and prowess is measured by the ability to project military force. This may be compounded by a lack of awareness that environmental protection may actually align with longer-term aims when it comes to peacebuilding or recovery.
Sunk costs also play a part in this. States that have invested in expensive military or technological equipment will want to make good use of their investments – whether they are harmful to the environment or not – and might not be willing to additionally invest in other, less harmful military approaches. Indeed, there are numerous examples of environmentally harmful military practices. As the old adage goes, if all you have is a hammer, every problem looks like a nail. And if a state has spent a decade or more developing a weapon, there will be pressure to use it, even if the characteristics of a conflict and the environmental and social acceptability of that practice has changed in that time.
A lack of place attachment further diminishes the willingness to take risks and make sacrifices for the sake of the environment. This is especially the case in situations of interventions, in which external actors send their forces to warring countries. Troops sent from abroad are less attached to the places they are deployed, to the people living there, and to the local environment. Likewise, their superiors – oftentimes not even present at the place of conflict – are preoccupied with their military objectives, not the local environment. This may be starkly in contrast with the perception of the civilians in these areas, for whom their environmental heritage is often a key component of their cultural heritage, the importance of which may increase as societies are disrupted by war.
Denial 
Denial also precludes greater action, and is often caused by feelings of mistrust towards certain authorities or scientific findings. While we commonly associate this with individuals, research on environmental denialism shows that governments, political organisations and industries are amongst the main deniers of environmental issues. There are no shortage of examples of where they have funded or actively spread disinformation on climate change. There may be many reasons for this, but political and economic considerations often feature, and it is easier to deny or discredit research than to experience losses by accepting it. It should be noted that the dissemination of environmental disinformation is also commonplace during armed conflicts. 
Limited behaviour
When economic, political or military gains are prioritised over the environment, states and other actors might settle on the cheapest, lowest-impact programmes to protect the environment in armed conflicts. Such an approach falls under tokenism – it is a clever way for governments and other actors to appear engaged at minimal risk. In the end, their ulterior motive may be to improve public image or to silence critics and opponents. Although these programmes are far from effective in the long-run, some may also argue that they are better than doing nothing at all. 
Yet, effective action may also be limited by the rebound effect: the belief that any positive gains will be diminished or erased by future destructive action. As states and other actors recognise the futility of their efforts or general lack of progress, they might feel discouraged to do more to protect the environment from the harmful effects of war.
Ideologies and worldviews
Last but not least, prevailing ideologies and worldviews significantly influence our behaviour, and our willingness to change it. The environment has seldom been the focus of military affairs; for the most part, priority has always been given to the idea of military necessity. Where it is addressed by the military, it may be limited to actions that confer a direct operational benefit but which also happen to be positive for the environment. One example of this is the deployment of sustainable energy systems to reduce reliance on fuel transportation. 
Only recently have international actors begun to show a greater interest in protecting the environment in armed conflicts – the International Law Commission's ongoing work on the Protection of the environment in relation to armed conflicts (PERAC) is a prime example of this. 
The destruction of the environment has long been perceived as an inevitable consequence of war – as an acceptable form of collateral damage rather than something that should be avoided at all costs. Not to mention, there are instances where the environment is intentionally utilised as a weapon in war, leading to its devastation or ruin – the use of Agent Orange herbicide by US forces as a military tactic during the Vietnam War is a prominent example. 
The rulings and positions (or the lack thereof) taken by international courts and tribunals, such as the International Criminal Court (ICC), or the International Criminal Tribunal for The Former Yugoslavia (ICTY), also play a part in setting acceptable standards of behaviour; given their legal authority, they have the power to either confirm or discredit the belief that certain levels of environmental damage in war are permitted. Yet relevant case law on the issue is scarce and poorly developed, and decade-old court rulings might not reflect the standards of permissible behaviour that exist today. For one, the ICC has not yet developed any case law on this issue. This perception of the environment as collateral damage, or as a useful – yet unlawful – tool in war, contributes to the lack of action to protect the environment in armed conflicts.
It is perhaps notable in this regard that the IHL cumulative threshold for what constitutes unacceptable environmental damage – widespread, long-term and severe – remains poorly defined, leaving it open to interpretation. That these terms have generally been interpreted in their most permissive sense further reinforces the view that any harm that does not reach this level of severity is therefore acceptable.
Other barriers
It's not just dragons that we need to be concerned about.
Lack of accountability
Beyond the dragons of inaction, a key problem is that the legal machinery affording protection to the environment in relation to armed conflicts is under-developed, especially when it comes to the non-international armed conflicts. For one, the scope of international obligations protecting the environment during armed conflict is indeterminate. But perhaps more important is the failure to enforce these obligations, which in turn builds a culture of impunity and unaccountability. Under such circumstances, states and armed actors may forgo these obligations as they please, knowing well enough that they will not be held accountable for a lack of compliance.
There are very few examples of where states or armed groups have been held accountable for wartime environmental damage. And yet in peacetime, accountability mechanisms have been vital for driving changes in environmental behaviour, whether for corporations, or for states. Which begs the question – will it be the case that accountability mechanisms will be needed to finally force changes to the most environmentally destructive conduct?  
Prioritising the environmental dimensions of armed conflicts
While it is becoming universally accepted that the environment should be protected from harmful behaviour and practices, this has yet to expand to cover harms that occur in situations of armed conflict. Environmental protections are difficult to establish and enforce in peacetime, let alone in conflict contexts. And extending these protections – which are already scarce to begin with – to cover wartime activity comes as an even greater challenge.
The flexibility of the laws that regulate war is unsurprising. Armed conflicts present very complex and extreme circumstances, which permit behaviour that would otherwise be deemed inconceivable. Thus, lessening the environmental harm that occurs in war – which most consider a rare occurrence that is unlikely to affect them – is seldom the focus of states, or of environmentalists. 
Perhaps they too are affected by the dragons of inaction, and the assumption that harm is inevitable. Civil society's efforts are often geared towards other projects and campaigns. The world is not lacking in natural disasters and ecological emergencies occurring as a result of rising global temperatures, pollution, and exploitative human activity. Environmental advocacy groups might be less inclined to advocate for causes that they feel will not resonate with the public – environmental harm during armed conflict is a devastating but often distant consequence of war, and most people don't perceive it as the most significant conflict-related issue. 
Still, conduct in war is not completely without restrictions – it is regulated by IHL. But why does IHL prohibit certain harmful and destructive behaviours, and not others? There are several reasons for IHL's lack of environmental focus. For one, IHL regulations are mostly centred on conduct that causes direct suffering to civilians, and other concerns – such as the environment – become secondary. That most IHL rules originated when humanity's reliance on the environment was far less accepted than it is today was also a contributing factor. 
Existing international law instruments insufficiently address the issue of protecting the environment from the effects of armed hostilities. Brief references to the environment can be found under Articles 35 and 55 of the Additional Protocol I to the Geneva Conventions, or under Article 8(2)(b)(iv) of the Rome Statute of the ICC. Not only are such provisions scarce, but they are also of limited utility in real life; the standards of impermissible environmental damage they set are unrealistic, rarely met, and difficult to prove.
The International Committee of the Red Cross's recently revised Guidelines on the protection of the natural environment in armed conflict endeavour to integrate a more contemporary understanding of the environment into IHL. But inevitably they also reflect IHL's inherent conservatism, and the conservatism of states.  
IHL and the new guidelines only cover conduct during hostilities, and yet protection is important at all stages in the cycle of conflicts. This is a problem recognised in the International Law Commission's draft principles on PERAC, as they consider the protection of the environment throughout all phases: before, during, and after armed conflicts, including in situations of occupation. The PERAC principles therefore have the potential to challenge and reshape existing priorities in armed conflicts, recognising the importance of sheltering the environment from unjustifiable abuse and destruction in war. While it is clear that IHL is greatly focused on protecting civilians from the immediate effects of armed conflicts, the long-term, and sometimes permanent, consequences of war are often just as harmful.
Conclusion
Changing one's behaviour or attitude can be a challenging process. Sticking to the status quo is often more convenient than disrupting it. But some issues are simply too important to ignore. With the state of our planet in decline, environmental activism is on the rise, and behaviours harmful to the environment are increasingly being challenged and transformed. 
The evolution of climate and environmental policies in peacetime has shown us that it is possible, though not easy, to influence stubborn minds. But some behaviours are more difficult to alter than others, especially those that make up long-established policies and practices in war. So how can we slay the dragons that prevent us from caring for the environment in armed conflicts? One way is by ensuring the proper implementation of environmental protections, and putting in place accountability mechanisms. The success of promising new legal instruments like PERAC will depend on this; otherwise, the dragons of inaction might just prevail.  
Gabriela Kolpak and Klaudija Visockyte are recent graduates from the University of Manchester, where they were studying for a Masters in Security and International Law.