The UK's government's response to a parliamentary report on climate and sustainability in defence reveals a worrying lack of ambition.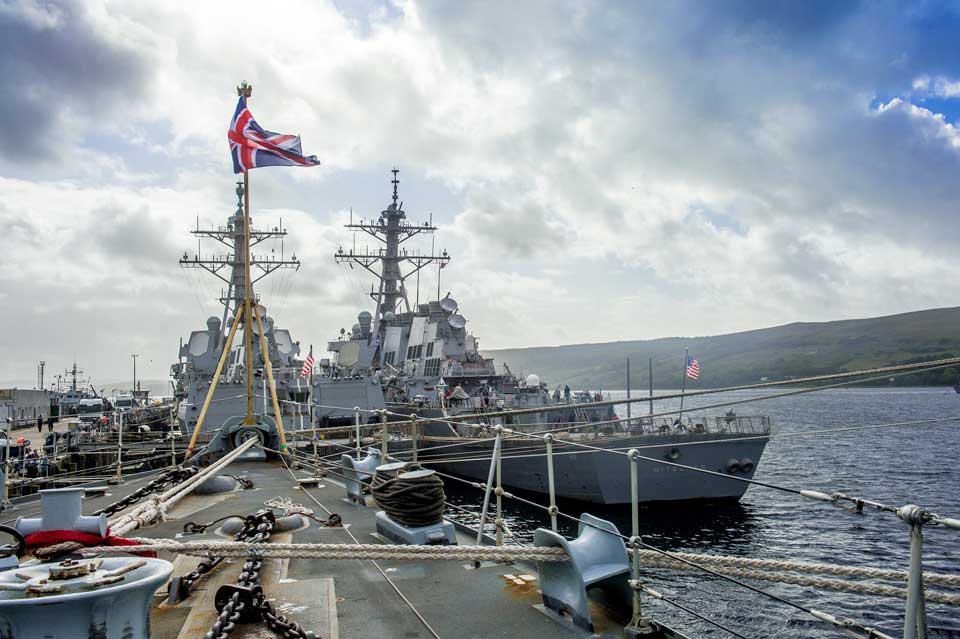 The UK government has responded to the House of Commons Defence Committee report on Defence and Climate Change. Linsey Cottrell analyses the key points made, remaining gaps and the road ahead for reducing the UK's military greenhouse gas emissions.
Seeking demanding targets and global leadership
The UK House of Commons Defence Committee released its Defence and Climate Change report following an inquiry that it launched in May 2022. CEOBS and Scientists for Global Responsibility provided evidence during the inquiry, and the report found that the UK MoD can 'do much more to measure and reduce its carbon emissions, without eroding military capacity'. The government has now issued its response to the Committee's report.
Several of the recommendations set out by the committee identified the need for improvements across the UK MoD, including setting more demanding Greening Government Commitments (GGC) and adopting Science Based Targets initiatives (SBTi) for the MoD and its major suppliers. However, the government has indicated that it will not commit to more stringent GGC targets beyond 2025, or any adoption of SBTi. Overall, it is discouraging that many of the committee's recommendations that focused on emissions mitigation and reporting are not fully supported by the government (see the summary table below).
Furthermore, the government does not support the independent verification of MoD Greenhouse Gas (GHG) reporting, or a return to more in-depth standalone annual reviews of its climate and sustainability performance. Instead, the response simply referred to the MoD's annual Sanctuary magazine, which showcases flagship projects and initiatives. While this can help to communicate good practice, by focusing on positive activities, there can be a lack of balance and attention to what is still required, a risk of being unrealistic about the challenges ahead, and no detail on the timeframes involved and resources required. Independently verified reporting allows for proper scrutiny of relevant information and progress, and demonstrates whether adequate resourcing is in place to meet commitments.1
The government response also argues that the MoD's own Carbon Footprint Methodology is subject to an independent internal review, and is 'sound and repeatable'. It's important to remember that independent third party verification is recommended under the International Organization for Standardization (ISO) Net Zero Guidelines, and in line with good practice, reporting must be relevant, comprehensive, consistent, accurate and transparent.
The committee also recommended that the MoD work with partners on improvements in reporting through the UNFCCC and in the IPCC reporting framework for military GHG emissions. This would begin to help address the current gaps in data on global military emissions. Although the MoD's Climate Change and Sustainability Strategic Approach (CCSSA) sets out the ambition for the UK to be a global leader, it is disappointing that the government response indicates no support for encouraging improvements in international reporting to the UNFCCC. Government support for the NATO GHG methodology published in June is welcome. But because there are substantial gaps and limitations to the scope of the NATO GHG reporting methodology, it will be important for the MoD to promote improvements to it, as well as progress around transparency and disclosure of reporting outputs more generally.
UK government responses to the Defence Committee Climate Change and Defence report
Committee recommendation / remark
Not supported
Partial response
Supportive
Notes and commentary
3a
Defence should undertake research and assess best practice from academia […]
•
Engagement must be balanced and impartial, including academics and civil society with no military links.
3b
It should also push hard to reduce carbon emissions from its equipment, without eroding military capability.
¤
No overall indication of the scale of investments or timescales involved. Heavy reliance on sustainable aviation fuels and risks not highlighted. The response relating to the Royal Navy is potentially misleading. It refers to catalytic reduction fitted on some vessels which can reduce nitrogen-based emissions by 97%. This relates to air quality and not relevant to the reduction of principal greenhouse gases to which the HCDC recommendation refers.
4
The Ministry of Defence should set out the balance of investment opportunities around accelerating the fitting of low-carbon energy sources […] to achieve 'estate Net Zero' by 2030
¤
No commitment to the 'estate Net Zero' by 2023 recommendation or indication of the scale and investment for programmes already underway, or planned.
8a
The Ministry of Defence should […] encourage the United Nations Framework Convention on Climate Change and the Intergovernmental Panel on Climate Change to update their reporting framework […]
◦
No indication on whether it can encourage better reporting through the UNFCCC or IPCC reporting framework.
8b
The Ministry of Defence should also urge NATO to increase its transparency and publish its method.
•
NATO methodology was published during drafting of the committee's inquiry and UK MoD support is welcome. This should include address the gaps in scope and transparency.
9
Measuring and reporting against the total defence carbon emission figure would support both the Government's agenda of reducing emissions to Net Zero by 2050 […]. Good practice would be to ensure these figures are independently verified
◦
Independent verification remains a valid recommendation, especially since the MoD is still likely to have 'operating platforms that require hydrocarbons' beyond 2050.
10
The Ministry of Defence should return to publishing a more in-depth, stand-alone annual review of its climate and sustainability performance, with independent verification of emissions measuring and reporting.
◦
No planned changes and continuation of reporting through the Sanctuary magazine. This risks highlighting flagship and good news stories only. Standalone and independently verified reporting is encouraged.
11
The Ministry of Defence is in line to achieve its Greening Government Commitments' carbon reduction targets early, but these are insufficiently demanding. […] For the next round of Greening Government Commitments from 2025–2030, Defence should ensure its targets are more demanding […]
¤
The response does not infer any commitment for ambitious targets from the MoD, with only a '10% direct emission reduction target' given.
12
The Ministry of Defence […] should look to adopt Science-Based Targets initiative-approved measures for Defence and major suppliers, and develop carbon reduction plans for major suppliers
◦
No support for the use of SBTi and the PPN06/21 requirements are cited for the supply chain. PPN06/21 however applies to UK operations and UK emissions data only (with some Scope 3 categories), and does not capture emissions from organisations supplying services or products from abroad. How these supply chain emissions could be addressed in contracts or procurement specifications is not given.
13
The RAF has also set out clear milestones towards achieving its 2040 ambition […]. We have not seen similar plans setting out milestones and targets for all other Top-Level Budget holders and enabling organisations to achieve Net Zero by 2050.
¤
No indication given on publication for the Army or the Royal Navy, or timeframes.
14
[…] Top-Level Budget holders and other significant enabling organisations should report their emissions separately starting with the 2023–24 Annual Report & Accounts
•
Response indicated that this will be considered, which is a positive change if implemented in full.
15
&
16
[…] having the climate change director also responsible for the Union and Levelling-Up in the Ministry of Defence may be too distracting – and -
The Ministry of Defence should appoint a dedicated climate change director […]
¤
An overview of the organisational structure is given of the new Levelling Up, Union, Climate Change and Sustainability Directorate, but no detail on the operating structure, size or responsibilities of specialist teams, or how progress will be reported.
Two steps back?
The responses to the committee's report's recommendations are significant, in that they reflect, and set the tone and ambition of government policy. There were several welcome recommendations. However, there is a risk that the effective delivery of the MoD's CCSSA may be compromised without clear commitments to all the committee's recommendations, as well as to national net zero targets more broadly.
In the period since the publication of the CCSSA, and the close of committee's inquiry, the UK government has pushed back its net zero deadlines. A move widely condemned by climate experts and campaigners. Even before this retrograde step, parliament's Climate Change Committee had raised concerns that overall, government policy development is too slow and the 'opportunity to raise the overall pace of delivery has been missed.'
Environmental principles and the MoD
Since November 1st 2023, the government is legally obliged to consider how its policies may impact the environment under the Environmental Principles Policy Statement. However, although this duty applies to policy across government, there are exemptions relating to the armed forces, defence and national security.2
In 2019, whilst taking evidence on an earlier version of the legislation, parliament's Environmental Audit Committee highlighted its concerns about the proposed blanket exemption. It recommended that any exclusions should be very narrowly defined, and that the MoD as a landowner is not excluded. The exemption remains, and the UK's newly established Office of Environmental Protection is unable to investigate complaints relating to the armed forces.
The UK's Defence Environmental Protection Regulator (DEPR) was formed in April 2022 and is responsible for third-party assurance, regulation and enforcement of environmental protection across the MoD. DEPR sits within the Defence Safety Authority (DSA), but the DSA Annual Assurance Report does not yet include commentary on progress with either GHG emissions reporting, or the reduction of emissions. We would therefore encourage parliament's Defence Committee to review the delivery of the MoD's CCSSA in a future inquiry.
Vital to keep MoD sustainability performance under review
In the government's comments, Secretary of State for Defence Grant Shapps argued that "decisions will not be balanced between calls to hit sustainability targets and the need to protect the United Kingdom'. This appears to contradict the MoD's CCSSA, in that defence policies and decisions need to 'consistently take account of their effect on Defence's sustainability', and fails to acknowledge the much wider impact of the military on the environment and on the climate crisis.
The government's response cites a range of initiatives, but there is yet no overall indication of the scale of investments planned – other than for the battlefield electrification of the Army's vehicles – or the timeframes involved. Royal Navy initiatives are also vague, with no clarity on strategies planned and some misleading claims. The response refers to catalytic reduction fitted on some naval vessels, this can reduce nitrogen-based emissions by 97%, which is relevant to air quality but not to the reduction of principal GHG emissions. There is also heavy reliance on the future rollout of 'sustainable' aviation fuels (SAF), but the response does not refer to any of the risks surrounding SAF, which include the possibility of constrained supplies, the need to consider non-CO2 effects, and other indirect emissions and wider environmental impacts.
It is encouraging that the government response refers to continued engagement with academia and partners on best practice, yet it is important to ensure that this is balanced and impartial, incorporating political, social, climate and environmental specialists without military links. Recent academic research commissioned by the MoD and cited in the response, is by RAND Europe – a military research organisation. Nevertheless, the RAND research did touch on the importance of diplomatic and development levers, and a wish to avoid excessively securitising climate change. It is unfortunate that this focus is not mentioned in the response.
The MoD's CCSSA comprises three key stages, with "Epoch 1 (Setting the foundations)", due for completion in 2025. By 2025, the MoD should have met several milestones relating to supply chain engagement, a comprehensive understanding of the baseline, and detailed planning for further stage implementation of Epoch 2 and 3. Delivery of the MoD's CCSSA would benefit from a further Defence Committee inquiry in 2025, which could include a review of performance to date against the objectives of the CCSSA, as well an appraisal of alignment with national net zero policy commitments.
Linsey Cottrell is CEOBS' Environmental Policy Officer.
This article was updated on 17th Nov 2023 following a government correction revising their response published on 8th November. The previous response had implied that catalytic reduction fitted on some naval vessels can reduce GHG emissions by 97%, although this applies to nitrogen-based emissions only.  
For example, in accordance with recognised verification standards such as AA1000 AS.
As set out under section 19 (3) of the Environment Act 2021.