Abkhazia and South Ossetia's political isolation has implications for environmental governance and cooperation.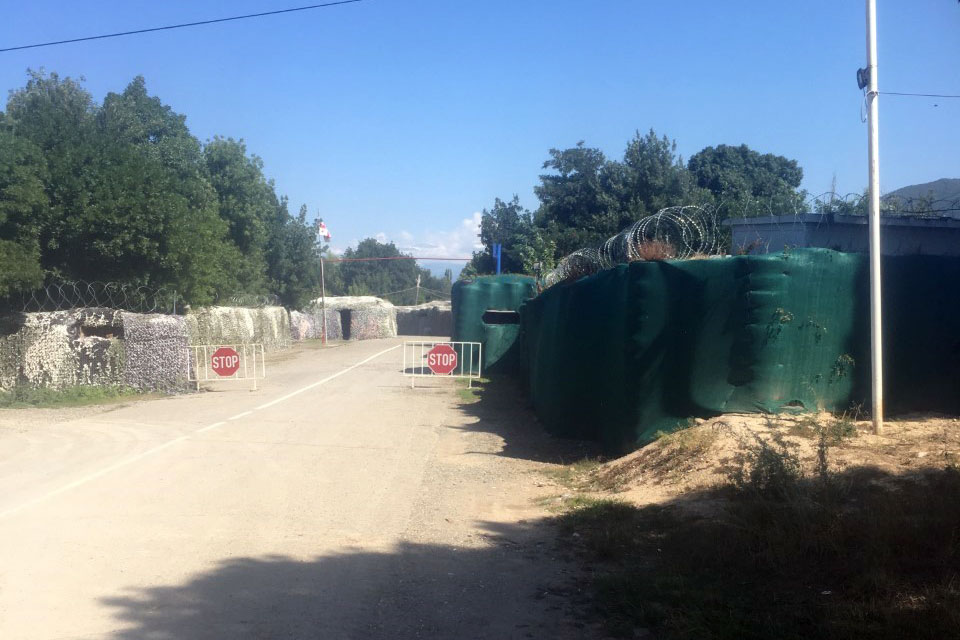 When wars end without an internationally recognised agreement to resolve them, conflicts can become frozen. From Cyprus to Somalia, and across the former Soviet Union, frozen conflicts are not uncommon, and a lack of international recognition can limit environmental cooperation. In this post, Clayton Payne examines how the frozen conflicts affecting Georgia's breakaway republics of Abkhazia and South Ossetia have influenced their environment, and how it is managed.
How Georgia's conflicts became frozen
When the Soviet Union began collapsing in the 1980s, Georgian nationalism grew. In turn this led to increasing nationalism from its Abkhaz and Ossetian communities, who feared losing their autonomy within a new Georgian state. By 1989, this had escalated into Georgian-Abkhaz and Georgian-Ossetian conflicts – even before Georgia became independent in 1991. Georgia's independence didn't bring stability, instead it led to the 1991-92 Georgian-Ossetian, and the 1992-93 Georgian-Abkhaz wars.
The wars left South Ossetia and Abkhazia detached from the Georgian state and with de facto governments controlling their affairs, they also led to thousands of people being either expelled or forced to flee. Abkhazia was internationally isolated at this point, whereas a deal brokered by the Organisation of Security and Cooperation in Europe (OSCE) between Georgia and South Ossetia allowed for continued trade between them.
In 2008, the war between Georgia, Russia and the breakaway republics led to a shift in international recognition, with Russia recognising both Abkhazia and South Ossetia as independent states. This annulled the previous agreements with Georgia through the OSCE. Russia took on the role of defender of the new states' independence, while Georgia declared the regions to be under Russian occupation.
For my dissertation I studied how the frozen conflicts had affected environmental governance and cooperation, and this post explores some key findings. All interviews were undertaken between July-August 2021, and please refer to this note for more information on place names.1
How isolation has weakened environmental security
The political void that Abkhazia and South Ossetia have been left in has seen them isolated from international environmental protection systems and cooperation structures. This lack of cooperation has affected the region's ability to effectively mitigate the risks from natural disasters, and ensure the proper management and protection of biodiversity.
The region is highly prone to earthquakes. However, according to one Georgian environmental NGO leader that I spoke to, Georgia is currently unable to access seismic data from the breakaway regions and instead has to use predictive tools to assess activity. This is particularly problematic as the Engur(i) dam and its hydropower plant sit within an active seismic area. The dam and its 15km reservoir, which are in Georgia, are already at risk from major landslides, and the risks they pose are being studied. The downstream hydroelectric station that uses the outflow of the dam is based wholly in Abkhazia, which in turn is heavily dependent on the energy it generates.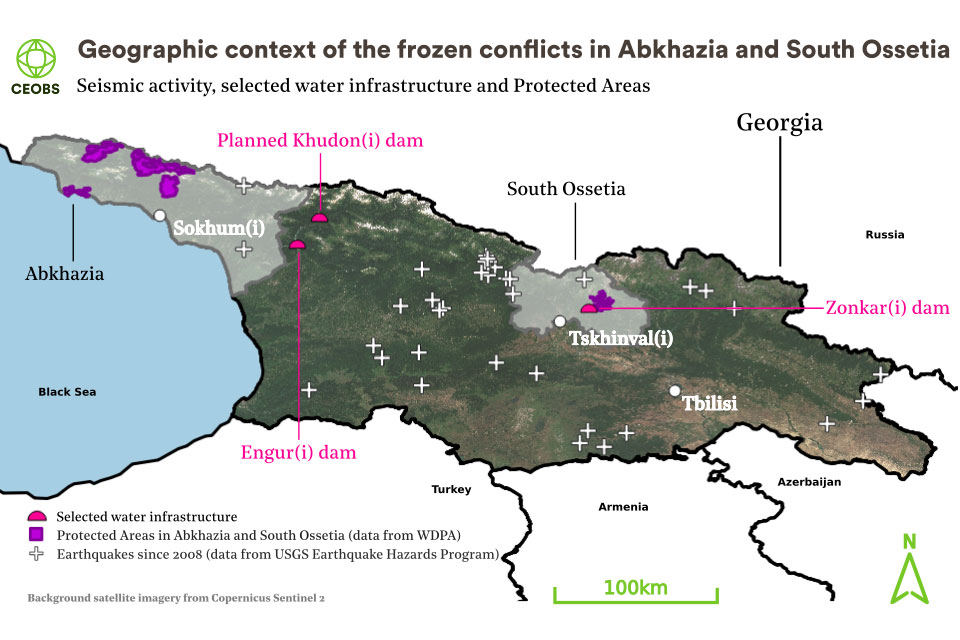 Isolation and lack of recognition are also problematic for coastal governance. Intergovernmental organisations such as the Commission on the Protection of the Black Sea from Pollution and the UN Environment Programme have cooperation structures to protect the Black Sea environment. However, these lack Abkhaz representation and, as a result, this limits its ability to directly influence environmental measures along Abkhazia's coastline. Moreover, these structures provide fora for the exchange of environmental information, and it's noticeable that the few references to Abkhazia on the Commission's website generally relate only to information from Abkhazia not being available.
The barriers to cooperation extend below the governmental level. Georgian environmental NGOs that I spoke with expressed the difficulty in coordinating cross border projects. Some organisations had tried and failed, while another's contacts were limited only to the Georgian population in the ethnically Georgian Gal(i) region of Abkhazia.
How a lack of cross border cooperation has degraded environmental resources
A lack of cross border cooperation has led to both the neglect of shared natural resources, and the poor management and politicisation of the environmental problems this has caused. For example, shared resources such as the Liakhv(i) and Engur(i) rivers, which cross the South Ossetian-Georgian and Abkhazian-Georgian borders, respectively, show signs of neglect as a result of the lack of cooperation.
The damming of the Liakhv(i) river for the Zonkar(i) reservoir, and over-abstraction for agriculture downstream, has undermined its ecological value. Sediment capture by the dam, and changes in water flow have eroded the riverbed downstream, making it hostile for insect and fish life. While over-abstraction has repeatedly led to the river being so low that even at its highest points in summer it is unable to sustain a natural ecosystem.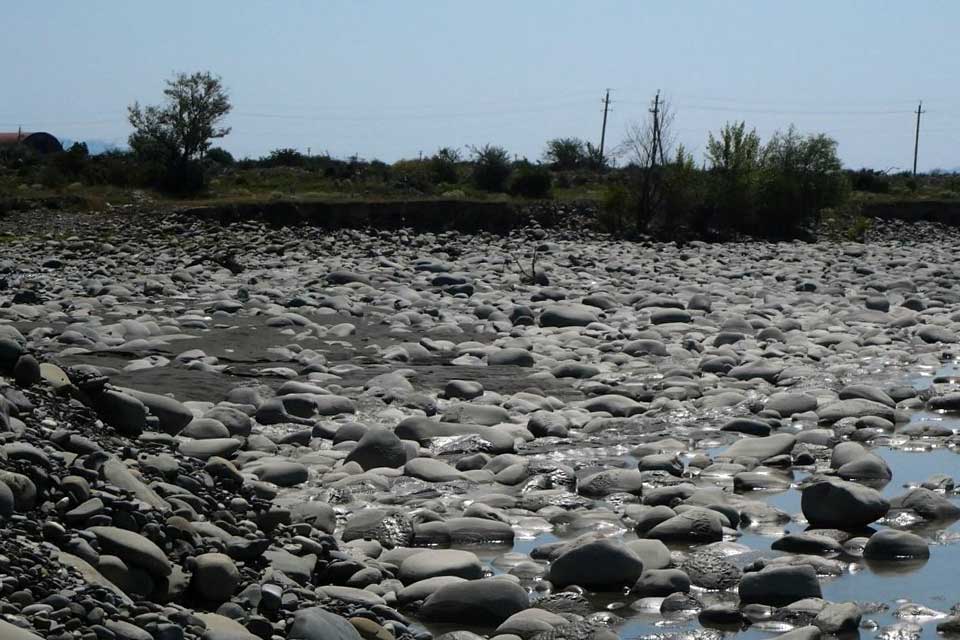 There have been some limited cross-border attempts to depoliticise the environment through water cooperation in South Ossetia. For example, in 2013 the 'Liakhvi Group' was established to address issues related "to supplying the conflict region with drinking and irrigation water", however, it's unclear whether it had any success.
Another example is the cooperation that has taken place over the Zonkar(i) dam. The dam was operated by Georgia until the 2008 war, after which the de facto South Ossetian government took sole control of the reservoir. Waterways that irrigated downstream Georgian villages were closed, which also impacted the South Ossetian villages beyond them. In 2011, a fault with the dam's control system threatened a collapse, which required international expertise to repair it. The dispute was eventually resolved under the aegis of the Incident Prevention and Response Mechanism, a forum facilitated by the OSCE and the EU Monitoring Mission in Georgia.
The Engur(i) river, which meanders through Georgia for most of its length, but which also forms part of the border with Abkhazia has had similar problems to that of the Liakhv(i). Not only has the Engur(i) dam and hydroelectric power plant interfered with its sediment and hydrological balance, but sediment capture is also contributing to coastal erosion. Reduced upstream sediment transport because of upstream damming and reduced water flow means less sediment reaches the Black Sea coastline, and is able to help protect it.
Turkish and Dutch studies have documented the relationship between reduced sediment transportation and accelerated coastal erosion at the mouths of the Engur(i) and Rioni rivers. When I spoke with Abkhaz government representatives, they expressed frustration at their inability to do anything about the coastal erosion associated with the Engur(i). The mouth of the Engur(i) is close to a recently designated UNESCO heritage site – the Kolkheti wetlands – an area preserved for its biodiversity and ecological importance. Prior to its UNESCO designation, the internationally important wetland was already a Ramsar site. A failure to cooperate over coastal erosion could ultimately impact the wetland.
A Georgian plan to build another dam and hydroelectric plant upstream in the northern parts of the Engur(i) river and within Georgian jurisdiction faced opposition on environmental and social grounds for 30 years. In June 2021, the government announced its withdrawal from a construction and management deal with the Indian company Trans Electrica and the dam's future remains unclear, although the Georgian government sees the expansion of the hydroelectric sector as a priority. Because of its lack of recognition, and the ongoing dispute with Georgia, Abkhazia, which is heavily reliant on the Engur(i) river scheme for its power, has had little input on the decisions that will affect it.
The politicisation of the environment
Allegations of environmental damage in the de facto states have been weaponised from time to time. Georgia alleged that large scale logging had occurred in Abkhazia following independence, and again during the construction of the Sochi Olympics. However, satellite observations on deforestation in the Caucasus showed that there had been minimal logging in Abkhazia, whereas large-scale logging was seen in the Russian forests around the nearby city of Sochi. Instead, what deforestation Abkhazia had experienced was consistent with natural events such as forest fires.
This pattern remains largely similar today. A quick assessment undertaken by CEOBS for this post found it to be a minor type of land cover change in the region, with about half of all the 2.4km2 Landsat pixels they assessed losing less than 1% of forest cover since 2005. Further research is needed to fully explore the relationship between the republics' political isolation and deforestation dynamics, and what if any impact a thawing of relations might have.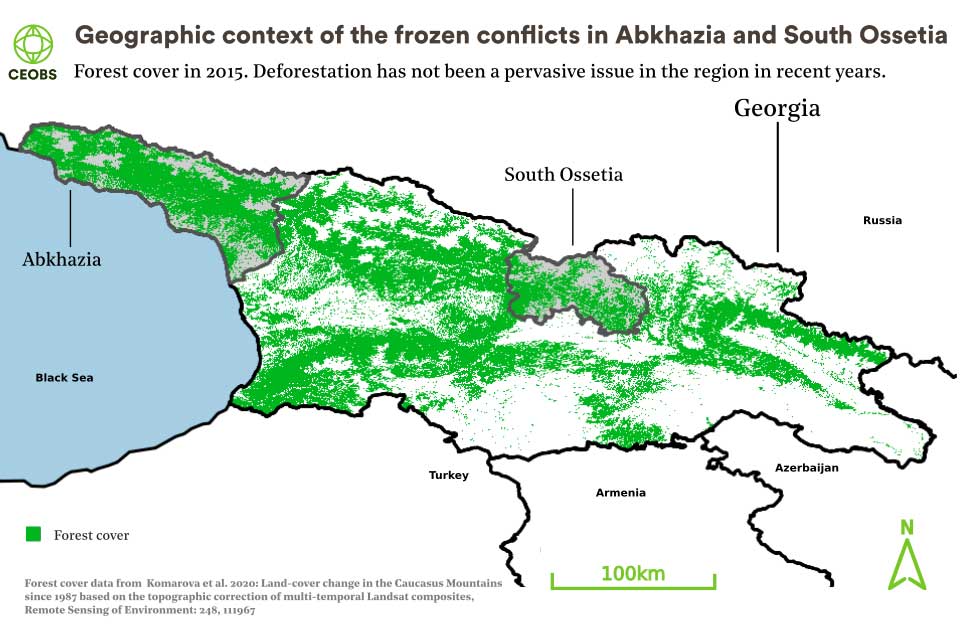 Waste management has become one of the most acute environmental problems in the breakaway regions. Abkhazia's main landfill site in Sukhum(i) has reached capacity, and due to the lack of a suitable alternative, solid waste is being improperly dumped in the southern Gal(i) region. The Abkhaz administration claims that this is due to a lack of an alternative site, and is aware that it is problematic. However, Georgia sees it as an abuse of the Georgian population of Gal(i), which is 98% ethnically Georgian, and the dumping is seen as politically motivated.
In South Ossetia a new landfill site has been opened on the site of a Georgian village abandoned during the 2008 war, This development has been framed by Georgia's State Security Service as a Russian-Ossetian political move to wipe Georgian history off the map.
Energy security has also generated tensions. On declaring independence, Abkhazia became politically and economically isolated. But because of how its new border overlaid the pre-existing hydroelectricity infrastructure, it retained an energy agreement with Georgia. This provides energy at no cost from the Engur(i) hydroelectric plant, giving its people exceptionally low-cost electricity. This legacy continues today, with the state energy supplier Chernomorenergo providing electricity at 0.4 RUB per KWh (0.41p Nov 21 equivalent compared to a UK 2020 average of 17.2p per KWh).
Yet cheap energy has led to chronic under-investment in the Abkhazian grid and, more recently, a flood of Bitcoin miners taking advantage of the prices, draining the grid and leading to blackouts and brownouts. Due to its size and weak economy, South Ossetia has been unable to finance a hydropower plant on the Zonkar(i) reservoir and has resultantly become dependent on the importation of natural gas from Russia for energy. Abkhazia is also reliant on Russia for its energy security, importing electricity to plug production gaps from the Engur(i) dam.
Thawing the frozen conflict would also allow the regions access to much-needed development in their tourist infrastructure, especially that for ecotourism. While tourism has always been relatively low in South Ossetia, since Soviet times, and due to its climate and Black Sea coastline, Abkhazia has long been economically reliant on it. Tourism is increasing in Georgia, and Russia has developed the tourist facilities of the Sochi and Adler regions that neighbour Abkhazia. However, due to its status, Abkhazia has become a budget tourist destination for Russians. This has led to a lack of the investment necessary to develop its tourist industry in an environmentally sustainable way.
From environmental insecurity to environmental peacebuilding
While there has been limited cooperation between the breakaway regions and Georgia, meaningful cooperation is still virtually non-existent and key environmental infrastructure and natural resources are being affected as a result. During my interviews, I found a real desire on both sides for a depoliticisation of the environment, with both sides recognising a genuine need for shared resources to be managed together for mutual benefit.
With Georgia able to offer solutions for waste management, the international community able to help with environmental governance and ecotourism, and South Ossetia and Abkhazia able to share seismic data, clear benefits could be achieved with a depoliticised environmental agenda.
More broadly, although the Caucasus were an initial focal point for work on environmental security, and early thinking around environmental peacebuilding, the literature suggests that environmental peacebuilding research and projects never reached their full potential in the region. As with the nearby Nagorno-Karabakh conflict, environmental cooperation could offer untapped potential for de-escalation, and dialogue between neighbours estranged for more than thirty years.
Clayton Payne undertook this research for an MSc in Research for International Development at SOAS University of London, Doug Weir contributed to this post.
Place names within the disputed territories have an (i) suffix so as to not show preference between Georgian or regional claims. Georgian place names are ended with an I whereas this is not the case in South Ossetia and Abkhazia. An example of this would be the Abkhazian city called Sukhum in Abkhazia and Sukhumi in Georgia.